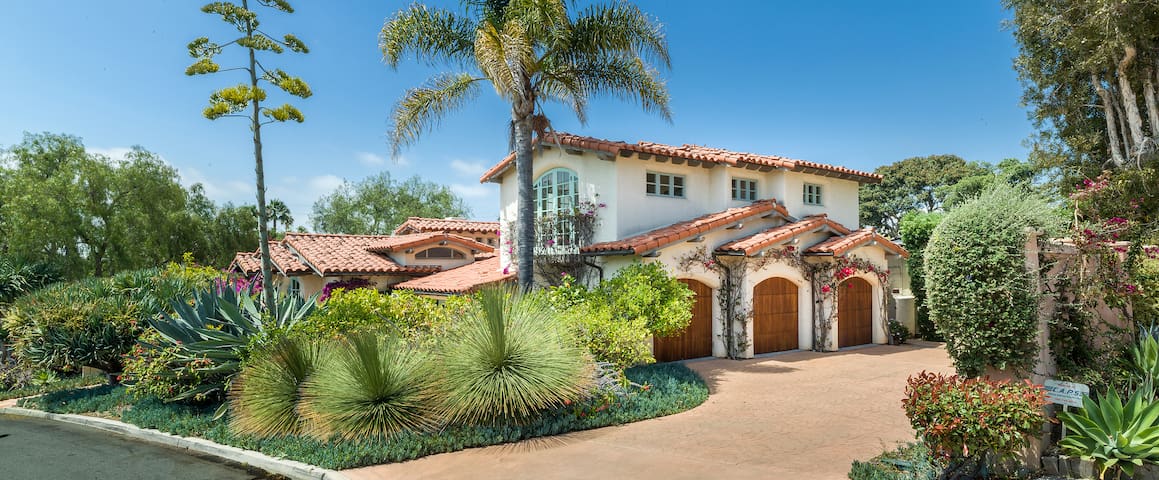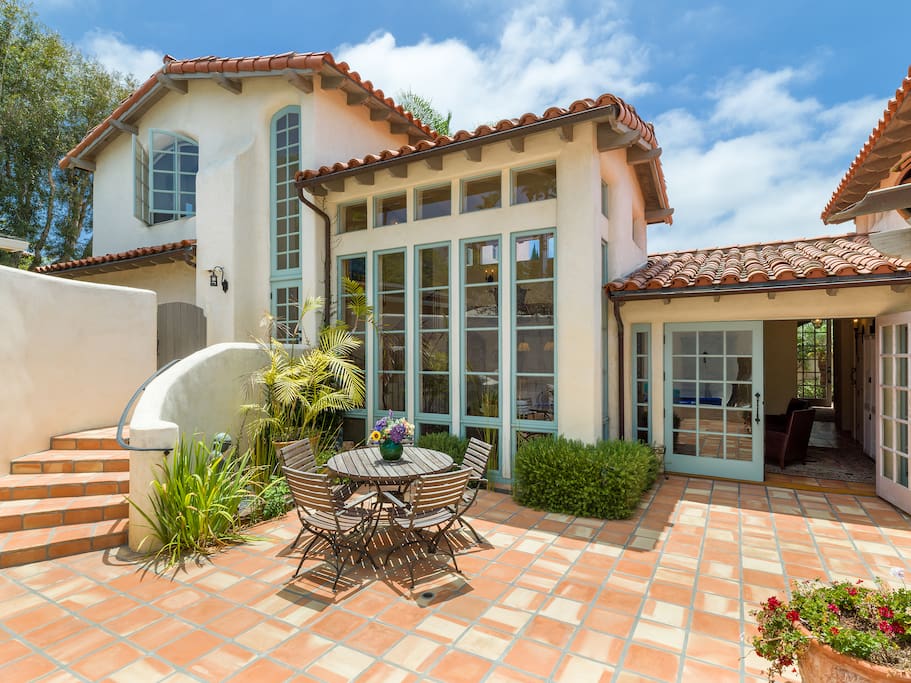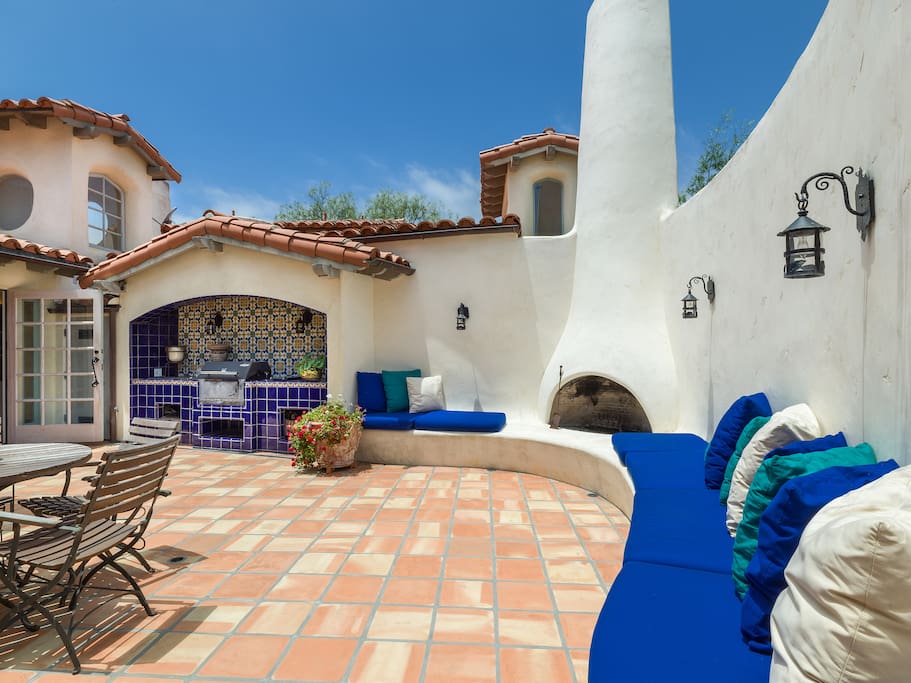 Discover wonderful surprises at Village Hideaway, an expertly appointed an architecturally significant Mediterranean Estate conveniently and uniquely located at the very heart of the Covenant in the quaint Village of Rancho Santa Fe.
Le logement
Discover wonderful surprises at Village Hideaway, an expertly appointed an architecturally significant Mediterranean Estate conveniently and uniquely located at the very heart of the Covenant in the quaint Village of Rancho Santa Fe.
The Covenant is relaxed, with a country feel, and a high level of sophisticated comfort - a personality that is light-hearted yet has the influence of a bygone era when life was simpler. Just 30 minutes north of San Diego International Airport and minutes from the beaches and charming seaside towns of Del Mar, Solana Beach, and La Jolla.
This San Diego estate is refined without any pretentions, the perfect environment to escape modern-day frenzy and slip into a Rancho Santa Fe state of mind. While maintaining the striking original character of it's design and construction with tasteful international furnishings, Village Hideaway has seamlessly added the character, comforts, and appointments expected by discriminating travelers.
Just blocks from the world-famous Rancho Santa Fe Golf Club, the verdant course in the heart of Rancho Santa Fe continues to be a community favorite with its tree-lined fairways, charming stone bridges over water features and challenging undulating greens. The 6,700-yard, par-72 course was designed by golf course architect Max Behr and opened in 1929. Behr favored following the natural contours of the topography, showcasing the beauty of the countryside terrain in his design. Luminary Bing Crosby was a regular on these fairways for many years, among many other notorious celebrities.
Take a local historic architecture tour through the eucalyptus groves nearby, play or paddle in the waves of at the Pacific or hike the coastal trails at sunset. The village is teeming with cultural events and nightlife, while Village Hideaway offers a portal into the best of Rancho Santa Fe understated luxury lifestyle.
Here, you will be greeted with a welcoming, open-armed spirit which makes you feel (EMAIL HIDDEN)e as you are, stay as long as you like, settle back and relax. Beautiful, peaceful and relaxed - from country elegance to starlet nostalgia with international flair, the style and décor of this remarkable home is appealing to many and offers the perfect blend of elegance and approachable sophistication
Échanges avec les voyageurs
24/7 Concierge-Level Guest Services
Parking gratuit sur place
Soutien à l'engagement pour un salaire décent
Les personnes qui nettoient le logement de cet hôte perçoivent un salaire décent.
En savoir plus
Communiquez toujours via Airbnb
Pour protéger votre paiement, ne transférez jamais d'argent et n'établissez pas de contact en dehors du site ou de l'application Airbnb.
Ne convient pas aux animaux
L'entrée dans les lieux se fait à partir de 15:00
1. ACCEPTANCE OF PROPERTY: Licensee agrees to accept the Property upon arrival, provided it meets the basic description as listed on (URL HIDDEN)
2. REPORTING DAMAGE TO DLE: Licensee agrees to keep the Property in good condition, and upon Licensee's departure, the Property will be left in good and habitable condition. Any damage to furnishings, fixtures, or furniture or other notable conditions found upon arrival will be reported to the Owner/Managers within two (2) hours of Occupancy.
3. DAMAGE POLICY: Licensee shall be responsible for all damage, breakage and/or loss to the Property, except for normal wear and tear and unavoidable casualties (as deemed by DLE in its sole discretion) which may result from Licensee's occupancy. Licensee agrees that all pipes, wires, glass, plumbing, household contents, and other equipment and fixtures will be in the same condition upon departure as at the time if check-in, reasonable wear and tear and damage by unavoidable fire and casualty the only exceptions. Licensee understands that the Property will be inspected prior to Licensee's arrival and upon Licensee's departure. You acknowledge any loss and/or damage to the Property will result in a charge or charges for repair and/or replacement value.
Notwithstanding the foregoing, Licensee agrees to pay DLE the Accidental Rental Damage Fee in the amount set forth on the Lodging Agreement in consideration for providing Licensee with Accidental Rental Damage for damage at the Property up to the Covered Amount set forth on the Lodging Agreement. If during Licensee's occupancy of the Property, Licensee causes any damage to real or personal property of the Property as a result of inadvertent acts or omissions, DLE will reimburse the Property owner for the cost of repair or replacement of such property up to the Covered Amount. The Accidental Rental Damage will take effect upon check-in, provided Licensee has paid the Accidental Rental Damage Fee, and will end on the actual date of departure from the Property. The Accidental Rental Damage Coverage will not provide coverage for any loss or damage due to (a) natural disasters, (b) intentional acts of Licensee, (c) gross negligence or willful misconduct of Licensee, (d) any cause if Licensee does not report the loss or damage to the staff of DLE by the departure date, (e) normal wear and tear of the Property, (f) loss of use of the Property, (g) theft or damage to any property owned by or brought by Licensee to the Property, (h) theft or damage caused by anyone visiting other than Licensee, (i) theft without a valid police report, (j) damage without a valid police report unless the damage is caused by Licensee, or (k) damage or theft in the Property if the number of persons occupying the Property exceeds the number specified in the Reservation. All damage or theft for which a claim may be made must be reported to DLE no later than the departure date.
4. SMOKING: This is a non-smoking home. You are permitted to smoke outdoors on the patio or courtyard. Butts are to be disposed of properly and not left anywhere on the property. Any violation of the smoking policy will incur a $1,000.00 Additional "Smoke Damage" Cleaning Fee to remove smoke odors from the house and/or linens.
5. PETS: There are to be no pets on the Property - except with prior authorization and payment of the appropriate pet fee. Guests who bring a pet or pets without approval will be charged the per pet fee and may be immediately evicted from the Property.
6. MAXIMUM NUMBER OF OCCUPANTS: The Property is to be occupied by no more than the maximum sleep number stated on (URL HIDDEN) unless approved in writing by DLE. If Licensee exceeds the occupancy limit and falsifies occupancy information at the time of reservation, Licensee shall be subject to eviction. "Occupants" includes small children, infants and overnight visitors. If more than the maximum number is found to be occupying the Property, you agree that a charge of $100.00 per person/per day will be made to your credit card. Additionally, this Agreement may be immediately terminated without a refund of any amounts paid. Exceptions: Licensee may have an additional 5 daytime guests at the Property beyond the maximum sleep number stated on (URL HIDDEN) All parking, noise and community rules and restrictions must be followed. A daytime guest is understood to be any guest not sleeping at the home and leaving the property before 12 am.
7. EVENTS/VENDORS: Any vendors entering the Property or events held at the Property must be disclosed by Licensee to DLE and are subject to vendor/event fees to be determined by DLE. Failure of Licensee to notify DLE of any vendors or events could result in additional charges as determined by DLE and/or eviction. DLE retains the right to determine if a gathering constitutes an event. All vendors must be licensed and insured and will provide proof of insurance if requested by DLE.
8. RETURN OF SECURITY/DAMAGE DEPOSIT (if applicable): Your Damage Deposit, minus any charges against it, will be refunded to your credit card within fifteen (15) days of your departure. If there are damages that require us to retain part of your Damage Deposit, there may be a delay in its return.
9. CHECK-IN: Check-In is no earlier than 3 pm on the day of arrival unless prior arrangements have been made with DLE.
10. CHECK-OUT: Check-out is no later than 11 am on the day of departure. Check-out is defined as completely off the Property with the key back in the lockbox. The entire 4-hour window between check-out and check-in is needed to adequately clean & prepare the home for the next guest. Out of respect for our housekeeping staff and newly arriving guests we ask that you adhere to our arrival/departure times. If you fail to be completely out by 11 am without prior approval you will be charged a minimum of $75. Special arrangements must be made ahead of time to be sure that a longer stay will not pose a problem. Please understand this is not meant to be an inconvenience but to ensure that everyone has the same opportunity to enjoy their stay at this Property. There shall be no pro-ration of the Total Occupancy Rate for late arrivals or early departures.
11. LICENSEE'S RESPONSIBILITY FOR CHECK-OUT: Prior to vacating the home, Licensee is responsible for placing all trash into the proper containers and cleaning all dishes and cookware that were used during the stay. Leaving a pile of dirty dishes for the cleaning crew will result in additional housekeeping fees to be charged to the card on file. Placing wet garbage or other non-recyclable trash into the large gray "Recyclables Only" bin or the green "Yard Debris" bin will result in those bins not being accepted by the waste management company and creates extra work for the cleaning crew. The result will be additional charges to cover additional work and additional garbage pickup. Licensee is also responsible for locking all doors and setting the alarm, if the home has an alarm. Make sure to leave all garage remotes and extra keys, returning keys to the lockbox. Not complying with any of these conditions could result in additional charges.
12. USAGE OF UTILITIES: The Total Occupancy Rate assumes and includes a reasonable usage of utilities. Your Kilowatt consumption allowance is 150 KWH a day. If you change the Thermostat below 74 degrees it will affect the daily allowance and additional charges will be assessed for excessive usage at the daily allowance rate as follows: $0.16 cents per KWH. Running the Air Conditioning at a temperature setting below 72 degrees will use excessive electricity, and could possibly freeze up the unit. Telephone service is provided, which includes local and long-distance calling to U.S. numbers. Directory Assistance calls, international long-distance and other premium calls are not included, and will result in additional charges. Cable Television is provided to the home. Pay-per-View movies and other premium services are not included, and if ordered during your stay will be charged to the credit card on file.
13. POOL HEATING: Your gas Therm consumption allowance is 20 Therms per day. Raising the pool heat above the pre-set temperature of 84 degrees during your stay will affect the Therm consumption, and may exceed your Therm consumption allowance. Additional charges will be assessed for excessive usage at the daily allowance rate as follows: $2.00 per Therm to cover the additional gas usage.
14. ADDITIONAL RULES: Additional House Rules and Procedures may be clearly posted within the Property or in the Property Binder by DLE, and are to be followed in addition to the rules and procedures set forth herein.
15. NEIGHBOR COMPLAINTS: Actions by Licensee and/or guests that result in neighbor complaints or Police being called to the Property will result in a minimum $250 charge, which charge will be used to deal with potential HOA legal issues & fines. If the Police are called out a second time, Licensee and/or guests will be immediately evicted. Licensee shall be liable for any and all costs incurred by DLE as a result of the breach of Section 20.
16. ILLEGAL SUBSTANCES: Illegal substances are strictly prohibited and grounds for immediate eviction from the Property. You, your guests and visitors, agree that any drug use on the Property, or using the Property for any immoral or unlawful purpose, or violation of any law or ordinance on or about the Property will immediately terminate your occupancy and be grounds for immediate eviction from the Property. You shall be liable for any and all costs incurred by DLE as a result of the breach of Section 21.
17. ENTERING PREMISES: Owner, Owner's Agent or DLE may enter the Property at any time, with no prior notice, in the event of an emergency, in order to perform necessary repairs and/or maintenance; and with 24 hours notice, for normal maintenance.
18. MOVING FURNITURE: The Owner shall provide furniture and fixtures, linens and towels, and a fully equipped kitchen. Licensee is responsible to return any furniture that was moved to its original position.
19. ITEMS LEFT BEHIND: Owner or DLE shall not be liable or responsible for personal items left behind, lost or stolen. If you leave an item after checking out and wish to have it returned, call DLE as soon as possible and we will arrange for shipment. We will inform you of the shipping cost and with your approval, charge the credit card on file to cover the expense.
20. LIABILITY: Owner or DLE shall not be liable to Licensee, its guests or invitees or any other person for any injury, loss or damage to any person or property on or about the Property. Licensee shall hold Owner and DLE harmless and indemnify Owner and DLE from and against all loss, injury or damage occasioned by the use or misuse or abuse of any part of the Property and from or against any omission, neglect, or default of Licensee, its guess, licensees or invitees.
21. SUBLETTING: This Agreement may not be assigned or the Property sublet or occupied by anyone other than Licensee and its guests.
22. CHANGING THE LOCKS: No physical changes to the Property or changing of locks on the Property are permitted.
23. FILM/VIDEO: The Property shall not be used as a location for amateur or professional film/video without the prior written consent and arrangement with Owner and DLE.
24. INDEMNIFY AND HOLD HARMLESS: You agree to indemnify and hold Owner and DLE harmless from all liability, loss or damage arising from any nuisance or harm made or suffered on the Property by you, your guests or invitees, or from any carelessness, neglect, or improper conduct of any persons occupying or visiting the Property during your occupancy pursuant to this Agreement.
25. MINIMUM AGE TO RENT: Licensee must be at least 25 YEARS OF AGE to enter into this Agreement and reserve this Property. DLE may request proof of age.
26. EXCEPTIONS: Any exceptions to the rules and regulations as written herein must be approved in writing in advance by DLE.
27. BOOKING POLICY: Occupancy rates naturally fluctuate throughout the year based on market conditions. When reservation confirmation is received, occupancy rates are locked in for the dates in the reservation. Should occupancy rates go up, you understand you will not be required to pay more. In addition, should occupancy rates go down, you understand you will not be entitled to a refund.
28. AMENITIES: DLE make every attempt to ensure the Property lives up to the cleanliness & amenities of the pictures and/or video as seen on DLE's website. Naturally, some of the Property' s amenities will need to be replaced or changed over time and may not be the specific amenity shown in the pictures and/or video.
29. FLOOR PLAN: The Property floor plan is for basic, informational purposes only. Please be aware that the Property may have a closet, pantry or small garage bay that is locked and used as an "owner's closet", and unavailable to Licensee.
30. POOL/SPA: We do everything in our power to make sure that the private pool and/or spa at the rental home are functioning properly for your stay. If circumstances beyond our control cause the private pool and/or spa to not function properly, you may be entitled to a refund of daily pool/utility fee for as many full days as the pool and/or spa were not functioning, provided however, you must report the malfunction to DLE immediately and DLE must be given the opportunity to verify the situation. As used herein, pool and/or spa malfunction shall mean a breakage of the heater or pump.
31. HOME OWNER ASSOCIATION: If the Property is part of a Home Owner's Association (HOA) there will be additional rules and restrictions that all licensees and guests must abide by. A copy of the HOA rules should be in the Property, but if they are not, please let us know. Licensee agrees to maintain the Property in good order and appearance and abide by the HOA rules. "Quiet Time" in HOA developments is from 10 pm to 8 am. Loud parties on the Property that are in a HOA, or on HOA premises are prohibited and grounds for immediate eviction. Licensee agree there will be no disturbance, annoyance, endangerment or inconvenience of the neighbors. Due to the proximity of the houses, using vile or obscene language while outdoors is likely to disturb and annoy the neighbors. Please refer to the Property description on (URL HIDDEN) for allotted number of parking spaces. One garage bay may be designated for owner's personal storage and/or vehicle. Parking vehicles on the street is against the HOA rules. RV campers and/or tents on the premises or parking area are forbidden. Garage doors are to be closed when not in use. You shall be liable for any and all costs incurred by DLE as a result of the breach of this Section 37.
32. EXTRAORDINARY CIRCUMSTANCES: There may be circumstances in which the Property might not be available for your stay. Examples of these include (but are not limited to) destruction of or damage to the Property, changes in local occupancy regulations, or other reasons. In the event the Property is not available, for whatever reason, we will do our best to make alternative arrangements for you where possible. If we cannot, or if the alternative arrangements are not acceptable to you, then we will refund all monies paid. This will be the full extent of our liability to you in such circumstances, and we will not be responsible for any other costs connected with any such cancellation, howsoever arising.
33. NO REFUND POLICY: While every attempt is made to keep properties in good working order, occasionally things break, fail or go out of adjustment. This is an unavoidable part of life. This may include, but is not limited to, disruption in internet service, phone or cable TV service, pool or spa heat, or AC system. When these types of things happen, DLE will make every attempt to correct or repair the problem as soon as possible, but only after DLE has been alerted to the problem. However, it may happen that a repair cannot be made during the time the Licensee occupies the Property. For example, if cable TV service is disrupted over a weekend and the cable company cannot schedule an appointment until the following Monday, the repair will not happen over the weekend. No matter what happens, if the Property is otherwise habitable and the Licensee remains in the Property, the Licensee hereby confirms and agrees that no refunds will be issued.
34. ARBITRATION: If the Licensee becomes dissatisfied for any reason with the Property or the fees charged, we encourage the Licensee to bring that to our attention immediately. We believe most problems can be rectified by communication and discussion. However, a dispute could arise which cannot be resolved by negotiation. We believe that such disputes are most satisfactorily resolved through binding arbitration rather than by litigation in court. Therefore, any controversy between the parties under this Agreement and any claim arising out of or relating to this Agreement or its breach, shall be submitted to binding arbitration in Riverside County, California before a retired judge or justice. If we are unable to agree on a retired judge or justice, each party will name a retired judge or justice and the two named persons will select a neutral judge or justice who will act as the sole arbitrator. The prevailing party in any arbitration or other court proceeding shall be awarded its reasonable costs and attorneys' fees incurred in connection with the dispute. Licensee confirms that it has read and understands the above paragraph regarding arbitration, and voluntarily agrees to Binding Arbitration.
35. ENTIRE AGREEMENT: This Agreement constitutes the entire agreement between the parties relating to the Property, and it supersedes any and all prior memoranda, options, oral agreements and understandings of the parties respecting the subject matter of this Agreement, and supersedes all other prior documents made by the parties in connection with the transaction described herein.
I HAVE READ AND UNDERSTAND THE ABOVE RULES AND REGULATIONS FOR THIS PROPERTY.
I CERTIFY THAT I AM AT LEAST 25 YEARS OF AGE AND THAT I WILL BE HELD RESPONSIBLE FOR THE CARE OF THIS PROPERTY BEING RENTED UNDER MY NAME.
I ACCEPT FULL RESPONSIBILITY FOR DAMAGES OR EXTRA CLEANING CHARGES, SHOULD THEY BE DISCOVERED DURING OR AFTER DEPARTURE.
Détecteur de monoxyde de carbone
Séjour de 4 nuits minimum
Palm Desert, Californie, États-Unis
Membre depuis octobre 2016
Desert Luxury Estates represents only the best vacation homes the valley has to offer. You can trust that choosing DLE will result in an experience no other desert company can provide. From impeccably maintained estates to concierge level guest services, we are obsessed with giving our guests an amazing experience. If you need anything to make your stay more enjoyable, please just let us know. We look forward to having you stay with us!
Taux de réponse :
100%
Délai de réponse :
Moins d'une heure
Découvrez d'autres options à Rancho Santa Fe et dans ses environs
Plus de logements à Rancho Santa Fe :