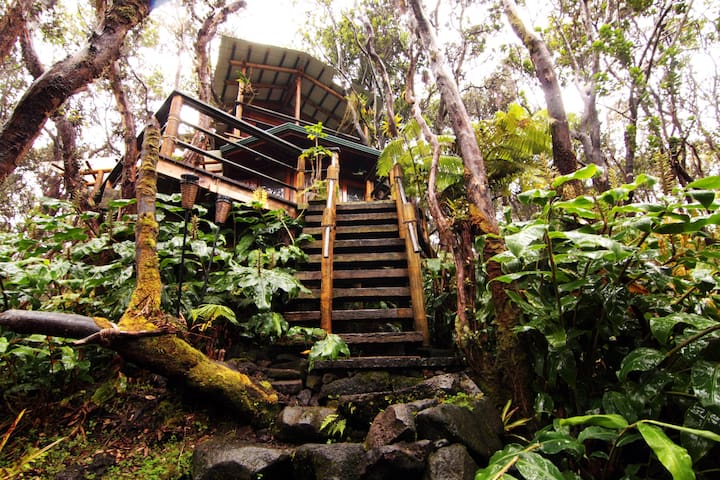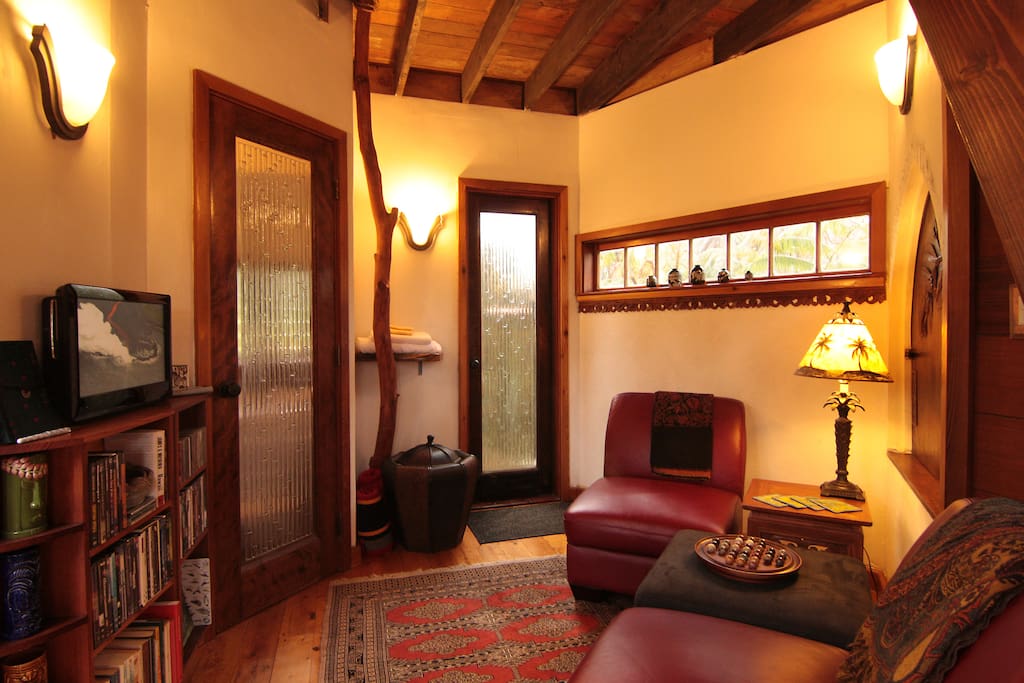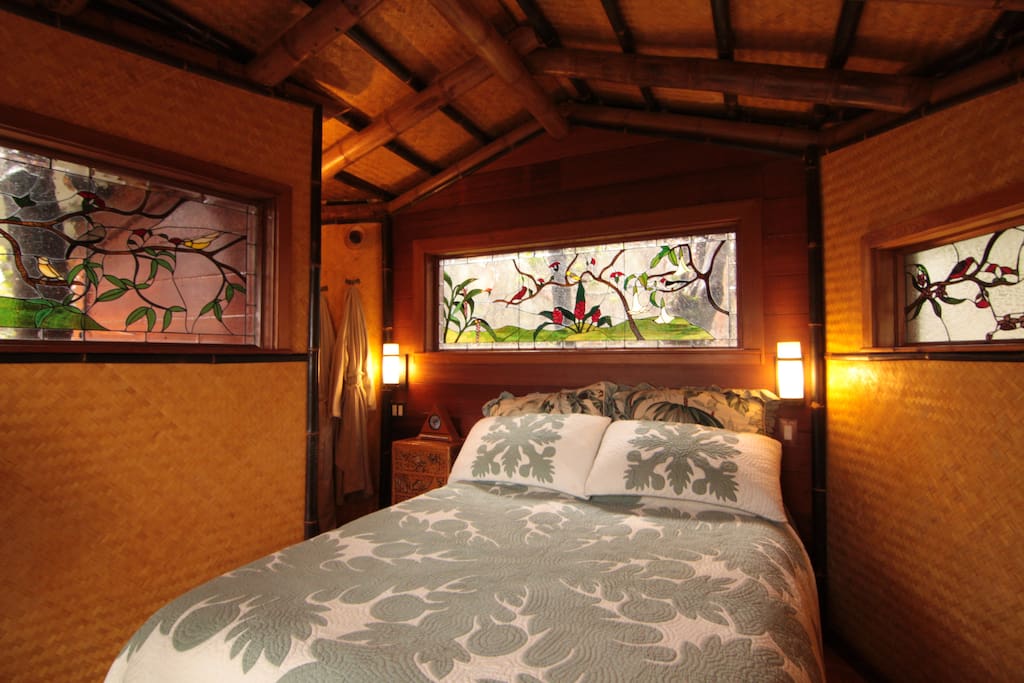 La maison de l'arbre est cachée dans la forêt tropicale, à moins de cinq minutes de l'entrée du parc national des volcans d'Hawaï. Il a deux niveaux, deux lanais, même un hot tub dans les arbres. Le lit vient de subir un rajeunissement et revient à être super confortable. Vous pouvez passer des heures dans la canopée supérieure, au milieu des croûtes de miel qui traversent les fleurs de Lehua, et tremper sous les étoiles clignotant dans les feuilles ou dans la brume du volcan. #nous acceptons
The treehouse is tucked away in the rainforest, less than five minutes from the entrance to Hawaii Volcanoes National Park. It has two levels, two lanais, even a hot tub up in the trees. The bed has just undergone a rejuvenation and is back to being super comfortable. You can spend hours in the upper canopy, amidst the honeycreepers flitting through lehua flowers, and soak under the stars winking through the leaves or in the volcano mist. #weaccept
Le logement
Il s'agit d'une maison en forme d'arbre conçue spécialement, construite par le même équipage que vous voyez à Treehouse Masters à la télévision. L'attitude jurassique de la forêt tropicale est conservée sur le terrain. Nous avons également un lieu de mariage à proximité, vous pouvez voir dans les photos. Nos volcans sont dans une phase spectaculaire tout à l'heure. Les vues de l'éruption du sommet sont à cinq minutes en voiture. Pour voir les rivières de la lave, vous conduisez dans le parc et en bas de la montagne. Mahinui Na Lani accroche dans les arbres d'ohia qui se développent sur un tube de lave dans la forêt tropicale qui s'étend jusqu'au parc national des volcans d'Hawaï. La maison de l'arbre a été conçue comme un compagnon de notre pavillon de la forêt tropicale, une structure de style Bali à quelques pâtés de maisons, destiné à être un lieu de mariage intime. Les deux peuvent être réservés, et il y a quelques photos du pavillon inclus dans cette série. On accède à la maison de l'arbre par un chemin d'environ 100 pieds sinueux dans la forêt, des rochers de lave placés dans le côté du tube de lave et des échelles. L'ascension est un peu raide une fois que vous atteignez les roches de lave. Pour votre sécurité et votre confort, nous fournissons des paquets de jour pour transférer tous les vêtements nécessaires pour votre séjour à partir de vos bagages dans la demeure. Il y a un coin spécial en retrait dédié à vos affaires, avec des crochets pour les vêtements, et quelques stands de nuit avec des tiroirs qui peuvent contenir des articles moins volumineux. C'est Hawaii, et le climat est doux, l'atmosphère partout très décontractée. Nous fournissons également des peignoirs. La maison de l'arbre elle-même est construite sur deux niveaux, reliée par l'échelle d'un navire. Le niveau principal comprend le salon, avec deux chaises et un ottoman, un écran plat pour visionner des films et des CD, construit dans une table de fenêtre et des tabourets intérieurs, une petite cuisine, une douche extérieure et des toilettes et une vanité de compostage. La cheminée intérieure est un poêle au propane Jotul évacué vers l'extérieur. En plein air sur la véranda, il y a un bain de chauffage en cèdre, et une table en teck et des chaises pour manger en plein air dans les arbres. Le niveau supérieur est également au dessus de la canopée supérieure, les oiseaux en train de voler autour de vous parfois. Il y a un lit de taille queen avec un matelas à mousse à mémoire, le minuscule «coin de placard» et une autre véranda. Les fenêtres autres que les portes françaises sur la véranda sont des vitraux, réalisés par un artiste local. La maison a été construite principalement en matériaux recyclés. Les planchers de sapin et le séquoia et le parement de cèdre étaient autrefois une église. Cette zone particulière est adjacente au parc national des volcans d'Hawaï, où Kilauea est active depuis des décennies. Il y a des sentiers de randonnée dans le parc et à travers le parc à travers la forêt tropicale, le désert, la dévastation volcanique, même un chemin avec des empreintes préservées d'une éruption il y a plus de cent ans. Il y a des pétroglyphes. À moins d'un mille de la maison de l'arbre, il y a Volcano Village, avec des restaurants et des galeries d'art, quelques places pour acheter du gaz. Le parc d'entrée lui-même est à environ deux milles de distance. Le quartier est la forêt tropicale, avec beaucoup de bâtiments non construits sur des lots. La raison pour laquelle il n'y a pas de vue sur la maison de l'arbre à travers la forêt est parce que la forêt tropicale est très dense. Il y a le sol, très jungly avec du gingembre, des fougères indigènes et des arbres. Les canopées moyennes sont les fougères d'arbres, d'environ vingt pieds de haut et plus de cent ans. La canopée supérieure est un mélange d'arbres ohia avec des fleurs rouges de lehua, du houx hawaïen et d'autres. On nous demande de temps en temps si plus de deux personnes peuvent rester dans la maison de l'arbre. Nous pouvons notamment comprendre que les familles souhaitent amener leurs enfants à partager cette expérience. La maison en arbre est un espace de deux personnes. Tout est conçu pour être une expérience de lune de miel. Bien qu'il soit possible pour plus de deux personnes de s'asseoir et de discuter, seuls deux peuvent se coucher. Il n'y a pas de lit pliant, ni la place pour un ou pour tout autre mobilier au-delà de ce qu'il y a déjà. Temple de la renommée: La maison de l'arbre a été présentée dans Extreme Cribs, à l'épisode 13. The Ellen Show: Les vacances tropicales de Kim Douglas Magazine de Ke Ola, histoire de Volcano Tree House en juillet - édition d'août 2011 Conseiller de voyage: l'un des dix endroits les plus romantiques à rester (sélections globales) Fonction PureWow Treehouses of the World, Travel Channel segment européen, par la série Treehouse Masters Buzzfeed Blogs et articles publiés dans le monde entier Vous aurez accès à l'ensemble de la propriété, y compris la petite structure située au-dessous de la maison de l'arbre près de l'endroit où vous stationnez votre voiture. Vous pouvez verrouiller vos bagages en toute sécurité dans cette pièce et utiliser les paquets de jour à l'intérieur pendant votre séjour. Si vous utilisez une machine CPAP, contactez-nous avant de réserver. Il n'y a qu'une seule maison en arbre sur la propriété. Nous habitons à proximité et viennent régulièrement pour maintenir la maison en forme d'arbre. Il est probable que nous vous rencontrerons à votre arrivée. Sinon, nous sommes disponibles par téléphone portable, texte, courrier électronique. Quand Nous sommes absents, quelqu'un d'autre qui vit localement sera disponible pour vous accueillir et vous occuper de vos besoins. La maison de l'arbre nécessite une attention quotidienne car elle est hors grille. Cela se fait généralement entre 11 h et 16 h, et la plupart des invités sont absent pour cette partie de la journée. Nous demandons que si vous restez toute la journée à la maison de l'arbre, que vous communiquez avec nous pour nous faire savoir quand l'un de nous peut venir et prendre soin de l'endroit. Le quartier est surtout une forêt à forte croissance avec quelques maisons ici et là. Lorsque vous conduisez, vous remarquerez qu'il y a des voisins de l'autre côté de la rue et à côté. Vous allez les oublier une fois que vous traversez le fouet et entrez dans le monde de la maison de l'arbre. Parfois, en fin d'après-midi et en soirée, vous pouvez entendre un hula halau local pratiquant. Nous espérons que vous trouverez les sons du rire et la langue et la musique hawaïennes ajoutent à l'ambiance. Une voiture de location est une nécessité. Bien qu'il y ait des transports en commun, il y a long voyage lent dans la montagne. Le parc se trouve à quelques kilomètres de la route, et tellement grand que vous voudrez conduire et ne pas tenter de marcher. Volcano Village est à environ un mille de la route. Vous voudrez peut-être vous promener en arrière et en arrière. En entrant dans le village pour le dîner, une lampe de poche pour votre retour est un must. Nous fournissons - prenez-le avec vous! Si vous prévoyez un premier voyage dans notre île, nous vous suggérons de rester 2 ou 3 nuits à la maison de l'arbre. Veuillez nous contacter pour discussion avant de réserver si vous le souhaitez. L'île est vraiment grande, et la plupart des gens préfèrent passer la nuit sur le côté ouest de l'île plutôt que de retourner au volcan après une journée de jeu là-bas. Bien que nous affichons des taux pour les séjours de longue durée, nous aimerions discuter des plans avec vous avant la fin d'un séjour de 5 jours ou plus. Lorsque vous décidez de vouloir rester à la maison de l'arbre, vous arrivez à un endroit différent de tout autre. Il y a d'autres maisons arborées, mais chacune est unique. Cette maison en arbre est hors grille. Cela signifie qu'il faut des mains sur le service, tous les jours. Pour la plupart des gens, c'est une chose sans faille qui se produit alors qu'ils ne sont pas aventurés. De temps en temps, les gens viennent et ne veulent pas partir, du tout. Nous comprenons, mais nous voulons vous informer que nous devons entrer quotidiennement dans la maison de l'arbre pour servir les toilettes de compostage. Le bain à remous nécessite également une attention particulière. L'arbre est dans la forêt. C'est à l'intérieur des arbres, ce qui signifie un accès facile pour les bébés. Pour les garder à l'extérieur, nous transportons vos ordures et veillez à ce que vos aliments soient stockés de manière adéquate. Ce n'est pas une bonne idée de laisser des plats, des pots et des casseroles non lavés, pour ces mêmes raisons. Les araignées sont des habitants de la forêt. Ce sont des aliments pour les oiseaux. Si vous aimez les oiseaux, tolérer leur approvisionnement alimentaire. Nous vider la maison des araignées chaque jour mais nous ne venons pas. Les araignées reviennent à volonté. Ils sont petits et restent dans les coins. Ils laissent la preuve de leur visite sous la forme de webs. Nous faisons de notre mieux pour être inhospitalier pour eux, mais ils persistent. Quand il y a des conditions météorologiques, comme les pluies et les vents forts, de votre perche dans les arbres, vous ressentirez le son et vous sentirez comme vous ne l'avez peut-être pas auparavant. La maison est serrée - la météo n'entre pas si les portes et les fenêtres sont fermées. Mais les sons peuvent être formidables. Vous vous sentirez proche de la nature. En raison de la taille de la maison en arbre et du fait qu'elle est hors grille, il n'est pas possible d'offrir une cuisine ordinaire. Il n'y a pas de four, mais il y a un micro-ondes. Il y a une plaque chauffante. Il n'y a pas de lave-vaisselle. Créer des repas gastronomiques dans la petite cuisine est un défi auquel aucune batterie spéciale ne peut répondre. L'espace de stockage est inadéquat pendant plus de quelques jours de nourriture. Nous sommes en train de réorganiser cette expérience de cuisson à quelque chose d'un peu plus en forme d'arbre, mieux adapté à l'expérience hors réseau. Donc, au moment où vous arrivez, ce sera différent de ce qu'il est aujourd'hui. Et enfin, en ce qui concerne le bain à remous. Le point de prix de la location de la maison de l'arbre est tel qu'il est en partie à cause des besoins en hot tub.
This is a custom designed treehouse, built by the same crew you see in Treehouse Masters on TV. The Jurassic attitude of the rainforest is preserved on the grounds. We also have a wedding venue nearby you may view in the photos. Our volcanoes are in a spectacular phase just now. Views of the summit eruption are a five minute drive away. To see the rivers of lava, you drive into the park and down the mountain.
Mahinui Na Lani hangs in ohia trees growing over a lava tube in the rainforest that extends into Hawaii Volcanoes National Park. The treehouse was conceived as a companion to our rainforest pavilion, a Bali style structure a couple of blocks away, intended as an intimate wedding venue. Both may be reserved, and there are a couple of photos of the pavilion included in this series.
The treehouse is accessed via a path that is about 100 meandering feet in the forest, lava boulders set into the side of the lava tube, and ladders. The ascent is somewhat steep once you reach the lava rocks. For your safety and comfort, we provide day packs to transfer whatever clothing is needed for your stay from your luggage into the abode. There is a special recessed corner dedicated to your stuff, with hooks for clothes, and a couple of night stands with drawers that can hold less bulky items. It's Hawaii, and the climate is mild, the atmosphere everywhere very casual. We also provide bathrobes.
The treehouse itself is built on two levels, connected via a ship's ladder. The main level includes the living room, with two chairs and an ottoman, flat screen for viewing films & playing CDs, built in indoor window table & stools, small kitchen, outdoor shower, and composting toilet & vanity. The indoor fireplace is a Jotul propane stove vented to the outside. Outdoors on the lanai there is a cedar hot tub, and a teak table and chairs for al fresco dining in the trees. The upper level is also upper canopy, with birds actually flying around beneath you sometimes. There is a queen sized bed with a memory foam mattress, the tiny "closet corner" and another lanai. The windows other than the french doors onto the lanai are stained glass, made by a local artist.
The house was built primarily of recycled materials. The fir floors and redwood and cedar siding were once a church.
This particular area is adjacent to Hawaii Volcanoes National Park, where Kilauea has been active for decades. There are hiking trails in and around the park through rainforest, desert, volcanic devastation, even a path with footprints preserved from an eruption over a hundred years ago. There are petroglyphs. Less than a mile from the treehouse there is Volcano Village, with restaurants and art galleries, a couple of places to buy gas. The entrance park itself is about two miles away. The neighborhood is rainforest, with many unbuilt upon lots. The reason there is no view of the treehouse through the forest is because the rainforest is very dense. There is the floor, very jungly with ginger, native ferns, and trees. Mid canopy are the tree ferns, some twenty feet tall, and over a hundred years old. The upper canopy is a mixture of ohia trees with red lehua flowers, Hawaiian holly, and others.
We are asked from time to time if more than two people can stay in the treehouse. We can especially understand that families would like to bring their children to share this experience. The treehouse is a two person space. Everything is designed to be a honeymoon experience. While it is possible for more than two people to sit together and chat, only two can sleep over. There is no rollaway bed, nor is there room for one or for any other furniture beyond what is there already.
Hall of Fame:
The treehouse has been featured in Extreme Cribs, on episode 13.
The Ellen Show: Kim Douglas's Tropical Vacation
Ke Ola Magazine Volcano Tree House story in July - August 2011 edition

Trip Advisor: One of the Ten Most Romantic Places to Stay (global selections)
PureWow feature
Treehouses of the World, Travel Channel European segment, by Treehouse Masters series
Buzzfeed
blogs and news articles published globally
You will have access to the entire property, including the small structure below the treehouse near where you park your car. You may safely lock your luggage inside that room and use the day packs inside during your stay.
If you use a CPAP machine, please contact us prior to making a reservation.
There is only one treehouse on the property.
We live nearby and come by regularly to maintain the treehouse. It is likely we will meet you on arrival. Otherwise, we are available by cell phone, text, email. When we are away, someone else who lives locally will be available to greet you and take care of your needs. The treehouse requires daily attention because it is off grid. This is generally done between 11 am and 4 pm, and most guests are away for that portion of the day. We do ask that if you are staying all day at the treehouse, that you communicate with us to let us know when one of us can come up and take care of the place.
The neighborhood is mostly old growth rainforest with a few houses here and there. When you drive up, you will notice there are neighbors across the street and next door. You will forget about them once you walk through the moongate and enter the world of the treehouse. Sometimes of a late afternoon and evening you may hear a local hula halau practicing. We hope you find the sounds of laughter and Hawaiian language and music adds to the ambience.
A rental car is a necessity. While there is public transportation, it is long slow trip up the mountain. The park is a couple of miles down the road, and so large you will want to drive and not attempt to walk. Volcano Village is about a mile up the road. You might like to stroll up and back. If walking into the village for dinner, a flashlight for your return is an absolute must. We provide - please take it with you!
If you are planning a first trip to our island, we suggest that you stay 2 or 3 nights at the treehouse. Please contact us for for discussion before you reserve if you wish. The island is truly big, and most people would rather spend the night on the west side of the island rather than return to Volcano after a day of play over there. Although we show rates for long term stays, we would like to discuss plans with you before completion of a stay of 5 days or longer.
When you decide you want to stay at the treehouse, you are coming to a place unlike any other. There are other treehouses, but each is unique. This treehouse is off grid. This means it requires hands on service, every day. For most people, this is a seamless thing that happens while they are off adventuring. Every once in awhile, people come and do not want to leave, at all. We understand, but we do want to let you know that we must enter the treehouse on a daily basis to service the composting toilet. The hot tub also requires attention.
The treehouse is in the forest. It is inside the trees, and this means easy critter access. To keep them outside, we carry your rubbish away and make sure your food is stored adequately. It is not a good idea to leave unwashed dishes, pots and pans, for these same reasons.
Spiders are residents of the forest. They are food for the birds. If you love the birds, please tolerate their food supply. We empty the house of spiders daily but we do not poison. The spiders come back at will. They are small, and stay in the corners. They leave evidence of their visit in the form of webs. We do our best to be inhospitable to them, but they persist.
When there is weather, like hard rains and winds, from your perch in the trees you will experience the sound and feel in ways you may have not before. The house is tight - the weather does not enter if the doors and windows are closed. But the sounds can be formidable. You will feel close to nature.
Because of the size of the treehouse and the fact that it is off grid, it is not possible to offer a regular kitchen. There is no oven, but there is a microwave. There is a hotplate. There is no dishwasher. To create full on gourmet meals in the little kitchen is a challenge that no amount of special cookware can address. The storage space is inadequate for more than a couple of days worth of food supplies. We are in the process of revamping this cooking experience to something a little more treehouse-like, a better fit with the off grid experience. So by the time you arrive, it will be different than it is today.
And finally, regarding the hot tub. The price point for the treehouse rental is as it is in part because of the hot tub requirements.
Accès des voyageurs
Il y a un abri sécurisé au bas de la propriété où vous pouvez verrouiller vos bagages. La maison en arbre est seule. Nous sommes en service si vous restez plus d'une nuit, mais vous pouvez demander une confidentialité complète pendant au moins quelques jours et ne jamais partir si c'est votre souhait.
There is a secure shed at the bottom of the property where you can lock up your luggage. The treehouse is yours alone. We do come to service it if you stay more than one night, but you can request complete privacy for at least couple of days and never leave if that is your wish.
Échanges avec les voyageurs
L'un de nous est toujours à proximité pour aider au besoin.
One of us is always nearby to assist as needed.
Autres remarques
ID d'impôts: TA-020-255-1296-01 et GE-020-255-1296-01 Airbnb à ce moment-ci n'a pas de frais d'article en ligne pour les taxes et nous sommes tenus de les payer. Notre taux d'imposition est de 13,42% De temps en temps, nous sommes invités à fournir une literie supplémentaire. Ce serait un futon, un oreiller, des draps et des couvertures. Il y a des frais de 25 $ pour cela. Veuillez nous demander à l'avance afin que nous puissions l'avoir là pour vous. De temps à autre, il existe des conditions qui sont directement liées à l'emplacement de la maison en arbre. Lorsque vous choisissez de rester ici, sachez que les conditions telles que les visites de la vie sauvage, les actions du volcan lui-même et les conditions météorologiques sont hors de notre contrôle. N'attendez pas ou demandez des remboursements pour des conditions indépendantes de notre volonté.
Tax IDs: TA-020-255-1296-01 & GE-020-255-1296-01
Airbnb at this time does not have any line item charge for taxes and we are obligated to pay them. Our tax rate is 13.42%
Every once in awhile we are asked to provide extra bedding. This would be a futon, pillow, sheets and blankets. There is a $25 fee for this. Please ask in advance so we can have it there for you.
From time to time there are conditions present that are directly related to the location of the treehouse. When you choose to stay here, please know that conditions such as wild life visitations, the actions of the volcano itself, and weather are beyond our control. Please do not expect or request refunds for conditions beyond our control.
---
---
Voyageur supplémentaire Sans frais
Soutien à l'engagement pour un salaire décent
Les personnes qui nettoient le logement de cet hôte perçoivent un salaire décent.
En savoir plus
Communiquez toujours via Airbnb
Pour protéger votre paiement, ne transférez jamais d'argent et n'établissez pas de contact en dehors du site ou de l'application Airbnb.
En savoir plus
---
Chambre 1
1 lit queen size
---
Ne convient pas aux animaux
Ne convient pas aux enfants (0-12 ans)
L'entrée dans les lieux se fait entre 16:00 et 18:00
Arrivée autonome avec keypad
We ask that you let us know when you will arrive so we can meet you and show you how everything works. The 4 pm to 6 pm check in window is set up both to make that meeting possible and to get you into the treehouse before dark. It is more adventurous than most people like to find your way up there for the very first time in the dark, even with the headlamps and path lights.
Note regarding events and parties: Any events or parties are to be discussed and arranged in advance. We have a dedicated event venue separate from the treehouse. Generally speaking, no guests or persons other than those named in the reservation are expected to come to the treehouse during your stay. Please ask if you have any questions about this, and please honor it. Mahalos.
Children accompanying parents must be discussed in advance of the reservation being accepted.
A word about fees:
In addition to the room charges, there is Hawaii tax of 13.42% effective 2010. Tax payment will be due prior to treehouse access. We will bill you for this as a separate payment as if we roll it into the price, it affects our tax liability. This tax goes up to 14.42% in January 2018.
If you require extra bedding, there is a charge of $25 to bring in a futon, sheets, pillow, and blankets.
There is no smoking inside or outside the treehouse. Thank you for respecting this.
WiFi is available for your use. As we are charged by the GB, we offer you one GB at no charge. After first GB, we charge as we are charged, $10 per GB or portion thereof.
Should you need to change your reservation, we will work with you to find a time that will work. If you are making your change within 3 months of your reservation, there will be a change fee of $100 per night if we cannot re-book your dates. If a second change is requested, there will be a $200 rebooking fee in addition to the $100 per night fee if applicable. A third change will require a new booking and new charges.
Occasionally there is a misunderstanding as to the dates of the reservation, and guests are gone on a hike or a cross island drive during normal check out time. If this should happen to you, here is the protocol:
We will contact you through Airbnb, and via your cell phone if possible. Airbnb will be alerted, and they too will try to contact you. If there is a guest due after you on the same check out date, and you have not returned to remove your things by 1 pm Hawaii time, they will be removed and stored in a safe place, and you will be charged a removal fee equal of half the cost of a night at the treehouse. We will also attempt to find you another place to stay locally, so you need not worry about having nowhere to go. If there is no guest due after you, Airbnb will be asked to charge you a second night if you have not cleared out by 4 pm, and your things will be left in place. For guests who simply linger on without having arranged a late check out, expect a late fee through Airbnb. We try to accommodate all requests, but cannot always say "yes" to late departures and early arrivals.
Vous affirmez avoir également pris connaissance de :
Le logement comprend des marches ou escaliers - Stairs are ladders, require hands free for ascent and descent from treehouse
---
Détecteur de monoxyde de carbone
---
---
Aloha. My husband Robert and I offer a Big Island wedding destination near Hawaii Volcanoes National Park. We offer a full service wedding, with everything from the conch shell blowing to the honeymoon at the treehouse, and photography too.

We have two property locations. One contains the treehouse, and the other the wedding pavilion and main house. The main house can serve to stage the wedding and it is also where we live.

For the photography, we go to places on the island that are particularly photogenic. We offer this service to both those who married with us and those who are married elsewhere and come to the Big Island to honeymoon.

For an up close and personal view of what we do, you may visit us online at Rainforest Weddings on Face book. There you will find photos, updates on what is going on here on the island, and comments from people who have been married at Mahinui Na Lani. Mahinui Na Lani has been featured on MTV Extreme Cribs, the Ellen Show, and as the Most Romantic Date ever on The treehouse was featured on the Today Show, and has been written up in Keola Magazine. Forbes has mentioned it in an article about our builder, Roderick Romero.

We also work with other amazing Big Island venues if you are looking for a larger wedding celebration.

We welcome any travelers who are seeking a wonderful place to stay on the Big Island. Aloha!
Taux de réponse :
100%
Délai de réponse :
Moins d'une heure
Découvrez d'autres options à Volcano et dans ses environs
Plus de logements à Volcano :