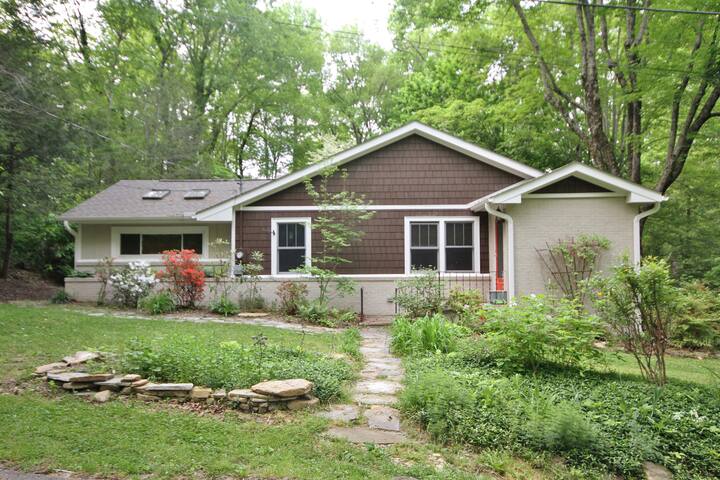 Tucked under a canopy of trees, Breezy Vale House is located in the heart of Black Mountain, just blocks from downtown restaurants, farmers markets, shops, Lake Tomahawk Park, Black Mountain Pool, Black Mountain Golf Club & Montreat College.
Le logement
Breezy Vale House is our main home, our base-camp, however with adequate notice, it can possibly be available.
Tucked under a canopy of trees, Breezy Vale House is located in the heart of Black Mountain, just blocks from downtown restaurants, farmers markets, shops, Lake Tomahawk Park, Black Mountain Pool, Black Mountain Golf Club, Montreat College and less than 15 minutes to Asheville. Close to beautiful hiking spots, waterfalls and mountain biking, the house is fully furnished, quiet and cozy - just a short walk from the library, shopping & incredible restaurants. Less than 15 miles to Biltmore Estate, and you can be on the Blue Ridge Parkway in less than 10 minutes. Come visit Lake Lure, Bat Cave, Grandfather Mountain and Mt. Mitchell. Hike trails, climb mountains, ride mountain bikes and visit beautiful waterfalls.
Breezy Vale House was built in the early 1960's and has been renovated. Bright and whimsical, and all on one level, this house has 3 bedrooms (1 king size bed with premium mattress & bedding & cable/TV) in master bedroom, twin bed in 2nd bedroom, a twin bed with twin trundle bed in 3rd bedroom, and 1 full bathroom. Fully furnished with well-equipped kitchen. The backyard is fenced-in, has a large deck with table/seating for 6 with umbrella, 6 person hot tub, large gas grill with electric oven, stone patio with fire pit, adirondak chairs, and the yard has plenty of room for the kids to run around. Equipped with full-size front-load washer and dryer, it boasts 2 living rooms (1 with TV, cable & the other with TV, cable, DVD player & gas fireplace), board games, DVD movies, books, central heating & air conditioning. Perfect for a family with children.
Well behaved, house-trained dogs are welcome. There is a $500.00 refundable pet deposit. No pets allowed on furniture or in beds.
There is no smoking allowed inside the house. Ashtrays are available for outdoor smoking.
Rental fees: $200.00 per weeknight, $225.00 per weekend night, $1300.00 per week, $2,900.00 per month (includes all utilities).
Accès des voyageurs
Guests have access to the entire house.
Échanges avec les voyageurs
I assign key pad access codes. If you want me to meet you at check in I can meet you there. Otherwise, just let me know if you need anything at all.
Autres remarques
Places to visit while you are in the area:
Lake Lure
is a well-known destination for thousands of visitors each year from around this country, Canada, and abroad. The Town of Lake Lure is a beautiful place to visit and a wonderful place to live; it is the home of over 1,050 permanent residents. Located in western North Carolina, the town sits in the heart of Hickory Nut Gorge, east of Asheville. The Rocky Broad River winds its way through a series of rapids down through Hickory Nut Gorge, and the crystal clear water flows through the valley that feeds Lake Lure. The Town of Lake Lure encompasses 13.25 square miles including the lake with a large central body of deep water, three long bays, an island of seven acres and many small bays and inlets with a background of forest clad hills and mountains. The climate is unusually temperate as Lake Lure lies in the "thermal belt" of the western North Carolina mountains and foothills.
The lake is the number one attraction and the reason so many families visit Lake Lure year after year. National Geographic has called Lake Lure one of the most beautiful man-made lakes in the world. Visitors come to enjoy the 720 acres of lake, sparkling clean beach area, and the incredible Blue Ridge mountain range including Chimney Rock.
History records that the idea of a resort community in western North Carolina was the vision of Dr. Lucius B. Morse. Soliciting the financial backing of his brothers, Dr. Morse purchased 400 acres around Chimney Rock in 1902 to create Chimney Rock Park. Additional acreage was acquired over the next several years to bring the total to 8,000 acres. Dr. Morse conceived the idea of building a dam on the Rocky Broad River to create a lake and a year-round resort. The dam was completed in September 1926, forming the lake which was named Lake Lure by Dr. Morse's wife, Elizabeth Parkenson. The Town of Lake Lure was incorporated in 1927.
The Town of Lake Lure is a great location for sports including swimming, golfing, hiking or serious rock climbing. You can enjoy a wide variety of water activities, ranging from canoeing and fishing to pleasure boating and water skiing. Both motor and non-motorized boats enjoy the lake; however, a lake permit is required to place a private boat on the lake.
Grandfather Mountain
Be inspired by views from the Mile High Swinging Bridge, laugh at bear cubs and otters in natural habitats, and escape into a globally recognized nature preserve with 12 miles of the South's best alpine hiking trails. Open all year. US 221 and the Blue Ridge Parkway at Linville.
(PHONE NUMBER HIDDEN)
Sunset Cruises
Join Southern Waterways and experience the Biltmore Estate and the French Broad River in a whole new way on a relaxing sunset raft, canoe, or kayak ride though George Vanderbilt's prized land holdings. Wednesday and Saturday nights only. (PHONE NUMBER HIDDEN)
Cherokee
Learn the history and meet the people of the Cherokee Indian Reservation. Visit the Oconoluftee Indian Village and see "Unto These Hills" for a great educational opportunity.
Linville Caverns
Located in WNC near Grandfather Mountain, Linville Caverns are worth the visit. Deep beneath Humpback Mountain, nature has sculpted a veritable masterpiece in stone. Toiling many centuries, slowly moving ground water has been the primary artist for this creation of underground labyrinths. The water dissolved out an incredible series of rooms and passages. The cavern was discovered in the 1800's by men intrigued by the mystery of fish swimming out of the mountain. Since then, extensive research has been done to acknowledge the history, folklore, geology and biology of Linville Caverns. The mystery is still alive. (PHONE NUMBER HIDDEN) or (PHONE NUMBER HIDDEN)
Oconaluftee Indian Village
Travel back to 1750 when you enter this recreated Cherolkee community featuring Native American guides in traditional costumes. Craft demonstration including canoe construction and arrow making take place in the midst of a seven sided coucil house, sweat lodge and cherokee homes. , Ghwy 441 N. Cherokee. (PHONE NUMBER HIDDEN) or (PHONE NUMBER HIDDEN)
Flat Rock Playhouse
One of the finest local playhouses in the United States. Highly acclaimed throughout the theater world. Check their web site for schedule.
Asheville Tourists
Take yourself down to the ballgame this summer at McCormic Field, 30 Buchanan St., as you watch Asheville's minor-league heroes, The Tourists, confront a host of regional contenders. (PHONE NUMBER HIDDEN)
Asheville Historic Trolley Tours
Sightsee Asheville in style aboard our vintage touring trolleys.Visit Asheville's major attractions on this live, narrated tour including the Grove Park Inn,Montford Historic District, Grove Arcade, Biltmore Village and much,much more.The ticket price includes admission to the Thomas Wolfe Memorial and Grove Arcade Building. (PHONE NUMBER HIDDEN)
Hickory Furniture Mart
When you're in Asheville, you're just over an hour away from the nation's leading home furnishings resource and a shopping experience you'll never forget. See a thousand lines in nearly a hundred beautiful factory stores, outlets and galleries. Ideas galore. Famous North Carolina prices. On-site hotel, restaurant, shipping service. Visit h(URL HIDDEN) 800/462-MART
Biltmore Estate
George Vanderbilt created Biltmore Estate in North Carolina's Blue Ridge Mountains more than a century ago as a retreat for family and friends; a place to rediscover gracious hospitality and revel in nature's beauty. His vision holds true today. Explore Biltmore House, a magnificent 250-room château filled with priceless art and antiques. Stroll through century-old gardens designed by America's first landscape architect. Savor award-winning wines and taste our chefs' creations using estate-raised foods. Enjoy our 8,000 acres of forests, farmlands, and rivers on bikes, horseback, and rafts. (PHONE NUMBER HIDDEN)
Great Smoky Mountains Railroad
With the romance and mystique of an era gone by, guests on board the Great Smoky Mountains Railroad will enjoy year-round scenic train journeys across fertile valleys, through tunnels and across river gorges in the Great Smoky Mountains. Tuckasegee River Excursion (3½ hour round trip), Nantahala Gorge Excursion (4½ hour round trip) and the Gourmet Dinner Train (2½ hours) are just a few of the wonderful excursion trips available to passengers. (PHONE NUMBER HIDDEN) or (PHONE NUMBER HIDDEN)
Lake Lure Marina
Hop on board one of our many rental boats and discover for yourself why National Geographic named Lake Lure "one of the ten most beautiful man-made lakes in the world." Canoe, kayak, paddleboat, electric boat, pontoon and speed boat rentals. Wakeboarding and waterskiing. U.S. Hwy. 64/74A, 25 miles southeast of Asheville.
Toll-free: 877-FUN-4-ALL, ((PHONE NUMBER HIDDEN))
Chimney Rock Park
Find the best of the mountains in one place. This privately-owned scenic attraction near Asheville offers spectacular 75-mile views, a 404-foot waterfall, hiking trails and more. (PHONE NUMBER HIDDEN)
Grove Arcade Arts and Heritage Gallery
The gallery features an state-of-the-art, interactive exhibition that uses a solid terrain model animated with regional voices, video, music and lasers to bring the culture and history of Western North Carolina to life. The Grove Arcade Arts & Heritage Gallery is a project of the Grove Arcade Public Market Foundation. Opened in January 2006, the gallery features the crafts, music and stories of the Blue Ridge. Visit the gallery and experience the places, objects and activities that authentically represent the people of Western North Carolina. The Gallery's mission is to strive to help drive the local economy of the Blue Ridge National Heritage Area by establishing strategic partnerships and promoting the region's arts, crafts, music and cultural heritage.
Blue Ridge Corn Maze
Bring the whole family and find your way out of a maze that traverses six acres of corn field. Open July through Octob(PHONE NUMBER HIDDEN)
Hickory Ridge Homestead
Experience Appalachian life in the late 18th century at this living history museum composed of a log cabin, a weaving room, a barn and a smoke house. This outdoor drama, Horn in the West, set during the same era, is performed on site. Located at 591 Horn in the West Dr., Bo(PHONE NUMBER HIDDEN)
Mount Mitchell
The eastern United States highest mountain. Experience a wonderful drive on the Blue Ridge Parkway north of Asheville to the Mount Mitchell State Park. A great place to have a picnic and walk on the surrounding trails. (PHONE NUMBER HIDDEN) ext. 200
North Carolina's National Forests
Take a look at some of the nation's top national forests located in the great state of North Carolina.
Vance Birthplace
On Reems Chreek Road off US 25 near Weaverville is the restored late 18th century homestead of North Carolina Senator and Civil War Governor Zebulon B. Vance. Open year-round. Admission is free. (PHONE NUMBER HIDDEN)
Cherohala Skyway
This new two-lane skyway spans 40 miles to link Tennessee's Tellico Plains to Robbinsville, NC. Many scenic overlooks allow for beautiful view, excellent photography, and picnic lunches. Allow 1-1/2 to 2 hrs travel time. (PHONE NUMBER HIDDEN)
Western Carolina University's Mountain Heritage Center
On WCU campus in Cullowhee. The center celebrates heritage of the Southern Appalchian region through exhibits, publications, educational programs and demonstrations. Free. (PHONE NUMBER HIDDEN)
Pack Place Education, Arts and Science Center
Downtown across from Pack Square, Pack Place Education, Arts and Science Center houses Three Centuries of Pack Square, and is the home for the Asheville Art Museum, Diana Wortham Theater, Colburn Earth Science Museum, the Health Adventure and the YMI Cultural Center.
"A must see" when visiting Asheville, NC. (PHONE NUMBER HIDDEN)
Asheville's Urban Trail
The Asheville Urban Trail creates a living, historic walking tour of Asheville: a museum without walls, that illustrates and highlights the city's heritage. "The remarkable abundance and survival of much of the city's turn-of-the-century architecture has set the decorative tone for the rebirth of the downtown area. And the visual beauty and intricate detail of the architecture style found here is not only a feast for the eyes, but also stands as a visual reminder of the remarkable, creative history of the city and of the dynamic and talented individuals who first chose Asheville as home." Along the Urban Trail the history of the city and of its people is represented in story and art. (PHONE NUMBER HIDDEN)
Blue Ridge Parkway
One of America's finest driving routes, following the the Blue Ridge Mountains from Virginia to the Great Smoky Mountains.
Folk Art Center
The Folk Art Center, located just east of the heart of Asheville on the Blue Ridge Parkway at Milepost 382, is a center for one-of-a-kind, handmade crafts that are a part of the very fiber of the mountains. (PHONE NUMBER HIDDEN)
Cradle of Forestry
This is a historical site and interpretive center in Pisgah National Forest near Brevard. The Cradle of Forestry is a beautiful place to visit any day of the week. (PHONE NUMBER HIDDEN)
Appalachian Trail
This world famous trial runs through North Carolina on its way from the State of Maine from the Stae of Georgia.
Pearson's Falls
Located between Tryon and Saluda is Pearson's Falls. The Tryon Garden Club has own this 250-acre site for nearly 70 years. Hours are 10am -6pm Wednesday-Sunday. Admission is $2 for adults. (PHONE NUMBER HIDDEN)
Bent Creek Experimental Forest
One of America's oldest research forests that is maintained by the USDA Forest Service.
Nantahala National Forest
This national forest contains the Memorial Joyce Kilmer Forest that contains one of America's oldest stand of Poplar Trees.
Pisgah National Forest
Nearly 500,000 acres of protected forest, featuring hundreds of miles hiking, biking, and horse trails, waterfalls, and beautiful mountaintop views. (PHONE NUMBER HIDDEN) or (PHONE NUMBER HIDDEN)
Asheville Assault
Asheville's first all-women football team is a member of the National Women's Football association-and a mighty force to be reckoned with! Home games are held at Memorial Stadium, 30 Buchanan St.
Pisgah Center for Wildlife Education
A multi-agency wildlife center focusing on the wonders of NC native wildlife. Attractions include aquarium, guided walks, tour of fish hatchery, and gift shop. The center also offers a verity of schedules programs for groups. Special-event programs and educator workshops are also scheduled during the year. Free admission. FR 475 off us 276 N. Pisgah Forest. (PHONE NUMBER HIDDEN)
Pisgah Forest Fish Hatchery
Housed at the base of John Rock, the hatchery raises the thousands of trout used to stock area streams. Feeding the fish is a real treat for kids, and an educational center with programs and interpretive walking trail will educate and entrain all ages. FR 475 off US 276 N., Pisgah Forest.
(PHONE NUMBER HIDDEN)
Asheville Botanical Gardens
The Botanical Gardens at Asheville, North Carolina is located in one of the three most diverse temperate ecosystems on earth - the Southern Appalachian Mountains. Our collections are primarily native species displayed in both natural settings and in ways designed for ease of examination and beauty. (PHONE NUMBER HIDDEN)
Riverside Cemetary
This cemetery in Asheville is the burial place of Thomas Wolfe and O Henry. (PHONE NUMBER HIDDEN)
North Carolina Arboretum
A 427-acre facility with a Visitor Education Center, state-of-the-art greenhouses, beautiful gardens, and walking trails. (PHONE NUMBER HIDDEN)
Great Smoky Mountains National Park
America's most visited National Park. The Great Smoky Mountains National Park has the Blue Ridge Parkway going through it, so it is to access with great vistas around every turn.
WNC Nature Center
The Western North Carolina Nature Center is the first place where area children meet the animals they have read about. Deers, bears, cougars, wolf, racoons, birds and even farm animals are there for all to learn about. Exhibits on area poisonous snakes are worth absorbing. An aviary, self-guided nature trail and petting zoo make this a great place for the family. Small admission fee. (PHONE NUMBER HIDDEN)
Catawba Science Center
This is 12,000 sq. feet of "hands-on" experimental exhibits that include live animals, earth and physical science, toddler areas and natural history exhibits. Located on the SALT block in the Arts & Sciences Center of Catawba Valley, 243 Third Ave., NE in Hickory. (PHONE NUMBER HIDDEN)
Thomas Wolfe House
The boyhood home of the author Thomas Wolfe (Look Homeward, Angel) is furnished with family possessions and open for tours (appr. 30 min.). A number of special events take place each year. Small admission fee. (PHONE NUMBER HIDDEN)
Smith-McDowell House Museum, Asheville's First Mansion
If you are planning a visit to the Asheville area for the color season, you might want to plan a visit to the Smith-McDowell House Museum. Built circa 1840 by James McConnell Smith, the Smith McDowell House is Asheville's oldest surviving house and the oldest brick house in Buncombe County, North Carolina. Small admission fee. (PHONE NUMBER HIDDEN)
Mineral & Lapidary Museum
The museum is located at 400 North Main Street below the Genealogical and Historical Society. (PHONE NUMBER HIDDEN)
Asheville Art Museum
As the single visual arts facility serving Western North Carolina, the Asheville Art Museum, its collection and programs are the only such resources available to the diverse communities in the region.
YMI Cultural Center
For years, the 18,000 square foot YMI building was the social and economic center of Asheville's Black community. Currently YMI is a cultural center operating with support from the City of Asheville. Its impressive Tudor-style structure is listed on the National Register of Historic Places and features four galleries and a 300-seat performing arts theatre.
Land of the Waterfalls
Visit over 250 majestic waterfalls throughout Transylvania County. We're in the heart of the Blue Ridge Mountains where the air is cool, the waters are pure, and the welcome is warm!
Carl Sandburg Home
This historic site consists of a 22 room house, barns, sheds, rolling pastures, walking trails, two small lakes, ponds, flower and vegetable gardens, and an orchard. This is where Carl Sandburg felt the peace and solitude he required to write. (PHONE NUMBER HIDDEN)
Asheville Contemporary Dance Theatre
The Asheville Contemporary Dance Theatre's work includes family oriented dance theatre productions, collaborative shows, community involvement, dance networking, educational training, touring shows and presentations, and an international exchange program.
Appalachian Cultural Museum
The mission of the Appalachian Cultural Museum is to provide a continuing reinterpretation of life and culture in the Blue Ridge region, and to serve as a laboratory for new museum ideas.
The Health Adventure
The Health Adventure celebrates the pursuit of wellness in mind, body, and spirit. The interactive activities throughout the Health Adventure keep children learning.
Western North Carolina Agricultural Center
This is the home of the Western North Carolina State Fair. The facilities include the McGough Arena, J. Clayton Davis Arena, Outside Warmup Rings, Sales Arena, Stall Barns, and Youth Building.
Gorges State Park
The newest addition to North Carolina's state parks is right here in the Blue Ridge Mountains. Gorges State Park has over 80 inches of rain a year making it a temperate rain forest. The plunging waterfalls, rugged river gorges, sheer rock walls, and concentration of rare and unique species makes this a wonderful park to visit. (PHONE NUMBER HIDDEN)
Southern Appalachian Repertory Theatre
SART's purpose has been to produce quality theatre by a professional non-profit company and to present plays concerning Appalachia that portray the rich culture and heritage of its people and to promote the development of original plays. (PHONE NUMBER HIDDEN)
Sliding Rock
Test your sense of adventure at this popular natural water slide fueled by 11,000 gallons of water a minute! Wear old jeans or shorts for the 150-foot long ride down slick rock into a six-foot-deep pool of chilled mountain water. And for safety's sake, there's a life guard or two watching the fun and aiming to keep it that way. (PHONE NUMBER HIDDEN) or (PHONE NUMBER HIDDEN)
Voyageur supplémentaire Sans frais
Réduction à la semaine : 10%
Tarif week-end 230 CHF / nuit
Communiquez toujours via Airbnb
Pour protéger votre paiement, ne transférez jamais d'argent et n'établissez pas de contact en dehors du site ou de l'application Airbnb.
L'entrée dans les lieux se fait à partir de 14:00
CHECK-OUT Time is before 10:00am. Please be respectful of our checkout time and vacate rented premises no later than 10:00am, as we have cleaners scheduled for turnover for our next guests.
In order to keep our cleaning fees down, we instill a "Leave it as you found it" policy. Please treat our house as if it were your own. If you make a mess, please clean it up.
Before checking out please be sure to strip all used beds and put used linens in the laundry area, take out trash & put away any clean dishes. If cleaners need to spend time doing additional chores additional fees will be charged.
Garbage pick-up is Wednesdays. Please put only bagged garbage in garbage can. Recycling is every other Wednesday. Please see attached schedule. Recycling must be put in green recycling bins. Everything (trash can & recycling bins) must be taken to the road before 8:30am on Wednesday mornings. Please do not put loose garbage in the trash can; be sure all trash is bagged. If cleaners need to spend time cleaning loose items out of the trash can you will be charged a cleaning fee.
NO SMOKING ALLOWED INSIDE. THERE IS AN ASHTRAY IN THE KITCHEN CABINET FOR SMOKING ON THE BACK DECK OR FRONT PORCH.
Please DO NOT leave ANY fires unattended outside in the fire pit. Extinguish all fires completely when you are finished enjoying them. Please call (PHONE NUMBER HIDDEN) before starting ANY outside fires. The recording is updated at 9am every day. You can be fined up to $25,000 for burning on a burn ban day. For more info call Black Mountain Fire Station at (PHONE NUMBER HIDDEN).
Please help us conserve energy by turning off lights if they are not being used. Turn off outside lights during the day please. Please leave windows and doors closed if the heat/ air conditioning is running. If you would like the doors and/or windows open, please shut off the heat/air first.
Please do not leave food outside, as it attracts bears. Please clean grill when you are finished enjoying it, as the food smell attracts bears and wild animals.
Hot Tub Rules: Please see page in house binder titled "Hot Tub Directions & Rules" as well as laminated sign on deck.
WELL BEHAVED, HOUSE-TRAINED PETS ARE WELCOME. NO PETS ON FURNITURE OR IN BEDS. PLEASE CLEAN UP AFTER YOUR PETS! If cleaners need to spend additional time cleaning up after your pets there will be a cleaning fee. ALL PETS NEED TO BE APPROVED BY OWNER BEFORE YOUR RESERVATION IS MADE.
NO WEAPONS OR FIREWORKS ALLOWED (Firearms, bows & arrows, guns, blades, etc) at property.
HAVE FUN while you are here! Go hiking, biking, sightseeing and visit our amazing restaurants, waterfalls, shops, local artists & Farmer's Market!
LANDLORD/OWNER SHALL NOT BE RESPONSIBLE FOR DAMAGE OR LOSS OF TENANTS PERSONAL PROPERTY.
Détecteur de monoxyde de carbone
Séjour de 3 nuits minimum
Black Mountain, Caroline du Nord, États-Unis
Membre depuis octobre 2010
The three things I cannot live without are my family, music & essential oils.

I love to travel. My favorite place to visit is the Florida Keys.

Some of my favorite musicians are Ray LaMontagne, Nick Drake. Krishnas Das and Joshua James. I also listen to Louis Armstrong, Frank Sinatra, Tony Bennett, Ella Fitzgerald and Etta James, Reggae, Cuban, Brazillian, BossaNova, Americana, Bluegrass and TropRock.

Things I like: good people, small towns, music festivals, art, independent shops and restaurants, photography, gardening, good books and traveling.

As a host, I will give you privacy. I will introduce myself and say hello. If you have questions about the area, I am always open to talking, giving advice and helping out in any way possible.
Taux de réponse :
100%
Délai de réponse :
Moins d'une heure
Découvrez d'autres options à Black Mountain et dans ses environs
Plus de logements à Black Mountain :