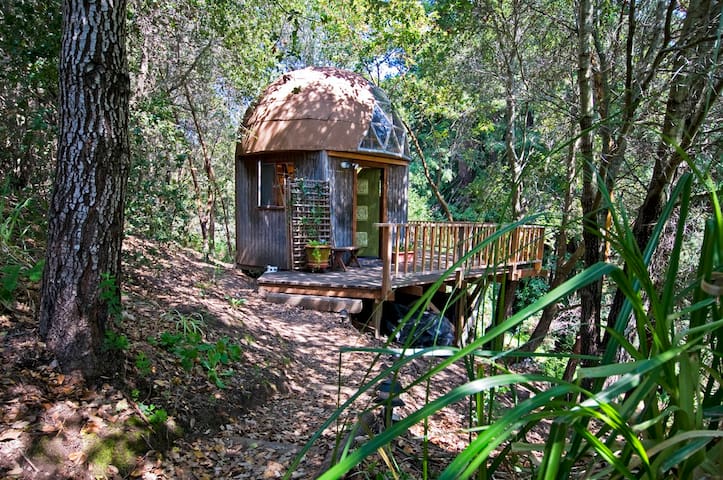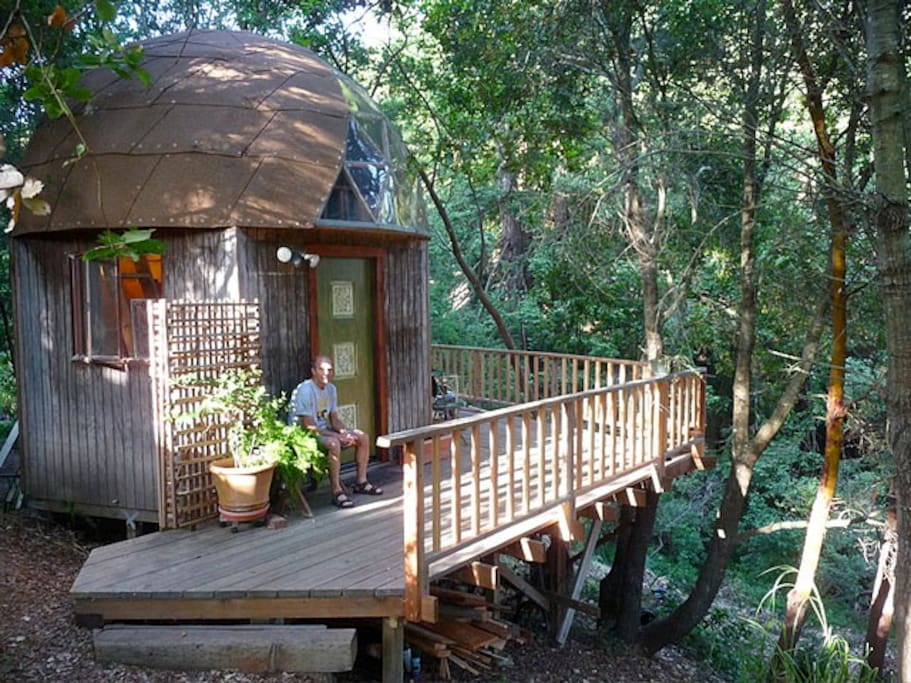 Mushroom Dome Cabin: #1 on airbnb in the world
Avec un loft géodésique et une grande terrasse dans les arbres, vous vous sentirez comme dans une cabane dans les arbres. (Vous ne pouvez pas réserver? Si vous souhaitez une retraite nature ici, réservez notre doux Hummingbird Haven: https://www.airbnb.com/rooms/6562632) Nous sommes dans un endroit calme mais pratique. Ombragé par des arbres de chênes et de Madrone et à côté d'un bosquet de Redwood, vous pouvez profiter du plein air depuis le pont. En été, il fait frais et en hiver, vous pouvez entendre le ruisseau qui coule en contrebas.
With a geodesic dome loft & a large deck in the trees, you'll feel like you're in a tree house in the woods.
(Can't book? If you would like a nature retreat here, reserve our sweet Hummingbird Haven: https://www.airbnb.com/rooms/6562632)
We are in a quiet yet convenient location. Shaded by Oak and Madrone trees and next to a Redwood grove, you can enjoy the outdoors from the deck. In the summer, it is cool and in the winter you might get to hear the creek running below.
Le logement
Nous avons 10 acres à côté de la terre sans clôtures afin que vous puissiez profiter de la nature: trainez sur le pont, faites une randonnée dans les bois, regardez les colibris, accordez les chèvres, allez à la plage ou regardez les étoiles - comme tant que la lune n'est pas pleine. ; ) Pendant l'été, s'il n'y a pas de brouillard nocturne, on peut voir la Voie lactée ici. Pour vérifier notre disponibilité, cliquez sur le lien "Demander pour réserver". Et oui, si ce n'est pas disponible, il est déjà réservé! Si vous souhaitez rester ici un week-end pendant l'été, vous devrez faire votre demande de réservation environ 6 mois à l'avance. Cependant, nous acceptons occasionnellement une annulation, alors si vous souhaitez une date déjà réservée, vous pouvez nous en informer et nous vous informerons d'une annulation. Si vous voulez rester ici, mais le Dome Mushroom est réservé, nous avons maintenant le Hummingbird Haven disponible: https://www.airbnb.com/rooms/6562632. Vous aurez le même accès à la nature et à la randonnée dans les séquoias, une vue magnifique et beaucoup d'intimité. Sans parler des centaines de colibris qui bourdonnent autour du studio, du soleil, d'un jardin de fleurs et d'une fontaine sur votre patio privé. (Veuillez lire toute cette description avant de faire une demande de réservation.) La cabane semi-rustique confortable et propre a un loft sous un dôme géodésique (le "bouchon de champignon"). Dans le loft se trouve un matelas Casper Super-populaire, qui permet de dormir très confortable et de sortir, nous fournissons des draps propres et des taies d'oreillers. De nombreux couvertures sont également fournies. L'autre «lit» est un canapé que l'on peut faire dans un lit. Si vous êtes deux d'entre vous, mais vous voulez des lits séparés, faites la réservation pour 3 ou faites-moi savoir à l'avance - il y a un montant de 10 $. charge de l'utiliser comme un lit. Dans le grenier, nous avons un écran plat HD 32 "et un lecteur DVD (pas de téléviseur) pour les films. (Nous avons plus de 80 films, vous pouvez également voir). Au rez-de-chaussée (un Pentagone) se trouve le canapé et une table à draps ainsi qu'une mini-kitchenette. Ici, vous trouverez une double plaque chauffante professionnelle, un petit réfrigérateur, un four grille-pain, un mélangeur, un pistolet à pop-corn à air chaud, une presse à café française, une centrifugeuse à salade - même un mélangeur - et tous les plats et équipements dont vous auriez besoin pour préparer une collation ou un repas ou pour ouvrir un verre de vin. Nous avons 2 tables où vous pourrez déguster des repas, des jeux, etc.: 1 intérieur et 1 extérieur sur le grand pont qui fait face aux séquoias. Nous avons également un barbecue sur le pont avec un brûleur à gaz supplémentaire sur le côté. Nous proposons des bières organiques, des thés, de l'avoine, du maïs soufflé, du beurre, du miel, du sucre, de la levure nutritionnelle (pour le popcorn!), Des épices, de l'huile et du vinaigre et des collations variées. Notre eau de puits est traitée par un ozonateur, une lumière UV et un filtre à eau douce. Si vous avez un bébé et que vous n'aurez pas besoin du deuxième lit, faites votre réservation pour 2 et faites-nous savoir si vous aurez besoin d'un petit bloc pour le grenier. Encore une fois, si vous êtes deux d'entre vous, mais vous souhaitez utiliser le deuxième lit, faites votre réservation pour 3. La jolie salle de bains dispose d'une douche travertin, d'un évier carrelage personnalisé et d'une toilette à compostage autonome Natures Head. Certains clients ont eu un problème avec notre salle de bain, alors je tiens à préciser que nous avons un rideau pour la porte de la salle de bain et nous demandons que vous mettiez votre papier toilette usé à la corbeille. (il ne sentra pas) Si vous suivez les instructions pour utiliser les toilettes, cela n'aura aucune odeur. Si la pensée d'utiliser une toilette de compostage vous évite, alors ne faites pas de réservation ici. ; ) Nous fournissons des serviettes, du savon, du shampooing, un conditionneur, un sèche-cheveux, etc. (un mot de prudence: la salle de bain a un plafond bas. Si vous avez plus de 6 ', vous devrez peut-être faire un petit creux ici et là.) Comme les samedis sont très demandés (et nous aimons être gratuits le samedi), nous avons besoin d'un minimum de 2 jours de séjour le week-end. Gardez à l'esprit que vendredi et samedi soir sont $ 145. chaque. Par conséquent, rester ici un week-end coûtera 290 $. plus les 35 $. les frais de nettoyage, les frais de 40 $ et la taxe transitoire du district de Santa Cruz de 11% d'environ 35 $. Donc pour le week-end, ce sera un total d'environ 444 $. Rester pendant 1 jour à la mi-semaine coûte un total total d'environ 200 $. Sur les vacances de 3 jours, nous avons besoin d'une réservation de 3 jours. (Cela inclut la Journée des présidents, le Jour du Souvenir, le jour de MLK et la Fête du Travail.) Mais pour rester ici un week-end, vous devrez généralement réserver la cabine 6 à 8 mois à l'avance - sauf si vous êtes chanceux de trouver une annulation! L'heure d'arrivée est entre 4 et 10 heures. Si vous voulez venir tôt ou tard, cela peut parfois être organisé. L'heure de départ est midi. Comme nous avons éprouvé des dommages causés par les invités, nous avons maintenant besoin de 100 $. dépôt de garantie. Bien qu'il soit très isolé ici, nous sommes à moins de 10 minutes du village d'Aptos où vous trouverez des magasins, des restaurants, un magasin d'aliments naturels, Safeway, etc. Nous sommes situé au centre de la baie de Monterey: à 10 minutes de la plage (Rio Del Mar et Seacliff State Beach) ainsi que du parc d'état de 10 000 acres Nisene Marks pour des kilomètres de randonnées pédestres ou de vagues dans les Redwoods et le long du ruisseau Aptos. Nous sommes à 20 minutes du centre-ville de Santa Cruz, à 25 min. à la promenade de la plage, à 45 minutes de Monterey et le célèbre aquarium de la baie de Monterey, à 50 min. à Carmel et 1 heure et demi à Big Sur en direction sud et à San Francisco vers le nord. Nous sommes situés dans l'une des plus belles régions de Californie. (ces temps ne sont pas pendant les heures de pointe;) L'une des attractions que nous tenons pour acquis est que vous pouvez voir des étoiles ici la nuit - à moins qu'il n'y ait une lune ou des nuages lumineux. Pendant l'été, dans une nuit claire, on peut voir la Voie lactée. Si vous aimez les colibris, apportez votre appareil photo. Notre jardin est la maison toute l'année à de nombreux colibris d'Anna. (Nous avons généralement environ 250 à 500 ans) Pendant l'été, nous sommes également appelés à la maison par de nombreux Rufus et Allen Hummers ainsi. Donc, vous devez voir notre «aéroport Hummingbird» où nous les nourrissons d'environ 160 oz. de sirop le jour d'été! Veuillez ne pas fumer dans la cabine ou sur la propriété. Nous avions l'habitude de laisser les fumeurs rester ici, mais ils piquent la cabine et il y a un risque d'incendie à l'extérieur. Certains téléphones portables ne fonctionnent pas ici, mais comme nous disposons d'un wifi gratuit dans la cabine, si votre téléphone fonctionne avec un réseau wifi, vous êtes prêt à appeler. Vous pouvez parfois obtenir le service Verizon sur le siège pivotant par la chaussée. Pour en savoir plus sur les choses à faire dans la région, faites une recherche sur Internet pour Santa Cruz, Californie. Les chiens sont les bienvenus pour rester ici, mais avec quelques exigences: puisque nous avons tant d'animaux, nous exigeons que vos chiens soient maintenus en laisse à l'extérieur (les chèvres sont très nerveuses avec de gros chiens en vrac). En outre, nous n'autorisons pas les chiens dans le loft ou sur le canapé en bas, alors, amenez-vous un lit pour chien. (votre chien peut aller sur le canapé si vous apportez une couverture pour cela) Si cela est difficile, faites-le nous savoir et nous fournirons un oreiller pour chien. Nous avons une porte que nous pouvons mettre en place afin que votre chien puisse être en laisse sur le pont. Si vous apportez un petit enfant, nous pouvons mettre un futon pliant (2 / 3rds du futon ou un coussin en mousse à côté du lit). Faites-le nous savoir à l'avance. N'oubliez cependant pas qu'un enfant ne devrait pas être laissé dans le loft par lui-même car le lit est assez élevé contre le rail. Comme nous sommes à environ 3 miles à l'arrêt de bus le plus proche, il est assez difficile de rester ici sans voiture. Vous êtes invités, si vous pensez que vous seriez harmonieux ici, pour venir nous rejoindre sur notre ferme agricole en permaculture en développement. Accompagnez les chèvres, vérifiez nos poules, chats, chiens miniatures et profitez de l'air très frais. Je pourrais même vous apprendre à lier une chèvre. Si vous venez ici quand il n'y a pas de clair de lune et que le ciel est clair, vous verrez beaucoup d'étoiles. Fatigué de chaleur en été? Puisque nous sommes au bord de la "ceinture de brouillard", il peut être à la fois ensoleillé et cool ici. Si vous voulez un endroit bruyant, vous ne l'aimerez pas ici: la majeure partie du son provient des oiseaux ou des crickies qui chantent, les grenouilles et la brise qui soufflent dans les arbres. Cependant, les gens vivent sur la terre, alors ne vous attendez pas à ce qu'il soit totalement dépourvu de sons humains et de la scie à chaîne occasionnelle. :) (Nous alimentons les branches de chèvre et de chêne)
We have 10 acres next to land without fences so you will get to enjoy nature: just hang out on the deck, take a hike in the woods, watch the hummingbirds, pet the goats, go to the beach or gaze at the stars - as long as the moon isn't full. ; ) During the summer, if there isn't any nightly fog, we can see the Milky Way here.
To check our availability, click on the "Request to Book" link. And yes, if it isn't available, it is already booked! If you want to stay here on a weekend during the summer, you will need to make your reservation request about 6 months in advance. We do, however, occasionally get a cancellation, so if you want a date that's already booked, you can let us know and we will notify you of a cancellation. If you want to stay here, but the Mushroom Dome is booked up, we now have the Hummingbird Haven available: https://www.airbnb.com/rooms/6562632. You will have the same access to nature and the hike in the redwoods, a great view and lots of privacy. Not to mention the hundreds of Hummingbirds that hum around the studio, sun, a flower garden and a fountain on your private patio.
(Please read all of this description before making a reservation request.)
The cozy and clean semi-rustic cabin has a loft under a geodesic dome (the "mushroom cap"). In the loft is a Queen-sized super popular Casper Mattress which allows for very comfortable sleeping and just hanging out, We provide clean sheets and pillow cases. Plenty of blankets are also provided.
The other "bed" is a couch that we can make up into a bed. If there are going to be 2 of you, but you want separate beds, please make the reservation for 3 or let me know ahead of time - there is a $10. charge for using it as a bed.
In the loft, we have a 32" HD Flat Screen and a DVD player (no TV) for movies. (We have over 80 movies you can view as well.)
On the main floor (a Pentagon) is the couch and a pull-out table as well as a mini kitchenette. Here you will find a professional double hotplate, small refrigerator, toaster oven, blender, Hot Air Popcorn Popper, French Coffee Press, a salad spinner - even a mixer- and all the dishes and equipment you would need to prepare a snack or a meal or to open a glass of wine. We have 2 tables where you can enjoy meals, games, etc.: 1 inside and 1 outside on the large deck that faces the redwoods. We also have a barbecue grill on the deck with an extra gas burner on the side. We provide Organic Coffee, teas, Oatmeal, popcorn, butter, honey, sugar, nutritional yeast (for the popcorn!) spices, oil and vinegar and various snacks. Our well water is treated by an ozonator, a UV light and a soft water filter.
If you have a baby and you won't be needing the second bed, make your reservation for 2 and let us know if you will need a small pad for the loft. Again, if there are 2 of you but you want to use the second bed, please make your reservation for 3.
The cute bathroom has a Travertine shower, custom tiled sink and a Natures Head self-contained composting toilet. Some guests have had a problem with our bathroom, so I want to make it clear that we have a curtain for the door to the bathroom and we require that you put your used toilet paper in the trash. (it won't smell) If you follow the instructions for how to use the toilet, it won't have any odor. If the thought of using a composting toilet grosses you out, then don't make a reservation here. ; )
We provide towels, soap, shampoo, conditioner, a hair blow-dryer, etc. (a word of caution: the bathroom has a low ceiling. If you are over 6' you may have to do a little ducking here and there.)
As Saturdays are very much in demand, (and we like to be free on Saturdays), we require a minimum 2 day stay on the weekends. Keep in mind that Friday and Saturday nights are $145. each. Therefore, to stay here on a weekend will cost $290. plus the $35. cleaning fee, the $40 airbnb fee and the 11% Santa Cruz County Transient Tax of about $35. So for the weekend, it will be a total of about $444.
To stay for 1 day mid-week costs a grand total of about $200.
On 3 day holidays, we require a 3 day reservation. (This includes Presidents Day, Memorial Day, M.L.King day, and Labor Day.) But to stay here on a weekend, you will usually have to book the cabin 6 - 8 months in advance - unless you are lucky to find a cancellation!
Check-in time is between 4 and 10pm. If you want to come sooner or later, this can sometimes be arranged. Check-out time is noon.
As we have experienced some damage from guests, we are now requiring a $100. security deposit.
Although it feels very isolated here, we are less than 10 minutes to Aptos Village where you will find stores, restaurants, a health food store, Safeway, etc.
We are centrally located on the Monterey Bay: 10 minutes from the beach (Rio Del Mar and Seacliff State Beach) as well as the 10,000 acre Nisene Marks State Park for miles of hiking or dirt biking in the Redwoods and along Aptos creek. We are 20 minutes to downtown Santa Cruz, 25 min. to the Beach Boardwalk, 45 minutes to Monterey and the world-famous Monterey Bay Aquarium, 50 min. to Carmel and 1 1/2 hours to Big Sur going south and San Francisco to the North. Yup, we are located in one of the most beautiful areas of California. (these times are not during rush hour(s) ; )
One of the attractions that we take for granted is that you can see stars here at night - unless there is a bright moon or clouds. During the summer, on a clear night we can see the Milky Way.
If you love hummingbirds, bring your camera. Our garden is the year-round home to many Anna Hummingbirds. (We usually have about 250-500 year-round) During the summer, we are also called home by many Rufus and Allen Hummers as well. So you have got to see our "Hummingbird Airport" where we feed them about 160 oz. of syrup on a summer day!
Please, no smoking in the cabin or on the property. We used to let smokers stay here, but they stink up the cabin and it is a fire hazard outside.
Some cell phones don't work here, but since we have free wifi in the cabin, if your phone works with a wifi network, you are good to call. You can sometimes get Verizon service on the swinging seat by the driveway.
To learn about things to do in the area, do an internet search for Santa Cruz, CA.
Dogs are welcome to stay here but with a few requirements: since we have so many animals, we require that your dogs be kept on a leash when outside (the goats get very nervous with large loose dogs). Also, we don't allow dogs in the loft or on the couch downstairs so please bring a doggie bed. (your doggie can go on the couch if you bring a cover for it) If that is difficult, let us know and we will provide a doggie pillow. We have a gate that we can set up so your dog can be off the leash on the deck.
If you are bringing a small child, we can put a folding futon (2/3rds of the futon or a foam pad next to the bed ) Just let us know ahead of time. Keep in mind, though, that a child should not be left in the loft by themselves as the bed is fairly high up against the rail.
As we are about 3 miles to the nearest bus stop, it is pretty difficult to stay here without a car.
You are invited, if you feel you would be harmonious here, to come join us on our developing Permaculture farmette. Pet the goats, check out our chickens, cats, miniature dog and enjoy the very fresh air. I might even teach you how to milk a goat. If you come here when there is no moonlight and the sky is clear, you will see lots of stars.
Tired of the heat in the summer? Since we are on the edge of the "fog belt", it can be both sunny and cool here. If you want a noisy place, you won't like it here: most of the sound here comes from the birds or crickets chirping, the tree frogs croaking and the breeze blowing through the trees. People do live on the land here though, so don't expect it to be totally devoid of human sounds and the occasional chain saw. : ) (We feed the goats oak branches)
Accès des voyageurs
Il y a un wifi gratuit dans la cabine, une excellente eau de puits et de bons chemins de randonnée tout droit sur le pont ainsi qu'un bac à sable naturel dans le lit de ruisseau sec sous le bois rouge. (En hiver, il peut avoir de l'eau courante). Les invités sont également invités à se promener, visiter nos animaux sur notre petite fermette (3 chèvres, beaucoup de poulets, un petit chien et 2 chats) et poser des questions.
There is free wifi in the cabin, great well water and some good hiking trails right off the deck as well as a nature sandbox in the dry creek bed under the redwood grove. (In the winter, it can have running water) Guests are also welcome to wander around, visit our animals on our little "farmette" (3 goats, lots of chickens, a small dog and 2 cats) and ask questions.
Échanges avec les voyageurs
J'interroge presque toujours avec nos invités. J'aime les faire sentir bienvenus et à la maison, leur montrer les colibris et partager ma connaissance des bons endroits à visiter dans notre magnifique région. Faites-moi savoir si vous ne voulez pas interagir avec moi et je vous laisse tranquille rapidement. ; )
I almost always interact with our guests. I love to make them feel welcome and at home, show them the hummingbirds and share my knowledge of the great places to go in our beautiful area. Let me know if you don't want to interact with me and I'll leave you alone quickly. ; )
Autres remarques
Nous avons une promenade plutôt étroite - et dans quelques endroits, abrupte -. Il y a des passages pour transmettre les voitures à venir. Prenez-le lentement. Parfois, nous avons une panne de courant pendant l'hiver. Si cela se produit, nous allons fournir des lumières à piles. Si la route principale est bloquée par un arbre abattu, je vais vous faire savoir comment entrer ou sortir de notre région.
We have a rather narrow - and in a few places, steep - driveway. There are turnouts to pass oncoming cars. Please take it slowly.
Occasionally, we have a power outage during the winter. If that happens, we will provide battery operated lights. If the main road is blocked by a downed tree, I'll let you know how to get in or out of our area.
---
---
Voyageur supplémentaire 10 CHF / nuit après 2 voyageurs
Tarif week-end 146 CHF / nuit
Soutien à l'engagement pour un salaire décent
Les personnes qui nettoient le logement de cet hôte perçoivent un salaire décent.
En savoir plus
Communiquez toujours via Airbnb
Pour protéger votre paiement, ne transférez jamais d'argent et n'établissez pas de contact en dehors du site ou de l'application Airbnb.
En savoir plus
---
Chambre 1
1 lit queen size
Espaces communs
1 canapé convertible
---
L'entrée dans les lieux se fait à partir de 16:00
• Please, no smoking either in the cabin or on the property
• Please don't sleep here with tooth or skin whitening material: they bleach the pillow cases and sheets.
• If you want to bring a dog, please send a request. (We have goats and cats) As so many people are allergic to cats, please don't bring yours.
• Dogs must stay on a leash when outside.
• Dogs are not allowed in the loft.
• No wild parties, please.
• Please don't drink wine in the loft.
• If you use the barbecue, you are required to clean it. But don't close the side lid if the burner is still hot!
• Please wash and put away your dishes, pots, etc. before leaving.
• Please don't bring a lot of food or water in plastic. (those #1 clamshells can't be recycled)
We provide all the dishes you will probably need, so please don't bring disposables either.
• If you want to use real candles, please talk to us first. We provide a rose quartz mood light.
• Please take short showers.
Vous affirmez avoir également pris connaissance de :
Le logement comprend des marches ou escaliers - There is a short but steep steps down to the cabin and the loft is accessed via a ladder.
Nuisances sonores possibles - Once in awhile, we need to cut some oak for the goats with a chain saw. We try to do it when guests aren't present, but that is not always possible.
Présence d'animaux de compagnie sur place - We have 3 goats, chickens, 2 cats and a tiny dog.
---
---
La durée minimum de séjour pour cette annonce peut varier.
---
Kitty a été une hôte très agréable et conciliante (on est arrivée à 9.30PM). On a pu discuter longuement avec elle. Elle nous a fait découvrir la forêt qui entoure ce logement si spécial, et nous a invité à venir observer les colibris (par dizaine !) sur sa terrasse. Le "Mushroom" est idéal pour qui aime la vie au milieu de la nature. Nous y sommes resté une seule nuit et on aurait voulu y rester beaucoup plus longtemps. Caché au coeur de la forêt, il permet également d'aller visiter Monterey, Carmel et la cote ouest de la Californie.
Réponse de Kitty And Michael :
Thank you Réme - here is the English translation: Kitty was a very pleasant and accommodating host (we arrived at 9.30pm). We had a long discussion with her. She introduced us to the forest that surrounds this special housing, and invited us to come and observe hummingbirds (by ten!) on the terrace. The "Mushroom" is ideal for those who love life in the midst of nature. We stayed there one night and we could have stayed much longer. Hidden in the heart of the forest, it also allows to visit Monterey, Carmel and the west coast of California.
---
The Mushroom Dome was our FAVORITE airbnb so far and we've stayed in many of them! Kitty made us feel very welcome and had many stories to share whilst also providing us with any information and amenities we could have asked for. The house was clean, tidy and beautiful! The shower made up it's size by being way more effective than many I've seen before and many people seem to have had difficulties with the toilet - it's really not that hard if you follow the instructions about the flushing system! This night was also one of our most relaxing in weeks! We had a great time here and enjoyed every minute of it!
---
Spending a night at the mushroom dome was a really unique experience. We enjoyed it a lot! We cooked a meal in "our own" mushroom kitchen, watched movies in bed and had a great time there. Kitty was a really warm and friendly host. We would definitely recommend staying at her place. We liked the goat milk for breakfast :-)
---
This is really nice to find places like this as it shows a different face from the usual city places. Contact with Kitty was really smooth and she gave us lots of instructions to easily find the place. The Mushroom Dome is really an original piece of cabin! Clean and Cosy, we felt very well. It was great as well to be able to use the BBQ for our diner. We really had a nice time and nice sleep and would definitely recommend to try this place if you are in the area. And by the way, Aptos is fairly small, but the local stores and people are really friendly so don't hesitate to stop by.
---
Aptos, Californie, États-Unis
Membre depuis juillet 2009
We live on 10 beautiful acres of sun, oak forest, redwood groves and gardens with a small community made up of ourselves (Kitty and Michael), 1 of our adult sons, 8 other young adults, a Chiropractor, a plumber, and a retired mason, 3 goats, a parrot, 4 cats, 2 small dogs, 17 chickens and over 200 hummingbirds.

Kitty teaches Universal White Time Gemstone Healing, is a healer, artist, builder, farmer and musician.
Michael works at the University of California, Santa Cruz Extension in Silicon Valley, managing the International Education program. He bikes, runs, swims, sometimes all in the same day. Together, Kitty and Michael teach Meditation classes with the "Teaching of Intuitional Metaphysics" under the guidance of the Masters Babaji, Jesus, and St. Germain.

The young adults here are photographers, surfers, artists and/or musicians and budding farmers.
We are slowly turning this land into a permaculture farm and a center of creativity, learning to live simply, with joy and kindness.

We hold a public non-denominational meditation at our house every Sunday night: you are welcome to join us if you are here.

We have been hosting on airbnb since July, 2009 and really love what this company has made possible. We have met so many wonderful people from around the world that we would never have met if we hadn't had this opportunity with airbnb! Some of our guests (especially the ones from Europe) have never seen a hummingbird before and here they get to see them up close - just a few feet from them as the birds "hum" around the feeders.

We welcome you to come experience the peace and tranquility that our wonderful land has to offer.
Taux de réponse :
100%
Délai de réponse :
Moins d'une heure
Découvrez d'autres options à Aptos et dans ses environs
Plus de logements à Aptos :