Menos de una milla desde el corazón del centro de Anchorage, y aún más cerca de senderos para bicicletas, encontrará nuestro pequeño fourplex enclavado en Fairview. Este acogedor 400 pies cuadrados. apartamento está situado en la planta superior, con amplias ventanas que invitan impresionantes puestas de sol de Alaska. Simplicidad, conveniencia y la comodidad son ofrecidos aquí para que pueda relajarse y disfrutar de todo lo que Alaska tiene que ofrecer.
Nuestra fourplex se encuentra entre cabañas construidas en los años 60, nuevas casas de familia, y edificios de apartamentos por lo que es un bloque ecléctica de moda. Hay un gran parque abierto a poca distancia corta, donde los miembros de nuestra comunidad a menudo se organizan recoger fútbol americano y el rugby. Hay varios senderos para bicicletas muy cerca que te puede llevar toda la ciudad.
Type de logement
Logement entier
---
Type de propriété
Appartement
---
Capacité d'accueil
4
---
Chambres
Anchorage, Alaska, États-Unis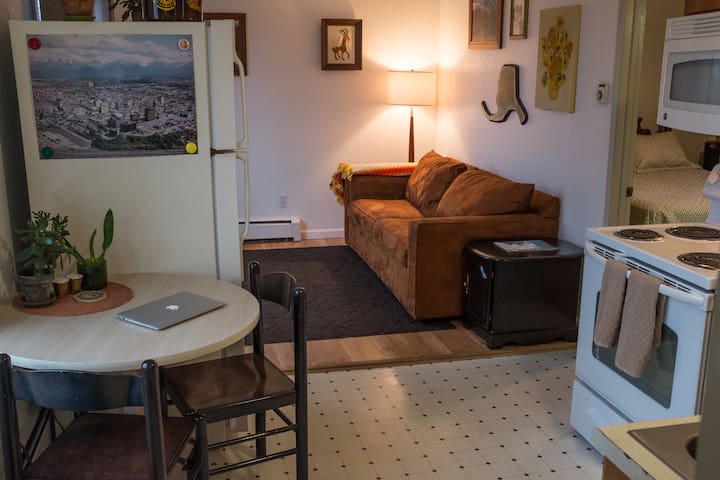 Unser Platz ist in der Innenstadt von einem historischen Viertel und zu Fuß zu allen Sehenswürdigkeiten der Innenstadt, während immer noch eine ruhige Nachbarschaft Gefühl haben. Sie werden die im Erdgeschoss Einheit in einem Duplex haben. Wir leben in der oberen Einheit und stehen Ihnen für alle Fragen rund um die Vermietung oder den Bereich zu beantworten.
Eine aktualisierte 1940 zu Hause in einem historischen Viertel. Diese 800 Quadratfuß im Erdgeschoss Einheit enthält alles, was Sie zu Hause sein müssen. Es gibt einen eigenen Eingang, eine voll ausgestattete Küche mit allen Geräten, und eine Waschmaschine und Trockner. Es gibt einen gemeinsamen umzäunten Hinterhof mit Rasen, Bäumen und auch Himbeersträucher, so dass Sie sich an die frische Beeren und Grüntöne aus dem Garten in der Saison helfen können. Bitte beachten Sie das Schlafzimmer keinen Abschlusstür haben, wenn Ihnen das wichtig ist.
Alles zu Fuß erreichen die Innenstadt. Direkt am Park Streifen und in der Nähe von Einkaufsmöglichkeiten, Restaurants und alle Innenstadt von Anchorage Seiten. Sie werden ein 5-15 Minuten zu Fuß zu allen Sehenswürdigkeiten in der Innenstadt sein. -weniger als 5 Minuten zu Fuß zum Anchorage Museum -15 Minuten zu Fuß zur Tony Knowles Coastal Trail
Type de logement
Logement entier
---
Type de propriété
Appartement
---
Capacité d'accueil
4
---
Chambres
Anchorage, Alaska, États-Unis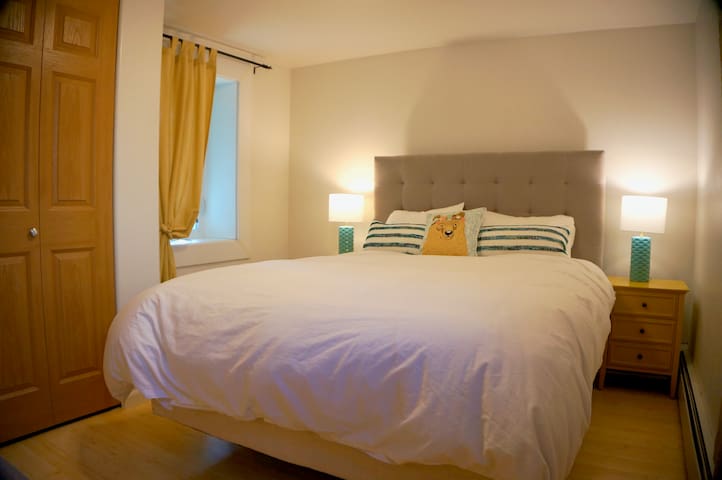 What a great place -- Drew & Lacy really took care of me! From the amenities, to cleanliness, to private parking, it was an amazing deal, blocks away from my favorite spots. With a kitchen, comfy bed, hooked up TV, and more... everything I could need was there -- just wish I stayed for longer. Looking forward to another visit soon.
Michael
2017-04-08T00:00:00Z
Type de logement
Logement entier
---
Type de propriété
Cabane
---
Capacité d'accueil
2
---
Chambres
Anchorage, Alaska, États-Unis
Quarto privado e casa de banho privada e menos de 5 milhas do aeroporto - Chegada tardia / check in disponível 24 horas por dia por Lock Box / com Key - após a sala de reserva obter detalhes para Combo para a chave
Tv dans la chambre a Netflix et Amazon Prime TV & TV Sling Regarder des films sur demande
Complexe de Condo -
Good place! A very comfortable and large room. We like to have our private bathroom. We didn't meet Morgan, but communication with him was great. We definitely recommend! :)
Dulce
2016-11-20T00:00:00Z
This place is great. Nice bedroom with a tv and private bathroom. Good wifi, easy check in process...what more can you ask for? This is a great value. This place should always be booked. Stay here!
Michael
2016-07-08T00:00:00Z
He was so nice! He kept his distance most of the time for our stay but always answered our questions super quick. He's awesome.
Leslie
2016-09-07T00:00:00Z
The room was cozy and clean, with everything you could hope for in an over night stay. Easy enough to find, nice centeral location, and well kept. Over all happy with the choice to stay here and would return again.
Melissa
2016-10-08T00:00:00Z
Pros: The private room is clean and spacious. The bed is so comfortable. The bathroom has everything you need. We both took comfortable showers and it was super relaxing. Morgan is very responsive. The community is pretty quiet. There's also a creek trail closed to the place. Overall the experience was great! Cons: There's no wifi in his apartment. The location is further from the airport than we thought. We took a checker cab from the airport and it cost us $19.
Haowen
2016-06-12T00:00:00Z
Room was exactly as described. Loved that I had a TV with Netflix, felt right at home. Clean place. Clean bathroom. Would definitely stay there again!
Jimmy
2016-07-22T00:00:00Z
The place is great and good location. Highly recommend to don't use anything of his kitchen things. He is fussy with that.
Tandra
2017-03-17T00:00:00Z
This was the perfect place to stay for my last night in Anchorage. Morgan was very welcoming and gave a great dinner recommendation. Would definitely stay here again!
Suzanna
2016-09-25T00:00:00Z
Type de logement
Chambre privée
---
Type de propriété
Appartement
---
Capacité d'accueil
2
---
Chambres
Anchorage, Alaska, États-Unis
Ven a visitar nuestro lugar recientemente remodelado para sus aventuras en Anchorage! Te va a encantar lo amplia y moderna de este espacio es sin dejar de ser acogedor, privado y acogedor. Estamos ubicados en el barrio de Westchester laguna hermosa / preferido, minutos del centro! También estamos muy cerca de la ruta costera, restaurantes locales y mucho más. Con fácil acceso al aeropuerto, nos aseguramos de que su estancia sea agradable y sin contratiempos. Nuestro lugar es perfecto para parejas, grupos pequeños y aventureros en solitario!
Disfrutará del lugar debido a su sensación de Alaska moderna y la ubicación! Este anuncio es la parte de la planta baja de nuestra casa dúplex con su propia entrada privada. Nuestro lugar tiene un gran ambiente actualizado con todas las comodidades modernas, pero aún así el ambiente rústico de Alaska. Hay una habitación privada con una cama cómoda de matrimonio que se enfrenta a las hermosas puertas de granero en frente del armario. Si tiene varios clientes, el sofá se convierte en una cama de matrimonio también. También ofrecemos nuestra sala de lavandería para nuestros huéspedes, que está justo al lado del espacio. Estamos actualizando constantemente el espacio y queremos seguir añadiendo más y más características por lo que las ideas son siempre bienvenidas!
Nuestro lugar está a poca distancia / ciclismo de restaurantes y bares! A la vuelta de la esquina se encuentra la famosa panadería artesanal "Fire Island Rustic Bakeshop" y uno de nuestros mercados más populares de la ciudad con marisco fresco de Alaska en el New Sagaya. También estamos a pocos minutos de la ruta costera y la hermosa laguna de Westchester. Así, realmente amas a caminar el sendero y su también una gran manera de llegar al centro!
Place was as advertised. Evan and Gianna were very quick to respond to any questions we had. Their space is very close to beautiful downtown anchorage. It was clean, quiet, spacious and warm. If you are looking for a very convenient location within walking distance of shopping and food look no further. They are very detailed and make the experience a breeze.
Channing
2017-03-27T00:00:00Z
Evan and Gianna were amazing and thoughtful hosts. Their place was conveniently located, exceptionally clean, and beautifully decorated. The place itself is very central -- located close to the airport and city (without it ever getting noisy), and an hour's reach to lots of natural wonders of Alaska! One of the things my fiance and I also appreciated was the fast internet and Netflix! After long days of exploring (and whenever I was feeling a little under the weather), it was nice ending the day with these amenities. In addition to adding sweet touches like commemorate champagne and flowers for our anniversary, Gianna was also gracious enough to allow my fiance to mail a surprise gift to the AirBnb. She was in constant contact in regards to the mail and genuinely wanted to make the moment special by ensuring its delivery. The thoughtfulness meant a lot to us and made our trip to Alaska that much more special. Thanks for having us, Evan and Gianna!
JenaLyn
2017-03-15T00:00:00Z
Evan and Gianna's place was extremely accurate to the beautiful photos they have of the apartment! I felt secure with separate entrance and knew that tenants were looking out for me! The kitchen comes equipped with pretty much everything you would need! The bathroom was gorgeous and the bed extremely comfortable! Not only that, it is short drive or walk to downtown and pretty cheap taxi to anywhere else! I really enjoyed my stay here and I would pick this place in a heartbeat again! The hosts were helpful and they had alot of suggestions in their guestbook in the house!
Evelyn
2017-04-01T00:00:00Z
Awesome location, great design, comfortable bed. Overall great Airbnb for the money.
Corey
2017-03-20T00:00:00Z
I thoroughly enjoyed my first trip to Anchorage and my stay in Evan and Gianna's AirBnB. The best thing about this place is the location because it's so close to all the downtown activities and even closer to the beautiful and popular walking trails. It was so nice staying in a private duplex apartment unit with all the amenities you would need for a comfortable stay; they even offer helpful brochures & maps to help their guests explore food/activities in the Anchorage area! Evan and Gianna were always available to answer any questions I had during my stay. I will be planning another trip to Anchorage and I'd definitely stay here again!
Maisha
2017-02-26T00:00:00Z
This is a cute, tastefully decorated small basement apartment located close to downtown Anchorage. The hosts were responsive when an issue arose.
Kristin
2017-02-12T00:00:00Z
Great place to stay, great location Gianna and Evan are great host
Rob
2017-02-16T00:00:00Z
This was a great place, close to downtown and walking trails. Gianna and Evan were always quick to message back if I had any questions and made my stay a very comfortable one. I would highly recommend staying here for anyone looking to stay in Anchorage.
Ashley
2017-02-20T00:00:00Z
Type de logement
Logement entier
---
Type de propriété
Appartement
---
Capacité d'accueil
4
---
Chambres
Anchorage, Alaska, États-Unis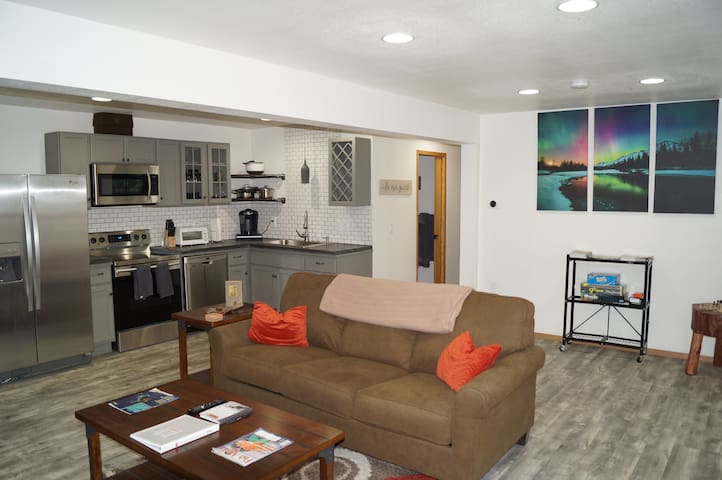 Cabin in S. Anchorage, minutes de l'autoroute, à environ 15-20 min de l'aéroport. Nous sommes sur une impasse, sur un peu plus d'un acre de terre w / abondance de beaucoup d'espace; en face d'un parc de 330 acres avec sentiers à usages multiples. Nous avons souvent la faune dans le quartier. Nous sommes un mini "ranch", nous embarquons 5 chevaux, ont 2 chiens (en chenil) et un chat sans poil. 1.4 miles de magasins d'épicerie / vêtements, carburant, restaurants et arrêts de bus. Nous recommandons de louer une voiture.
Eine ursprüngliche Alaska Homestead Kabine, mit der Hand geschnittenen Stämme (& moderne Upgrades), die an unserem Haus. Das Doppelbett ist eine Memory-Foam-Matratze und super bequem. Wir haben einen Kühlschrank, Mikrowelle, Keurig und Geschirr. Für Unterhaltung haben wir Bücher, DVDs und einige Spiele. Sie können zu Fuß oder auf den Spuren Ski und fühlt sich wie Meilen sind von der Stadt. Die Kabine fühlt sich ruhig, und doch ist nur wenige Minuten von allem, was man braucht. Wir freuen uns, mit Reisen, Unterhaltung und Essen Vorschläge zu helfen, und können einige unserer Favoriten teilen. Wir lieben es, neue Leute zu treffen, und das Gefühl, das Glück, unsere einzigartige, landschaftlich reizvolle Lage mit Gästen zu teilen. Wir haben Parkplätze vor Ort. Anchorage hat nicht Uber oder Lyft zu diesem Zeitpunkt, aber wir haben Taxis und Busse. Die nächste Bushaltestelle befindet sich ca. 1,20 Meilen vom Haus entfernt. Downtown Anchorage verfügt über ein Performing Arts Center, Museum, große Geschäfte und eine wunderbare Vielfalt an Restaurants sowie kleine Brauereien. Wir haben einige nationale Filialisten sowie viele kleine Unternehmen, vor Ort im Besitz Geschäfte jeder Art. Landesweite Nordlichter (Aurora) Prognose Website ist: (URL HIDDEN)
Nous pensons que nous sommes le «meilleur des deux mondes». Calme, privé et sensation isolée, mais à quelques minutes des magasins, des restaurants, même le ski. Nous sommes à environ 15 minutes des lieux, des divertissements et des sons du centre-ville. Il est un endroit magnifique, peu importe quel moment de l'année. Nous avons la faune errant à travers la propriété, avec une literie orignal occasionnelle dans la cour. Certains de nos quartiers favoris arrêts alimentaires sont les Hollandais volant (boulangerie hollandaise locale), Taco King (super nourriture mexicaine), les taches du soleil de minuit Brewing Co. loisirs sont Ski Area Hilltop, grands sentiers de marche / randonnée / ski, et le zoo de l'Alaska! Nous avons aussi un centre d'événement équestre qui est à 2 minutes à pied à travers les bois. Il y a plusieurs spectacles au cours de la saison estivale. Un lien pour Northern Lights (Aurora) prévue est: (URL HIDDEN) Visitez (URL HIDDEN) pour des idées. S'il vous plaît consultez notre guide pour plusieurs favoris locales
Great neighborhood, really nice cabin, and Nancy was very helpful!
Chelsey
2016-11-20T00:00:00Z
This place is a great opportunity to experience the more 'classic' Alaskan life, yet with all the conveniences and shopping very nearby. The place is set back from a dead end gravel road, with a huge yard, and horses and woods in the back, and yet just minutes from stores and other amenities on the south side of Anchorage - although a longer drive to Anchorage's downtown center. It offers a unique blend of old Alaska and new Alaska nearly side by side - a log cabin with WiFi and hot and cold running water - and you can't beat the price! I found the handsome bed quite comfortable, which is probably my main concern as a light sleeper with back problems - and the place was silent! No noise from the adjoining house at all. I never got to meet the owners as I was there on work and our schedules didn't overlap, but Nancy was a great communicator before, during and after my stay, if only by email and text. Nancy's just getting this place set up and was eager for my feedback. I suggested a few bedside tables with lamps, and end tables - and I expect that will be happening very soon!
Sue
2016-11-02T00:00:00Z
Nancy was very welcoming and her place is pretty amazing. Her location is well kept, clean, and makes you feel right at home. She maintained communication before and throughout our stay and gave us very helpful advice. Would come back in a heartbeat. Thank you Nancy!
Zackari
2016-11-16T00:00:00Z
The house was extremely cozy, and had all the necessary amenities we needed for our time in Anchorage. Nancy and her husband were very friendly! They greeted us upon our arrival and were very helpful and great communicators our entire stay.
Janelle
2016-10-24T00:00:00Z
This is one of the best airbnb's I've stayed at! The hosts, Nancy and her husband, we very friendly, always accessible when needed, and had excellent communication. It was an easy check-in and most amenities were already there! The cabin is super clean and cozy! It's warm for the winter :) The cabin is attached to their main house but we couldn't hear anything outside the cabin! It felt like we were out on our own in the middle of a quite, peaceful forest. The cabin is easy to get to from the airport or any part of Anchorage and is easy to spot at night because they have lights posted on their fence. It is close to various restaurants, entertainment spots, and grocery stores. Ideal location! Also, Nancy and her husband were always available when needed and even suggested things to do and places to visit. They provided great insight/advice for our travel plans even before we arrived to anchorage. Extremely helpful! They were also very flexible and willing to accommodate our last minute change of plans. It took off a huge load off our shoulders. I definitely recommend Nancy's place!
Marilyn
2017-01-14T00:00:00Z
Nancy was a fantastic and very accommodating host! She answered all questions right away and made everything hassle-free. We ended up having extra people stay for a night and it was no problem - we were provided with an air mattress and everything! The cabin itself is so beautiful and homey, truly a very nice find. It's in a great neighborhood and not too far everything Anchorage has to offer! I hope I can come back again.
Thea
2017-01-11T00:00:00Z
This place is beyond amazing. Everything was perfect - location, cleanliness, amenities, communication, etc. She lets us have our own space but was always willing to help or answer any questions. The description was accurate. Will def stay here again
Corinne
2017-03-13T00:00:00Z
Recommend!
Kailey
2017-03-26T00:00:00Z
Type de logement
Logement entier
---
Type de propriété
Cabane
---
Capacité d'accueil
2
---
Chambres
Anchorage, Alaska, États-Unis
Chambre privée dans le vieux quartier souhaitable Turnagain. Détendu. Près de l'aéroport et le centre-ville. Deux pâtés de maisons de notre fameux sentier côtier avec accès à 50 miles + sentier. le plaisir du jardinier; Greenhouse, des légumes et des parterres de fleurs, plein sud pont. Votre hôte est un enseignant et long de la vie de l'Alaska depuis 1964.
Le "Lime Room" super pour un voyageur en solo. (Pensez à réserver les deux chambres de chaux et de citron si vous voyagez en famille ou en groupe. La chambre dispose d'un nouveau grand lit, placard avec étagères et cintres et porte-bagages.
Old Turnagain est un grand quartier. Je suis deux pâtés de maisons du sentier côtier, qui va du centre-ville à Kincaid Park et se connecte à 50+ miles de sentiers verts vers l'est le long de Chester Creek et au-delà. Nos sentiers sont merveilleux pour la marche, le vélo, le ski - pistes établies en hiver. Lynn Ary Park est à deux blocs et a une grande aire de jeux pour les enfants, des courts de tennis et des terrains de balle. Le Westchester Lagoon est une promenade facile ou à vélo vers la ville et a patinage, terrains de jeux, un café en été, un pont de saumon de visualisation. Dans un mile et un peu vous avez accès à manger - chèvre rustique (10 min à pied), The Roadhouse, Beartooth Pizza et de la bière pub / théâtre; épicerie 24 heures et de gaz la station de Carr / air pour les pneus, REI, AMH - Alaska Alpinisme et randonnée pédestre, Wave Titre magasin de livres d'occasion, L'Alaska Club (Ouest et Femmes club), Walgreens pharmacie.
Great people, very nice host. Jana's plants and sewing machines are lovely!!
Freddo
2016-12-26T00:00:00Z
Jana was knew the area very well and gave perfect suggestions for areas to explore. She was very welcoming, would definitely stay here again
Steve
2016-12-12T00:00:00Z
Great host, The house is located a great location in town. She keeps her home tidy. I would definitely recommend her.
Isaac
2017-02-23T00:00:00Z
I stayed just briefly while in Anchorage for work and Janas place was very comfortable - clean and cozy bedding and breakfast with tea and coffee in the morning. She was kind and easy to communicate with. Definitely recommend.
Kathy
2017-01-13T00:00:00Z
Warm and welcoming, Jana is a thoughtful and prepared host. Her house is in a quiet neighborhood but just a short, scenic walk along the coast to get downtown. Clean, organized and homey. Jana does her amazing state proud and sets the tone too enjoy her home and beyond. Would choose to stay with Jana anytime!
Mark
2017-01-23T00:00:00Z
Nice place place, conveniently located close to the downtown and airport. Jana is a great host, very friendly and always ready to help. I got a lime room which was a bit to small and with not much place to sit. Blue room has a chair and overall better layout. Hot water can run out quickly, and neighbors can be noisy, so grab a pair of earplugs.
Dmitry
2016-12-31T00:00:00Z
Had a wonderful experience here, Jana was very welcoming and when I asked for a dinner place recommendation gave a great tip to check out the Rustic Goat, which was close and had wonderful food. The bed was very comfortable and the pillows were amazing, needless to say I slept well for the night. Would definitely visit again if I'm ever back through Anchorage.
Tamra
2017-03-05T00:00:00Z
Awesome host! Would definitely recommend! Jana knows everything about Alaska and provides you with a lot of information. If you need something, just ask her and she probably has it and would be happy to share it with you. It's a beautiful and cozy house that is located close to public transportation and the coastal trail. I had a great time!
Constantin
2017-03-31T00:00:00Z
Type de logement
Chambre privée
---
Type de propriété
Maison
---
Capacité d'accueil
1
---
Chambres
Anchorage, Alaska, États-Unis
Komfortable Zimmer, ohne die teure Rechnung! Späte Anreise sind willkommen! Kann mit einem anderen Zimmer zusammen gebucht werden! Schauen Sie sich auch meine rvs! Ich habe auch Verweise auf lokale Küche, muss das und Wandern tun! Fragen Sie mich nach ehrfürchtige Angelführer und Angebote in Seward für Heilbutt n Lachs und Kenai für Lachs n Forelle!
chambre à l'étage accueillant et confortable avec vue sur la cour arrière qui bénéficie d'un patio, terrasse, foyer, jardins, hamac. Dans un bloc de ruisseau, parc, des sentiers et des transports en commun. Le petit-déjeuner, des boissons et des collations également fournis. Vous êtes invités à venir en bas et être une partie de la communauté familiale.
Tout à fait, pas à travers le trafic, ruisseau
Shelly was an amazing host! Made us feel welcome and took care of us, even offering to lend us her sleds to go sledding. Would stay here again.
Kenneth
2017-01-01T00:00:00Z
Good
huunnyy
2016-12-19T00:00:00Z
My flight got postponed and I arrived very late. Shelly was so accommodating and polite. She made sure we got in safe. Her pets are very cute and friendly.
Nivedita
2016-12-10T00:00:00Z
Great person
Navid
2016-11-26T00:00:00Z
Flew in late and Shelly wasn't there when we arrived, but definitely made sure we had all the information we needed for a comfortable stay. Mattress was amazing, and was greeted by an adorable couple dogs and a very lovable kitty. Shelly was super nice when we woke up and even offered coffee. Great stay
Skylar
2016-12-24T00:00:00Z
Shelly was an awesome host very hospitable and kind. Willing to help you with any and everything! She also let us borrow her rv to take camping as well! Had a good time here with her for a few days, definitely would come back!
Adisson
2017-04-04T00:00:00Z
Shelly is super nice! She can give you all kind of tips on the good things to check out in an around town. She is a great host indeed and it has been an absolute pleasure to stay at her house. Definitely recommend her to anyone who is visiting Anchorage.
Aurélien
2017-04-08T00:00:00Z
Loved staying in her cozy little room! We brought our one year old son and she was so accommodating to our family. She had towels clean and ready, The bed and room were clean and made nicely, and she offered coffee and breakfast to us. Not to mention her room is extremely affordable. I highly recommend staying with Shelly! We will definitely be returning for another visit.
Ariana
2016-11-01T00:00:00Z
Type de logement
Chambre privée
---
Type de propriété
Maison
---
Capacité d'accueil
2
---
Chambres
Anchorage, Alaska, États-Unis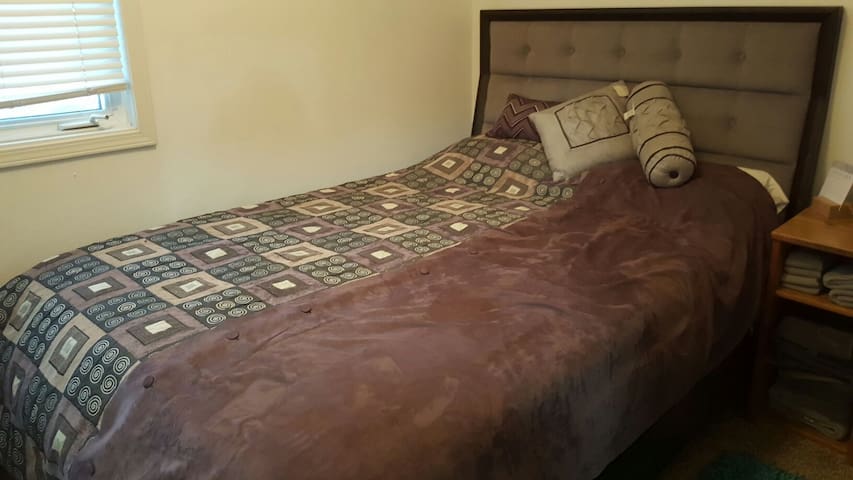 Anchorage est une ville dynamique pleine d'une variété de gens de partout dans le monde. Tourisme et les voyageurs fréquents apprécieront ce pas de chichi emplacement idéal. Mon condo est un excellent point avant des excursions dans la région environnante de départ.
condo niveau de jardin. Situé dans un emplacement idéal "Midtown" Anchorage. Meublé avec un lit queen size, un canapé en cuir italien, et presque tout le reste vous avez besoin de se sentir à la maison. Détendez-vous et profitez de votre film préféré sur le mur monté 50 "Panasonic Plasma TV. Blu joueur Ray, câble de base, et AppleTV sont fournis pour votre divertissement. Internet est fourni par GCI et les données n'est pas illimité en Alaska mais un 5GB supplémentaire internet les données disponibles pour 10,00 $ si nécessaire. appareils électroménagers en acier inoxydable et des comptoirs en granit vous permettent de préparer confortablement un bon repas dans la cuisine ouverte. Entertain vos invités, ou compléter certains travaux au grand bar. Profitez de douches chaudes dans la salle de bain confortable. Construit en armoires et placard étagères dans la chambre font un endroit propre et bien rangé pour garder vos effets personnels. sentiers récréatifs à proximité idéal pour une promenade diurne, Parc bande, épiceries, arrêts de bus, et Downtown shopping. Il n'y a pas de blanchisserie sur place au moment mais il y a une laverie automatique à proximité cet immeuble sécurisé utilise le code clé, ceci est un simple.. endroit encore sûr de rester des questions supplémentaires se sentent s'il vous plaît à me envoyer un message que je préfère vous envoyer un premier message si vous avez des questions..
Le quartier est situé juste à côté du centre-ville et le centre. 1 Bloc des arrêts de bus à 1 mile de sentiers locaux, bande de parc, et 15 min à pied de super marché local "New Sagaya de".
Eric's place is great. Very clean, accommodating, great midtown location, parking, etc. Communication and response was also great. The 1-bed apt. was ideal for a week in Alaska for me and my Dad. Would highly recommend to anyone passing through Anchorage!
Michael
2015-10-28T00:00:00Z
It's a great condo in Anchorage. Centrally located. Perfect for two people. Quiet Community, very easy to access and ample parking.
TROUPER
2011-06-03T00:00:00Z
Awesome!
Lulelya
2016-09-10T00:00:00Z
Fantastic stay! Supermarket nearby, bus stop is around the corner .
Wenny
2016-09-15T00:00:00Z
Great alternative to a hotel. Comfortable and spacious. Washer/Dryer unit also very nice. Would stay again.
Tim
2012-12-16T00:00:00Z
Really surprised at the cost and just thrilled with the location. Eric and assistant Kris were very helpful and worked well with me on my schedule. The condo was nice and clean. Equipped with the necessities and easily located per directions. I will visit Anchorage again and look forward to working with Eric. Martha Anderson
Martha and Nils
2011-06-16T00:00:00Z
Clean and well located.
Natalie
2016-09-21T00:00:00Z
Eric was a great host and answered all our questions. The appartment is like described and close to downtown. We can recommend Eric and his appartment.
Heiko
2016-07-11T00:00:00Z
Type de logement
Logement entier
---
Type de propriété
Appartement
---
Capacité d'accueil
2
---
Chambres
Anchorage, Alaska, États-Unis
Ma place est proche de la vie nocturne, les transports publics, l'aéroport, le centre-ville et des parcs. Vous allez adorer ma place à cause de l'emplacement, les gens, l'espace extérieur, l'ambiance, et le quartier. Ma place est bonne pour les couples, les aventuriers en solo, les voyageurs d'affaires, les familles (avec enfants) et amis à fourrure (animaux de compagnie).
Catherine was very welcoming. She has a beautifully remodeled home that is in a quiet neighborhood. We appreciate the fact that she lives next to a school, which was a great place for us to take our dogs.
Brian
2016-08-10T00:00:00Z
We had a wonderful stay at Catharine's place. The momemt we walked in we were greeted by Oscar, the big pup, and offered food and conversation. The room was cozy and the location ideal! Had a good time :)
Donna
2017-02-20T00:00:00Z
We had a great stay. The bed was very comfy and we slept well. Cathrine was super hospitable and accommodating. Oscar is the most adorable dog ever!
Megan
2016-12-11T00:00:00Z
very nice house and host
虞
2016-10-10T00:00:00Z
A nice trip with the host Catharine who was pretty nice, Augusta(her dog) was also awesome. Catharine even drove me to the mountains, which is unbelievable and I won't forget that.
Robert
2016-11-08T00:00:00Z
This is a new AirBnB property. It's a comfortable room in a newly renovated house, in a very convenient location. Shared bathroom with the owner, who is a gracious host and receptive to feedback.
Heather
2016-08-26T00:00:00Z
Catherine was very friendly!
Alcyone
2016-09-09T00:00:00Z
Catharine was very kind and provided tea and breakfast. Her dog is super gentle and friendly. The room was simply done, but comfy. If we were staying longer, we would have wished for somewhere to hang things. The area is quiet and close to town.
Cindy and Tyler
2017-01-23T00:00:00Z
Type de logement
Chambre privée
---
Type de propriété
Appartement
---
Capacité d'accueil
2
---
Chambres
Anchorage, Alaska, États-Unis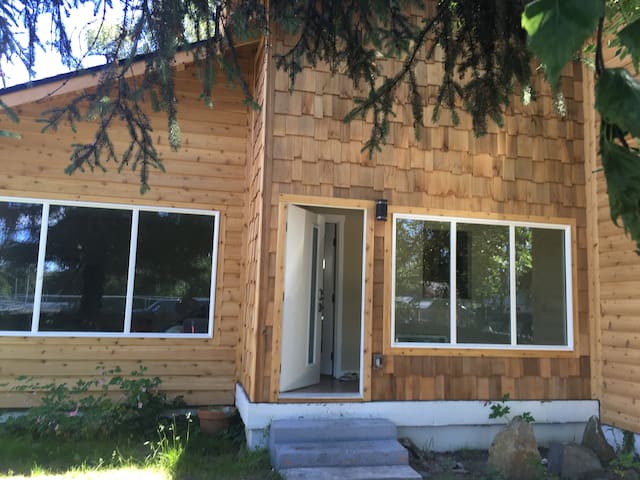 Entspannend, komfortables Zuhause. Schlafen Sie gut auf einem Memory-Schaum-Matratze Queen-Size. Genießen Sie Ihren Tag in Anchorage, während sie nur wenige Gehminuten von der Innenstadt und Stadtmitte; dicht am Chester Creek Recreation Trail. Auf Buslinien 60 und 9 (zum und vom Dimond Center). Beide Wege, auch, gehen die Innenstadt. Route 7 (in die Innenstadt vom Flughafen) ist ein Vier-Block zu Fuß östlich am 15.. Mein Platz ist gut für Paare, Solo-Abenteurer und Geschäftsreisende. Für weitere Informationen über mich, überprüfen Sie mein Profil aus.
Kesh was very responsive and promptly answered any questions that I had. He had a flexible check in / check out policy that worked great with my schedule. His place is very neat and clean. He offered for me to use anything in the kitchen and even his boot/glove warmer by the door! The wifi worked great and he had a unique collection of soaps/gels in the bathroom. Kesh was very friendly and offered me suggestions on things to see and eat in Anchorage- many of which were absolutely delicious! Would definitely stay here again.
Vishan
2016-12-04T00:00:00Z
Easy and comfortable. Thanks Kesh!
Erik
2017-03-15T00:00:00Z
From the moment we booked I knew the host was accommodating and helpful. We enjoyed his space and hospitality. I would stay here again if we are ever in need of a place to stay in Anchorage.
Shery
2016-09-05T00:00:00Z
I enjoyed my stay at Kesh's. Check-in and check-out were easy. The bed was comfortable, the bathroom was roomy and clean, and the kitchen is large and has just about everything you need if you want to make a meal yourself. Kesh is friendly and easy-going; we had a couple good conversations. The house is within easy walking distance of downtown. Everything is as advertised. I would stay here again.
Bob
2016-12-11T00:00:00Z
The house was really well located, walking distance from everything, restaurants, shops and bus stop. The place is really cute, clean and has all its needed. But the extra extra value that you are getting is getting to meet Kesh! He is super friendly, very knowledgeable and I would say a real friend more than just a host! Did I mention that he is a real local and he will be able to give you amazing tips. Truly great experience!
Irene
2016-11-26T00:00:00Z
Kesh has a great place with all that a traveller could ask for. It is centrally located and has all the facilities near by. He puts an extra effort to make the place clean. Also he has a great personality and was very welcoming. He went the extra mile in order to provide a good experience. He offerred us to have food from the fridge. I would recommend this place to anyone who is looking for a place to live in Anchorage with great hospitality.
Rohit
2016-12-31T00:00:00Z
The room was clean and comfortable. The bathroom was nice and spacious, and the shower was excellent. Easy walking distance to downtown and an excellent bakery.
Rebecca
2017-03-22T00:00:00Z
Kesh's place was wonderful. It definitely worthed more than we had spent. It was cozy, clean and had easy access to downtown. Kesh was very friendly and caring as well. We really enjoyed our stay.
Qijing
2016-12-24T00:00:00Z
Type de logement
Chambre privée
---
Type de propriété
Maison
---
Capacité d'accueil
2
---
Chambres
Anchorage, Alaska, États-Unis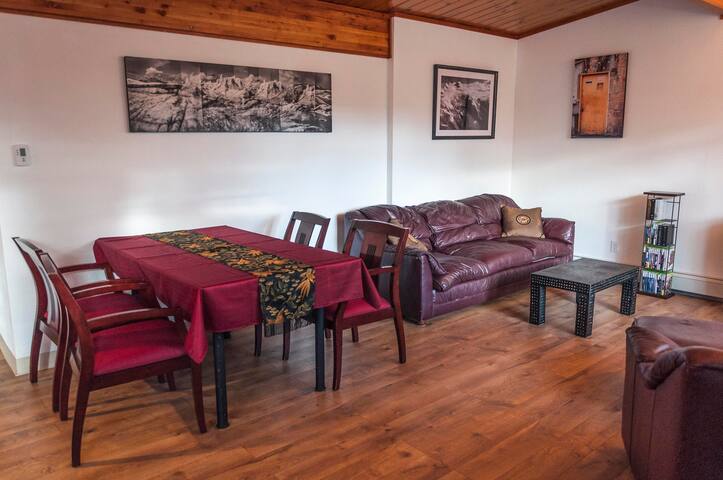 Ich bin in einer ruhigen Wohngegend mit herrlichem Bergblick und in einem Bach läuft durch meinen Garten. Sie sind nur eine 13-minütige Fahrt von der Innenstadt und die meisten Sehenswürdigkeiten in der Stadt. Ausreichend Parkplätze stehen an der Schulter direkt über die Straße von meinem Haus zur Verfügung.
Der Abbott Loop-Nachbarschaft wird durch viele Wanderwege und Parks umgeben. Ein Spaziergang von 1/4 Meile in jede Richtung werden Sie in einem Park oder Waldgebiet haben.
The Space: We were apartment hunting after moving to Alaska from the lower 48, and this Airbnb was perfect for those couple nights. Everything was nice quality, ample space in the bedroom with attached bath. We appreciated the privacy. The Host: Rob as the perfect host: friendly, helpful, respectful, all while giving us our space. Rob was extremely helpful in giving us local insider tips to navigating this new city, from good neighborhoods to restaurants and grocery shopping. He's very knowledgeable. He even kindly let me use his printer to print a rental application. The best part though was that his hospitality truly felt authentic. We feel grateful to have met him.
Adam
2016-07-01T00:00:00Z
The place was so affordable and easy to find. The location is great and convenient and the room is so nice. This is a great find and we loved our stay. We didn't have too much interaction with rob because our schedule was busy so we left early and came back to the house late but the interaction we did have was really nice. He's a great guy and very enjoyable to talk to. Definitely going back soon.
Tatiana(Emily)
2016-11-21T00:00:00Z
Our stay with Rob is everything Airbnb is meant to be. From the moment we walked through the door, we felt completely at home. Rob is welcoming, helpful, and extremely knowledgeable. When I said I would love fresh fish from Alaska but didn't know how to cook, he casually mentioned he was a whiz in the kitchen and would cook anything we bought. We went to the farmers market together, purchased beautiful fresh fish and vegetables, and sure enough when we got home that night after a day excursion, a beautiful, delicious meal was waiting. The room is exactly as described and the bed was a dream. We hope to make our way back again. Highly recommend!
Alexandria
2016-06-22T00:00:00Z
Definitely recommend Rob's place. It was super clean and cozy. I came in late from a flight and able to get a good rest in his studio. Thanks Rob!
Madison
2016-07-01T00:00:00Z
Rob and Karen were excellent hosts. Add to that they were excellent tour guides. They freely spent a lot of time showing me places on the map to visit. That was very much appreciated. I would definitely recommend their home for a visit. Their dogs are lively, cute and friendly.
LAWRENCE
2015-08-14T00:00:00Z
The master suite was like an oasis during my stops on both ends of an out of state trip. Was perfect for the appts and shopping I needed to do prior to leaving and on my return. Despite late arrival the host was accommodating and I was able to get some rest before continuing on the last leg of my journey.
Carrie
2016-10-26T00:00:00Z
Rob was a great host. Gave me my privacy when needed but always available to answer any questions either in person or through texts
Christy
2017-03-24T00:00:00Z
Rob was very friendly, caring, and overall, a fantastic host. He went out of his way to make sure my girlfriend and I felt right at home. He has extensive local knowledge and helped us plan two exciting day trips around Anchorage. We would definitely stay here again.
Spencer
2016-06-27T00:00:00Z
Type de logement
Chambre privée
---
Type de propriété
Maison
---
Capacité d'accueil
2
---
Chambres
Anchorage, Alaska, États-Unis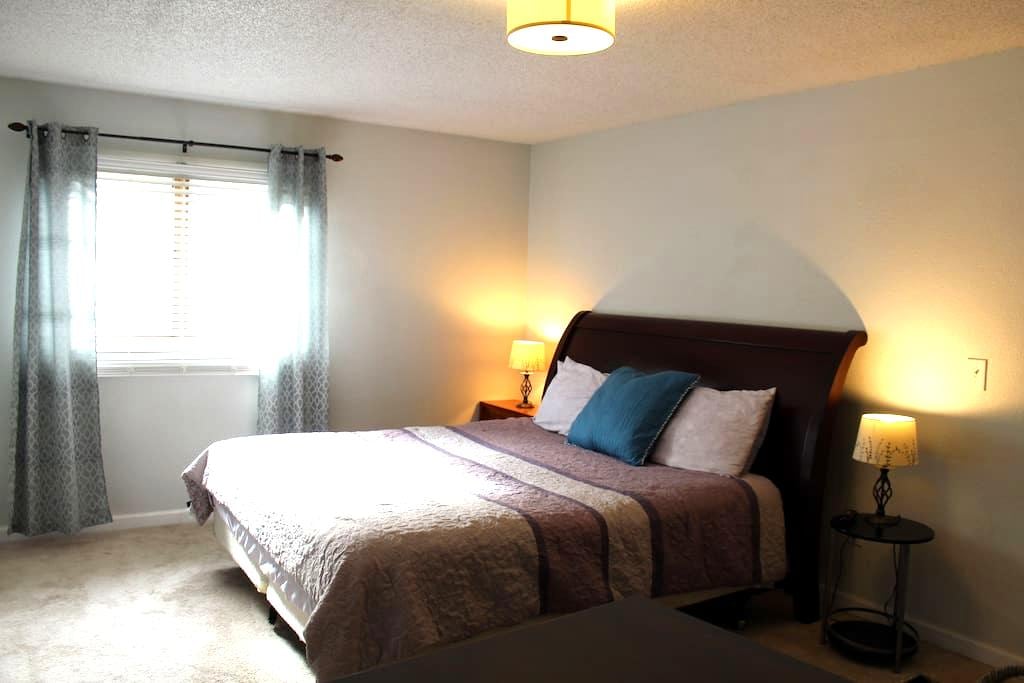 Ma place est proche de l'art et de la culture, de superbes vues, restaurants et salle à manger, et les activités de la famille. Vous allez adorer ma place à cause de l'agrément, les hauts plafonds, les points de vue, et l'emplacement. Ceci est un 2 1/2 salles de bains maison unifamiliale 3 chambres à coucher. Je n'utilise un de chaque. La maison a des plafonds voûtés, cheminée, grandes fenêtres, balcon et salle de bain mis à jour, une grande cuisine et salle à manger, chambres aux dimensions généreuses, losts d'espace pour tout le monde.
Très bien situé avec un accès facile à l'aéroport (10 minutes en voiture), tout près de University of Alaska Anchorage (10 minutes en voiture), le centre-ville d'Anchorage (10 minutes en voiture) et les transports en commun à distance de réveil.
Ceci est une merveilleuse communauté proche de Kinkaid Park, lacs, sorcière offrent une vue spectaculaire au long de l'année et une multitude d'activités. Pourtant, il est très calme et paisible. Une retraite idéale pour les voyageurs.
The host canceled this reservation 43 days before arrival. This is an automated posting.
Van
2017-04-12T00:00:00Z
Edgar's home is wonderful and he is a professional and extremely kind host. I was in Anchorage for a Brain Injury seminar with a group of doctor colleagues and I look forward to staying with Edgar again.
Lesley
2017-03-26T00:00:00Z
Type de logement
Chambre privée
---
Type de propriété
Maison
---
Capacité d'accueil
2
---
Chambres
Anchorage, Alaska, États-Unis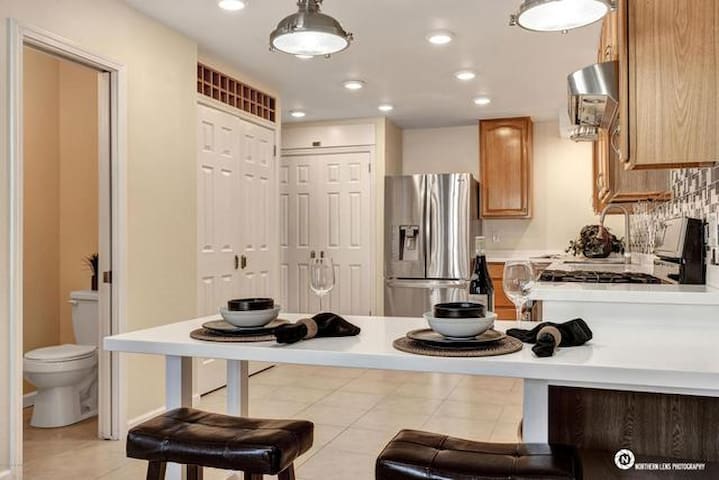 Type de logement
Chambre privée
---
Type de propriété
Maison
---
Capacité d'accueil
2
---
Chambres
Anchorage, Alaska, États-Unis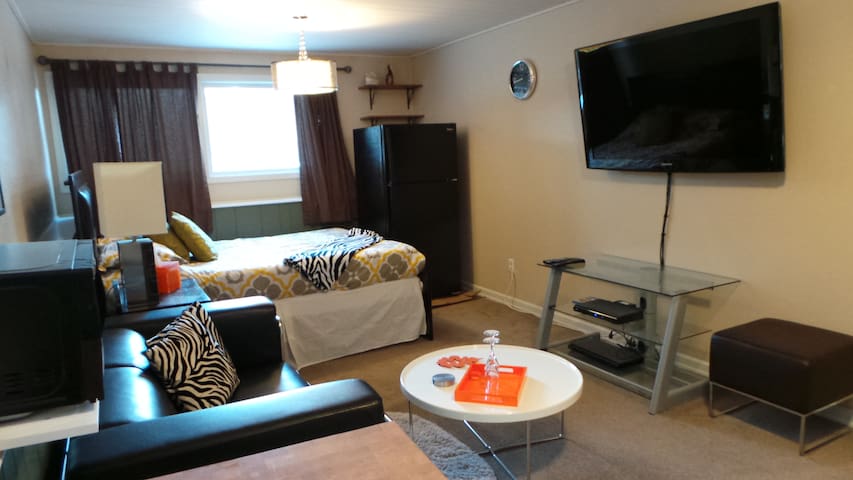 我的地方是接近的美景,艺术和文化,餐厅和餐饮,家庭友好的活动,5分钟乘坐出租车到达安克雷奇市区,步行小径沿海的距离,不到15分钟的车程到山区远足。您一定会喜欢我的地方,因为位置和我保持得很干净。该地区是好和安静,并具有快速访问任何你想在阿拉斯加体验..我的地方是好夫妻,独奏冒险家和商务旅客。
空间是一个舒适的两居室公寓有一个相当大的娱乐空间和用餐区。厨房是小方一点,但有你需要的一切。早餐也可以包括为早起,因为我必须在早上5点出门上班。你的私人卧室配有1张大床,但我也有如果需要的话,可以使用一个额外的大号空气床垫。
Had a great stay.
Katherine
2017-03-16T00:00:00Z
Muy bueno para turistas y estancias cortas, cercano al aeropuerto.
Javier Eliott
2017-02-03T00:00:00Z
Matt is very easy going. The room is clean and cozy. I highly recommened.
Phoebe
2017-01-08T00:00:00Z
The house was perfect & Matt made sure we had everything we needed. It was in a quiet neighborhood, but close to everything we wanted to do on our vacation! Matt was extremely welcoming & willing to answer all of our questions to make sure we had the best trip!
Jaclyn
2017-04-11T00:00:00Z
Matt was great. Super flexible on check-in and check-out; clean and comfortable space. Perfect stay for someone who needs a budget conscious space without sacrificing on quality.
Brett
2017-01-27T00:00:00Z
Matt got a very comfortable sofa that you can take a nap!and he is a nice guy!
Sean
2017-03-18T00:00:00Z
Matt's place was perfect for my quick travel to Anchorage. Close to the airport and downtown. I was very happy with my stay here and Matt was very accommodating because I did get in to Anchorage on a late flight. Would definitely recommend and stay again!
Edye
2016-12-13T00:00:00Z
Quiet location, clean and comfortable accommodations. Matt is a great host! Highly recommend booking his place for your next trip.
Ray
2017-04-02T00:00:00Z
Type de logement
Chambre privée
---
Type de propriété
Appartement
---
Capacité d'accueil
2
---
Chambres
Anchorage, Alaska, États-Unis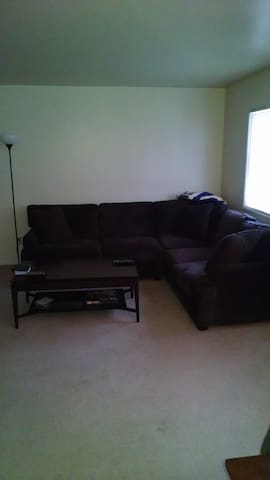 Belle, calme peu 850 pi.ca. maison loin de la maison! Nous sommes situés sur un terrain densément boisé dans un quartier agréable avec de grands voisins. Situé à l'ouest d'Anchorage, nous sommes à côté de Sand Lake, qui est soigné pour la randonnée / ski de fond en hiver, et un lieu de pêche de glace préférée. Nous sommes deux miles de plus en ville parc Anchorage, Kincaid Park, qui compte plus de 30 miles de randonnée et de ski sentiers. Il est également un point de départ pour le sentier côtier Tony Knowles d'accès.
Cet espace a été rénové il y a deux ans et est emballé avec le confort moderne. La salle de bain a chauffage par le sol et porte-serviettes chauffant, le salon dispose d'une cheminée à gaz, et les deux chambres ont des ventilateurs de plafond. Une chambre a un lit king size avec couette en duvet, l'autre est un futon qui coverts à un lit double (avec un matelas confortable scandaleusement). Le lot est situé de telle sorte que le soleil se déverse dans la journée. Nous sommes sur un terrain fortement boisé et ce que j'appelle «l'autoroute orignal" il est donc pas rare de voir la marche à l'orignal à travers la propriété. L'extérieur est une terrasse avec un foyer, et vous avez votre propre barbecue à gaz à utiliser. Vous aurez également un garage chauffé d'une voiture disponible à utiliser, ainsi qu'une place de stationnement en plein air.
Le quartier Sand Lake est unique en ce qu'il se sent comme vous êtes loin en dehors de la ville que vous êtes réellement. Ceci est parce que nous sommes dans une zone fortement boisée et sont entourés par de multiples lacs et parcs. Lorsque vous dites aux gens que vous êtes dans la région de Sand Lake, ils ont tendance à dire «chemin là-bas!" mais en fait il est seulement d'environ 10-15 minutes à peu près partout dans la ville.
Dannielle and Matt were great hosts, and we had a really great time. The house is in a quiet neighborhood tucked into a residential area. The location is close to major roads and you can get anywhere in about 15-20 minutes. The house itself is great. Matt and Dannielle live next door and are accessible if you need them. They greeted us late at night (~10PM) to give us the keys to the house and a garage door opener (they have a heated garage! It was excellent for a winter vacation). They left cookies and some breakfast snacks to get us going the next day. We didn't interact with either host after checking in, but that's because I'm from Anchorage. I'm sure if you needed anything at all either Matt or Dannielle would be available to help assist you plan your trip. We're hoping to get back to Anchorage in the summertime (at some point). When we make it back we will absolutely stay here again.
Sheila
2016-12-30T00:00:00Z
Dannielle's place is INCREDIBLE! The setting with all of the Birch trees, the snow and varieties of birds and close proximity to both Sand and Jewel Lakes makes for something out of a fairytale. Not to mention, you have easy, quick access to local eats and shopping, groceries AND local trail systems! That's just outside the lovely abode. Inside, Dannielle and Matt have created a luxurious home away from home; incredible kitchen with everything you could need (as well as some "welcome items" in the fridge and cupboards), super comfortable chairs, loveseat, beds and linens (that smell heavenly), heated towel rack and heated bathroom floor, a gas fireplace to cozy up with a good read (yes they provide a great variety of books, including wonderful books about Anchorage and Alaska), an awesome gas grill just footsteps out of the front door, a heated garage and most importantly, the best, kindest hosts you could possibly ask for who could explain anything to you from piloting a plane to distilling one's own tinctures! We simply did not want our stay to end and I guarantee you will feel the same. This is a magical, marvelous sanctuary of a home away from home that just should not be missed! Thank you SO very much, Dannielle and Matt!
Lynn
2017-02-23T00:00:00Z
I was looking for a furnished place close to trails, while in transition of moving to AK. I rented this place for month and it was perfect. It felt like home to me from day 1. Really nicely decorated and high-end appliances. Radiant floor in the bathroom and cozy gas fireplace in the living room. It also has a heated garage, which was convenient for skis, toys or to park car in the winter. House is close to Kincaid park and directly across the street from Sand Lake. I could walk across the street to ski or run. Not uncommon to have moose right out the front door! It is about a 15$ cab ride from the airport and 15 minute drive to downtown Anchorage. House is in residential neighborhood, but they have a nice quiet location with trees around. Danielle and Matt were exceptional hosts. Always available for questions, household needs or just a friendly chat. And you might be lucky enough to try Danielle's homebrew!
Leslie
2017-04-03T00:00:00Z
This duplex is nicely appointed space in a quiet neighborhood near Kincaid Park. It includes 2 bedrooms, bathroom, large kitchen, washer dryer, and a gas fireplace in the living room. We chose it because our daughter lives close by and we found this spot met our needs and more. There is even a garage which is a bonus in the winter.
Jack
2017-02-28T00:00:00Z
Type de logement
Logement entier
---
Type de propriété
Maison
---
Capacité d'accueil
3
---
Chambres
Anchorage, Alaska, États-Unis
Ce magnifique condo rénové se trouve à proximité d'entrée des militaires à Boniface, Hôpitaux, & University. Central L'emplacement est à quelques minutes en voiture du centre-ville ou de lancer des aventures en plein air de la ville. Vous allez adorer ma place à cause du décor de l'Alaska rustique artsy, la vie privée, et de l'espace. entrée privée à l'extérieur, cour clôturée, laveuse et sécheuse, 2 BR, 1 salle de bain. Great location exécutif, à long terme et séjours de courte durée.
Chambre 1 a un lit king size 2ème chambre a deux lits jumeaux extra longs qui peuvent être joints pour faire un lit king deuxième
We loved how clean and cozy this place was, and appreciated how the hosts supplied shampoo, conditioner, fresh towels, snacks, and milk for coffee and tea.
Katie
2016-12-27T00:00:00Z
The place was exactly like the pictures except they added a nice little Christmas tree to help us enjoy the Christmas Spirit! Easy to find and cozy. We had no issues.
Holly
2016-12-23T00:00:00Z
Great place!
cary
2017-01-21T00:00:00Z
Extremely good value. Comfortable. Clean. Well kept up. All kitchen basics are provided.
Daniel
2017-03-26T00:00:00Z
Very clean and well equipped
Joyce
2017-02-15T00:00:00Z
Very comfortable apartment. Frank has the place stocked with everything we could have needed. The fireplace was a fabulous touch, nothing better than to curl up next to on a cold night. Kitchen was supplied with all the basic necessities. Be aware the apartment is below another residence, and as we were travelling with a small child, we were concerned our noise may disturb the upstairs neighbors as we could hear them. Overall the house was cozy and Frank maintained excellent communication with us, answering all questions at any time of day promptly.
Eliya
2017-01-25T00:00:00Z
We loved our visit, the apartment was superb, homey, and private. We were able to rest and also do our work. Thank you so much!
Kelly
2016-12-18T00:00:00Z
Was a really great house. The pictures posted were exactly what you would expect. House was fully stocked! Frank was a great host. Highly recommend booking this house if you're staying in Anchorage!
Juan
2016-11-27T00:00:00Z
Type de logement
Logement entier
---
Type de propriété
Appartement
---
Capacité d'accueil
4
---
Chambres
Anchorage, Alaska, États-Unis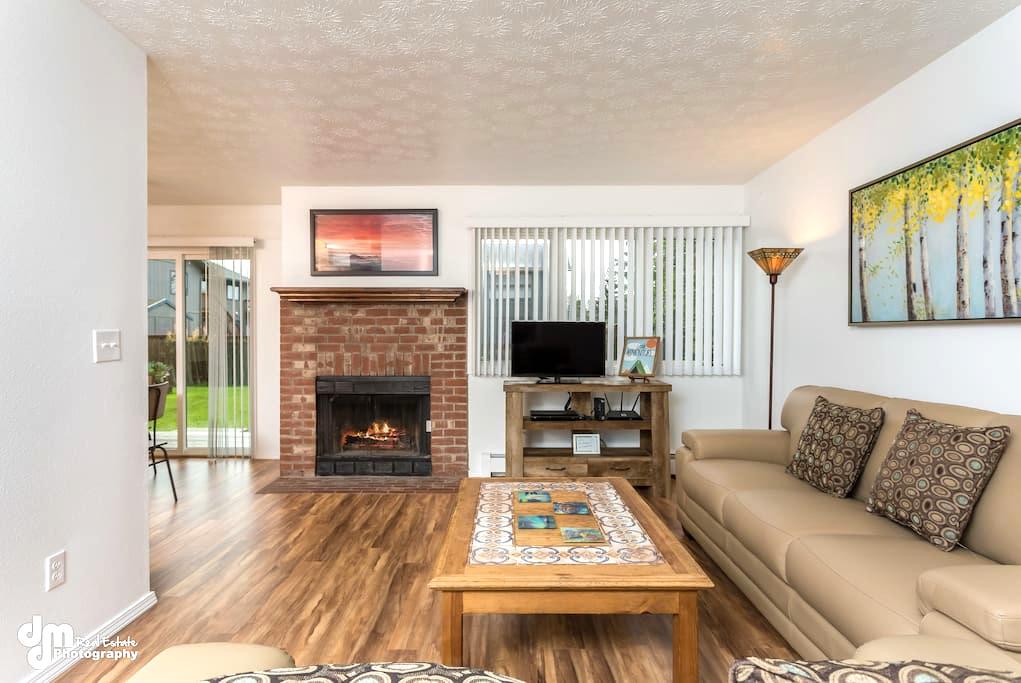 Ein einfaches Zimmer auf der ganzen Fülle in Ihrem Leben zu reflektieren und mehr zu kommen. Queen-Bett mit Memory-Schaum-Komfort und Daunenbett in einen tiefen Schlaf zu entgleiten. Privater Eingang zu einem gemeinsamen Bad. Ein wunderbarer Ort für die Natur oder Stadtleben.
Absolut tolle Lage, nahe der Innenstadt noch fühlt es sich wie eine Hütte im Wald mit einem Mini-Wüste in meinem Hinterhof. Ja, ich Nachbarn haben, aber es gibt viele Bäume, und es ist auf einer sehr ruhigen Straße. Das Haus verfügt über geschmackvoll und interessante Architektur und alle Zimmer sind zentral gelegen, aber für die Privatsphäre ausgelegt, keine langen Flure selbst aus! Mit vielen Fenstern und Französisch Türen ist es immer gut beleuchtet und einen einladenden Platz zum Entspannen und Aufladen.
Eine ausgezeichnete Lage in fußläufiger Entfernung von den großen Geschäften und Restaurants des Nord Spenard Bereich. Es dauert 3 Minuten, um Spenard Rd zu gehen. und wie Sie in Richtung Süden werden Sie zum berühmten Chilkoot Charlies kommen, eine historische Einrichtung Alaska Trinken bekannt für seinen vielen verschiedenen Bars mit allen Arten von Live-Musik und Veranstaltungen, Ray vietnamesisches Essen ist über die Straße von der Bar, weiter nach Süden und Sie 'll Alaska Mountaineering sehen und Wandern mit Mamma O Meeresfrüchte, Bio-Oasis und Play It wieder Sport auf der rechten Seite (ein großartiger Ort für gebrauchte Sportartikel sowie Vermietung), auch auf der rechten Seite Bärenzahn Theater und Pub mein Lieblingskino Karten sind rund 5 Dollar $ und Sie können ihre eigenen gebrautes Bier und essen große Pizza zu trinken, während Indie und dort spät Filme. Noch auf Spenard Rd. und etwa 10 Minuten zu Fuß jetzt vom Haus entfernt ist Spenard Roadhouse ein Ort mit einem hervorragenden Brunch und wohl die besten Bloody Marys in der Stadt, REI über die Straße. Innerhalb der 15 Minuten zu Fuß zu erreichen ist Buckaroos Bar, Yak und Yetti indische / Himalaya-Essen, Taproot Pub mein Lieblingsplatz für große lokale Bier und Blues Marmeladen, offene Mikrofone, ein Pub Quiz, und kleine Konzerte. Es gibt viele kleine unabhängige Geschäfte und Boutiquen in der Gegend nur darauf warten, habe ich ihnen noch erforscht werden nicht gewesen alle! Wenn Sie sich für Outdoor-Aktivitäten im Bereich in Richtung Norden und den Hügel hinunter auf Spenard suchen. Nach ca. 5 Minuten werden Sie neben Westchester Lagune, weiter auf dem Weg zu einem kleinen Park kommen und durch einen Tunnel und Sie zu einem Frisbee Golfplatz kommen werde, wie der Weg entlang der Hauptteil der Lagune weiter. Die Lagune (See) selbst ist ein angenehmer Ort für ein Picknick oder Vogelbeobachtung, unterhält die Stadt eine große Eislauffläche in den Wintermonaten. Nach der Lagune, biegt der Weg in die Tony Knowles Coastal Trail. Wenn Sie gehen nach Süden wird es an der Küste vorbei Fish Creek parallel und auf paar Meilen mit Erdbeben Park, das ist eine einfache und szenische Radtour und anständig joggen. Wenn Sie das Gefühl wirklich ehrgeizig geht der Weg zum Kincaid Park aus, die etwa 9 Meilen vom Haus entfernt ist. Kincaid Park, wenn Sie es vorziehen, hat zu fahren viele Wanderwege, ein 18 Korb Frisbee-Golfplatz, präparierte Langlaufen im Winter, Sanddünen mit einem benachbarten Motorsport-Kurs. Alle von der Strecke ist mit viel Natur landschaftlich zu genießen. Es ist nicht ungewöhnlich, um zu sehen Elch über schlendernd, geben ihnen einen gewissen Abstand und Respekt, und sie werden auch weiterhin gute Nachbarn zu sein. Eine weitere Option ist nach Norden auf dem Coastal Trail zu machen, die nach etwa 1,5 Meilen führt Sie in die Innenstadt Anchorage mit vielen Geschäften, Restaurants, Brauereien, Parks und Bars. Auch entlang der Strecke ist die AK Railroad Museum, Ulu Fabrik, und Ship Creek, die die Fische und des Spiels läuft ein Silber- und Königslachs Brüterei. Obwohl schlammig in Teilen viele Menschen für Lachs fischen hier, eine Website mit guten Informationen ist Alaskan Ausrüsten / Ship Creek: (URL HIDDEN) Wenn Sie eine gute Tageswanderung, Flat Top wollen, ist eine halbe Stunde Autofahrt entfernt und ein kräftiger Anstieg mit einer spektakulären Aussicht auf Anchorage und die umliegenden Berge und Turnagain Arm. Alyeska Resort ist eine Stunde entfernt mit guten Skifahren im Winter, sondern auch eine Straßenbahn im Sommer zum Berg Essen und Wandern. Eine Reserve für gerettete wilde Tiere unten im Girdwood Bereich sowie der Portage Glacier Seerundfahrt. Im River Adler gibt es ein Naturzentrum mit Pfaden durch Biber Feuchtgebiete, Thunderbird fällt und Eklutna See mit Kajakverleih. Es gibt so viel mehr zu sehen und zu tun, aber ich will nicht, um zu versuchen und alles aufzulisten. Lassen Sie mich wissen, was Sie suchen und hoffentlich kann ich Ihnen einige Hinweise geben.
Staying at Elijah's Abundant Earth Room was an incredible experience as it has so much to offer. The hospitality does not compare to any Hotel I have ever stayed in as the host provides a variety of amenities that make you feel at home while still finding yourself in the last frontier. Elijah is very knowledgeable of his land and can assist you in finding any activities you are interested in as well as helping prepare for the many adventures Alaska has to offer. The location is great which makes it easy to get around and still enjoy the privacy similar to a cabin out in the woods. I stayed here for a week and everyday was filled with joy as there was a lot to see and discover in the beautiful scenery of what Anchorage is surrounded by. Even if you'd like to just rest and find peace this home is exactly what it was made for, just light up a nice fire and bring a book that will put you to sleep and wake up feeling refreshed. I cant even describe how appreciative I am of Elijah for sharing his home and giving me a beautiful experience for my first trip to Alaska. Thank you.
Mar
2016-02-25T00:00:00Z
I had a great time staying. It's an fantastic and beautiful house. Would definitely trying to visit and stay longer there again
Jacob
2016-09-04T00:00:00Z
Clean clean clean. Comfy bed in beautiful three story home. Great location.
Giselle
2016-10-29T00:00:00Z
Great place!
anita
2016-08-17T00:00:00Z
It was a great experience staying in Elijah's house! The house is well decorated, clean with quality, quiet, and close to downtown. Elijah is a welcoming, thoughtful and generous host, who truly cares about his guests. We will definitely want to stay there again when we visit Anchorage next time!
Annie
2016-06-16T00:00:00Z
Elijah texted us entry info ... the house is beautiful with many wonderful amenities and is very convenient to town. Our room was lovely, just as described. We thoroughly enjoyed our two night stay here.
Steve
2016-06-25T00:00:00Z
The place was amazing. Elijah was a great host, very friendly, had a couple of beers with him. Great location, very close o the airport. Bedroom are awesome, great size. The house was also great, very beautiful.. 10/10 stay!!
Cailan
2016-09-26T00:00:00Z
This was an amazing place to stay while in Anchorage. The location is secluded even for being right in the middle of the city. The house is beautiful and really makes you feel right at home. The impressive kitchen, hot tub, rooms, and living areas almost made us not want to leave the house. Elijah was a great host as well with some excellent recommendations and very hospitable. Can not recommend this host and home enough!
Amanda
2016-05-24T00:00:00Z
Type de logement
Chambre privée
---
Type de propriété
Bed & Breakfast
---
Capacité d'accueil
2
---
Chambres
Anchorage, Alaska, États-Unis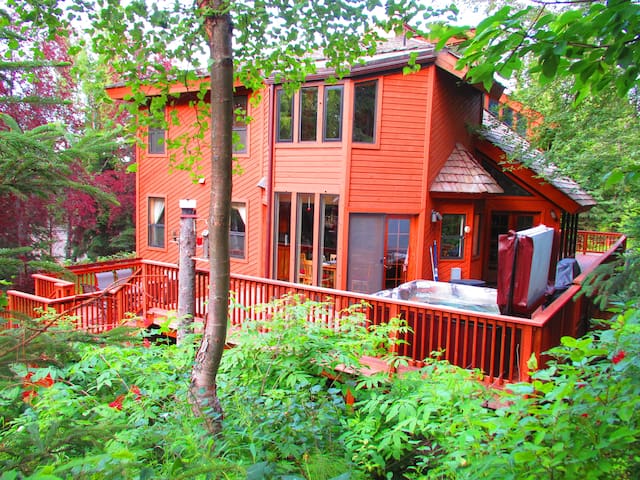 1

–

18

sur

300+ locations
Saisissez les dates souhaitées pour connaître le prix total. Des frais supplémentaires s'appliquent et des taxes peuvent être ajoutées.