Saisissez les dates souhaitées pour connaître le prix total. Des frais supplémentaires s'appliquent et des taxes peuvent être ajoutées.
Great Basin Bungalow is located in Baker, Nevada, about 5 miles from the entrance to Great Basin National Park. Clean and quiet with unobstructed views of Great Basin National Park and dark night skies! Queen-sized bed. Kitchenette with an under-the-counter refrigerator, microwave and coffee maker. Bathroom with a step-in shower (no tub). Private deck with a gas barbecue for grilling. Secure WiFi. A/C Closed for the winter. Now accepting reservations for May 1st - October 31st, 2017
Your private Bungalow has a queen-sized bed topped with line-dried sheets. There is a kitchenette with an under-the-counter refrigerator, microwave and coffee maker. The bathroom has a step-in shower. Private deck with a gas barbecue for grilling. Secure WiFi. A/C and heat. We supply bedding, towels, soap, shampoo, coffee, tea, cocoa and a basket of breakfast snacks. Great Basin Bungalow is not wheelchair accessible because of the gravel drive and steps leading to the Bungalow's entrance from your parking place in front of our home. You will have access to the entire space in your cozy Bungalow, your private deck and the desert outside! Shaded yard, sitting area and picnic table. I live next to Great Basin Bungalow and - although I'm friendly - I totally respect your privacy. Please know that I am here to help you enjoy your visit to Great Basin National Park and your stay at your Bungalow. If you have questions, I'm here to help and if you'd like to visit over a cup of coffee or a glass of wine - just let me know.
Great Basin Bungalow is at the edge of Baker. Pretty quiet and peaceful with many chances to see Great Basin wildlife or listen to birds. Not much light pollution out here, so - if skies are clear and the moon isn't full - you'll have a great view of our dark night sky filled with stars from your deck or from the end of our road. If the moon is full, you'll be able to view craters with binoculars! You can easily walk to "downtown" Baker where there are restaurants, a coffee cart (during summer months) and the post office. If you want to stretch your legs a bit there you can easily walk to the Great Basin Visitor Center that is located just north of Baker. For visiting other areas - including Lehman Caves Visitor Center you'll need a car, bike, horse... or good hiking boots! We are at an elevation over 5,600'. If you arrive in May, don't be surprised to find snow on many of the higher trails in Great Basin National Park. If you plan to stay during our "high summer season" - and if you want to take a tour Lehman Caves - please contact Great Basin National Park prior to your visit to make reservations before you arrive. Tours are often "sold out" in July, August and September.
Margaret's bungalow was the perfect place for us to stay during our visit to Great Basin NP. She is a thoughtful and *very* interesting host, and the accommodation was just as we expected. Nice touches in the simple but comfortable and clean room include a good bed, healthy snacks for hikes, and Italian coffee. The view and the quiet can't be beat and we enjoyed our conversations with Margaret.
Mary Jo
October 2016
Before I even get to the review let me say that Great Basin National park is clearly one of the most underappreciated gems of the park system. It combines a unique environment, stunning natural beauty, a fantastic set of trails for all levels, bristlecone pines (among the longest-lived life forms on Earth), a spectacular cave, and a top-notch astronomy program. Now that you know why you want to be staying right outside the entrance to the park let me suggest this is the place to stay. It is just perfect for one or two people. Comfortable, clean, and the view out the back door is to die for! The host who lives next door is kind, friendly, knowledgeable, and a real joy to chat with. She handed me maps, guide books, and even loaned me her telescope to go star gazing. I stayed here for a week when I was in the area for a speleology convention and it was everything I could have hoped for. If I'm every back I can only hope this place isn't already booked!!!
Louis
July 2016
Margaret is a wonderful host, she is knowledgeable about the area and was able to answer our questions about Great Basin NP. The bungalow is very comfortable and clean, everything worked perfectly and it was nice and quiet. Proximity to GBNP is excellent, we hiked every day and were able get to the trailheads quickly and easily. Baker is a very small town, and dining options are extremely limited. During our visit only 2 of the 3 local restaurants were open so even fewer dining options were available. I recommend bringing something to throw on the grill that is provided just to have some more variety.
Elsa
September 2016
What an exceptional place to stay especially if you love to hike . So so serene and quiet ! We did three days of hard hiking one up to Wheeler Peak . That was a tough one but doable . Barbecues and drinking wine with Margaret was a highlight of our trip . And we definitely will be back ! Thank you Margaret for everything !
Sheila
October 2016
I enjoyed my stay with Margaret so so much!!! After driving all day and having technical deficulties, she was a ray of sunshine and so welcoming!! She was patient and very flexible with me! Everything crisp & clean and the view... The serene nature of this place is one of a kind
Caeleigh
August 2016
Our hostess Margaret was wonderful! So full of knowledge about Great Basin and the surrounding area. You have to realize that this is a little town out in the middle of nowhere but Margaret makes the experience great. The bungalow is lovely, clean and inviting. The bed was very comfortable and having such good wifi was unexpected. We would absolutely stay at Margaret's again.
Robert
October 2016
We stayed at Margaret's place for one night on our road trip and were so glad we did. She was a great host, she made sure we were settled and was very accommodating- she even gave us a cup full of locally grown apricots and a small telescope to look at the night sky. Her place in Baker has 360º sweeping views of mountains and landscapes, and at night you can see the full milky way. The bungalow is very clean and charming, with a comfortable memory foam bed and kitchenette and bathroom, perfect for a quiet and relaxing visit on the range. Our only regret is that we didn't stay longer.
Syrette
July 2016
Type de logement
Logement entier
---
Type de propriété
Bungalow
---
Capacité d'accueil
2
---
Chambres
1
Baker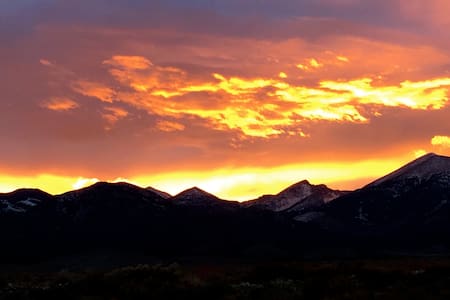 Cabin 20 miles from the Great Basin National Park. Nice deck with gas firepit, 2 BBQs, and a magnificent view. One bedroom, loft, kitchen, and living room. Great wildlife and amazing starry nights. Telescope available for guest use. There is also a hammock available for our guests use.
Approximately a 20 minute quick drive to be at the Great Basin National Park. A lot of wildlife in the area. Beautiful view of Mt. Wheeler from the living room or deck. The night sky is like no other. View the milky way and millions of stars, and watch satellites pass over. Entire cabin 2 Night Minimum Guests can contact us with a cell phone, but not all cell phones have service in this area. 775-293-0527 or 775-293-0073 /email sallygust1@att.net.
Cute cabin conveniently located near Great Basin National Park. Wildlife viewing, hikes into the park to see Bristlecone Pines, glaciers, mountain lakes, and tours through Lehman Caves. The cute town of Baker is located 5 miles from the park. Almost zero light pollution making the night sky amazing for star viewing. This is offered at the Park usually on Saturday night in the summer. You will need to drive 20 miles to get to the Great Basin National Park. There are a small amount of groceries available in Baker, which is 15 miles from the cabin on the way to the Park. Gas is available in Baker. Two night minimum stay. Rate for longer stays, contact us. The loft has a low ceiling and you cannot stand totally upright. Beds are standard size. No gas or facilities for 15 miles. Absolutely no smoking inside or security deposit will not be refunded. Instructions on entering the cabin and a map will be provided when booked.
We spent a few days at Sally and Terry's wonderful cabin, enjoying the beautiful tranquility of the mountains. The cabin is located in a perfect spot with a good view of Wheeler Peak, and the deck was an ideal place for admiring the sunsets over the valley and mountains to the west. Most of the time, the only sounds we heard were birds! Sally and Terry were prompt in answering all our questions both before and during our stay. The cabin was spotless, nicely decorated, and had all the amenities we needed. The bed was comfortable, and the hot showers and fluffy towels were great. We certainly appreciated the muffins, coffee, bottled water, and fresh flowers that were waiting for us when we arrived. The barbecue grills and outdoor fire pit were a welcome addition to our enjoyment of the evenings. The night sky was fabulous due to the lack of "light pollution", and it was great to view the moon and Milky Way with the telescope. We especially enjoyed touring Lehman Caves in nearby Great Basin National Park – the tours are popular, so it's a good idea to book in advance. The aspens along Lehman Creek were gorgeous, and the loop trail hike to Theresa and Stella Lakes gave us a chance to experience the beauty of high-elevation scenery without too much effort. Next time, we will hike to the Bristlecones – just ran out of daylight and time this trip! The steam train ride in Ely was enjoyable, and the guided tours of the shop/museums that followed was quite interesting. We even found a few garnets on nearby Garnet Hill! Our only regret was that we had to leave; next time, we will stay longer! Thank you again for providing such a great place.
Valerie
October 2015
My girlfriend and I stayed here for 2 nights while we explored Great Basin National Park. The cabin is a perfect retreat and just as described. The stars at night are incredible--have only seen stars like this one or 2 other places in the world. Definitely recommend and hope to return in the future.
Luke
December 2015
A quiet hide-away off the beaten path, under the clearest blanket of stars I've ever seen. This was my first time using Airbnb, and I'm glad it was with Sally & Terry. They were extremely nice, helpful and attentive. The place was very clean, with fresh linens, towels, and a note welcoming us. We wanted to stay somewhere other than a hotel on our ice-fishing trip, and this really fit the bill. It's a cozy little cabin with plenty of heating, a full kitchen which we used to cook up some fresh caught rainbow-trout (delicious) and comfy beds. My seven year old son had a lot of fun making a snowman and ice fishing for the first time. He fell asleep looking at the planetarium-like-sky of stars. Our trip coincided with a fair bit of snow (January 28th, 2016), Sally & Terry made sure the dirt-road up to the cabin was plowed for us, and the local roads were being snow-plowed pretty consistently too. FYI- I have Verizon and got one bar of roaming in the loft, and on the bench by the fire-pit. My brother has t-mobile and had roaming (Via at&t) and it worked everywhere. I was glad to have a break from my cell-phone, to be honest. It was a great experience and I would 100% return to explore more of the area, especially given our excellent hosts.
Matthew
February 2016
Lovely retreat from the city! Cabin feels like home. It has all the comforts of home including a few pantry items. Just bring groceries and you're set. Hosts provided excellent directions and tips. Definitely use the telescope to stargaze on the deck - phenomenal! Area is private and serene. Loved the resident lizards and following the elk tracks around the property. Easy access to Great Basin NP, Lehman Caves, Ward Charcoal Ovens, Cave Lake SP and Garnet Hill. Hope to stay here again soon!
Diana
July 2016
Excellent place to stay, close to Great Basin park which we spent four days of hiking. Very secluded, no noise, beautiful views and like everybody else noted, endless stars. Sally and Terry who we actually never met just made it very welcoming. I would recommend their place if your just looking to disappear for a while.
Douglas
September 2016
What a gem! This cabin is in a fantastic location for Great Basin and Lehman caves. Sally and Terry have a fabulous cabin which left us feeling completely refreshed. It is really well equipped and they helped to make our stay perfect answering all our queries even though we booked at short notice. There are spectacular views and there is an amazing telescope for looking at the night sky and moon. Great hosts and great stay.
Mandy
August 2015
What an amazing stay! Thank you Sally and Terry for a great getaway. We loved your place and will definitely be back!
Joshua
May 2016
This is the BEST mountain retreat we've ever been to. We found it to be quiet and restful yet full of so many great amenities for our young family. Sally was an efficient communicator and left so many thoughtful touches to the place including Halloween candy! The shower was warm and powerful, beds VERY comfortable, and the towels were soft and large. The kitchen was fully stocked making it very easy to cook all meals at the cabin since the area is quiet and has very few restaurants, which we didn't mind. We traveled with young children. Sally was so thoughtful in telling us prior to booking that the loft may not be great for young children due to a short railing. We kept our kids on the main floor most of the time, but older kids would love the loft area. The property was very well maintained and super clean. We made so many comments to each other throughout the three days how they did not skimp on the features - stainless steal, beautiful decor, great pillows, and all kitchen appliances you need. We highly recommend the cabin as well as Great Basin National Park - so refreshing after being at so many crowded parks and spots. Peaceful and beautiful.
Heather
October 2016
Type de logement
Logement entier
---
Type de propriété
Cabane
---
Capacité d'accueil
4
---
Chambres
1
Baker