Wake up and enjoy the breathless view of Are Guling Bay, the beautiful scenery and watch the Ocean sunrise from your bed. Hidden behind rolling hills, rice fields and palm trees and with unbelievable Ocean view, Are Guling is a traditional Indonesian village just ten minutes from facilities and from Kuta, the main town on the south coast, but is still a place where you can live a real Indonesian experience.
Villa is on the hilltop of Are Guling Bay with stunning Ocean View, surrounded by 500 sqm flat garden. The cozy room comes with brand new furniture, one double bed, mosquito net, modern fan and ensuite bathroom with hot shower. Towels, shower gel, shampoo and soap are provided, hair dryer available on request. Guests terrace is also provided with a dispenser for hot and cold water, with free tea and coffee. Breakfast and dinner are available upon request everyday with a wide range of vegetarian and organic homemade meals. Wi-fi available on the common area and parking is possible inside and outside premises. Get to Are Guling beach takes two minutes by motorbike otherwise you can have a ten minutes walk pass through the local village. Pristine Mawun beach, with is magical environment is just ten minutes walking from the house.
Are Guling is still a secluded spot, perfect place for nature lovers and if you like to get away for a while. Inhabitants are really friendly and always smiling, they are very special persons and it represent an opportunity to get in touch with local culture.
The most amazing view!!! Room was clean and very nice. The hosts are amazing people, we feel like we have new friends in Are Guling now. They helped us with scooter rentals, cooked us amazing meals and the breakfast fruit salad is a must! Legendary! Helped us immensely with extending our visa and getting us good prices for anything we were looking for. Definitely will stay again.
Gabe
2017-03-14T00:00:00Z
Hello!!! Awesome location away from the crowds!!! The view is Just fantastic!! Friendly and polite staff! Nice and clean room, wifi and hot water for bathroom wonderful!!! Good Organic Breakfast!!! Perfect place to stay at Are Guling!!!!!
Larini
2017-01-11T00:00:00Z
Giulia and Luca's place in Ara Guling is exactly what my girlfriend and I needed. We wanted to come to Lombok and have a relaxing time far from all the other tourists with peace and quiet. Staying here was like our own piece of paradise. Waking up every morning and seeing the incredible view from our room was really special. Also, we enjoyed our time eating Giulia's delicious Italian cooking and getting to know Luca and Giulia. It was really like a family atmosphere. If you are looking for a place that has hosts with great hospitality, surrounded in nature, a cute dog, and beaches that are close then I highly recommend staying at Giulia and Luca's place. We will come back someday for sure.
Stephen
2017-03-29T00:00:00Z
Type de logement
Chambre privée
---
Type de propriété
Villa
---
Capacité d'accueil
2
---
Chambres
Pujut, West Nusa Tenggara, Indonésie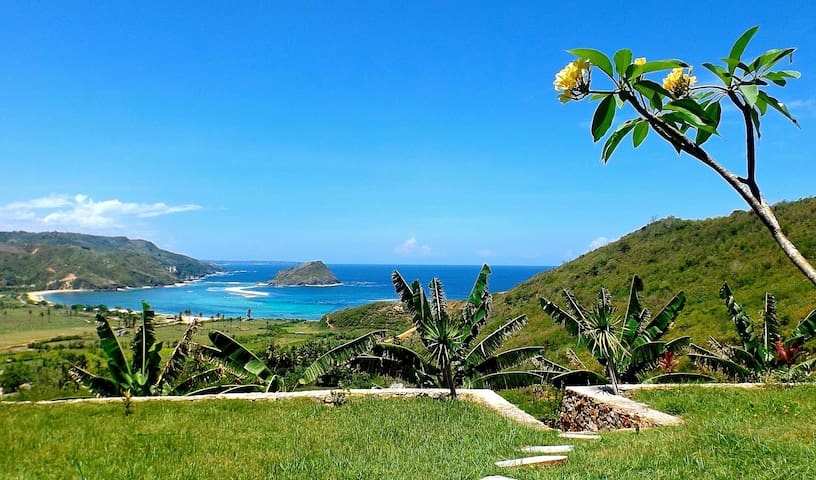 We offer private villas in the pristine and gorgeous bay of Are Guling. Only five minutes to the white sand beach, crystal clear water, and famous surf break. This secluded location is a 15 minute drive to Kuta Lombok where you can enjoy a variety of restaurants, shopping, and nightlife. You will feel completely disconnected from the crazy world in this tranquil unspoiled location which resembles exactly what you dream of when you picture a tropical getaway
Blue Monkey Villa & Ocean View Restaurant offer 4 private villas, two infinity edge swimming pools, in-suite bathrooms for the villas, cold Air Conditioning, Hot water showers, and satellite flat screen TV with DVD player. This space hosts two premium mattress double beds with luxury linen, stone bathroom and shower with a waterfall shower head. There is Air Conditioning, Wi-Fi, and the ocean view is breathtaking. The local beach is 5 minutes away and is pristine white sand, clear blue water, and is unspoiled with only two little cafes. The surf break has a left and a right hand wave and is famous for being one of the best and most consistent in Lombok. The views from our rooms and restaurant are among the best on Lombok and even the world. The sun rising over the ocean in the morning is nothing less than spectacular. The price includes daily cleaning service for your room, and the staff at Blue Monkey are available to help you make the most out of your trip with transportation to local beaches, sight-seeing, waterfalls, or any other arrangement would like to make such as surfboard rentals/lessons, motorbike rental, and ferry & airport transfer. The Blue Monkey Villas Restaurant offers a wide variety of food options, western & Indonesian cuisine, for breakfast, lunch, & dinner. The view from the restaurant is unlike any dining experience in Lombok providing the most beautiful view of the Are Guiling Bay possible. We also allow the use of our restaurant kitchen facilities to our Airbnb clients on the provision that they clean up after themselves. Our staff when not busy can assist you with shopping should you wish to use these facilities. Our staff may also be able to pass on some tips on Indonesian cooking also. There are many Beaches and activities to keep you busy on Lombok, fortunately for us we have 2 fantastic beach options both within walking distance. The first beach is of course Areguling which I think is pretty well covered above. However the second beach within walking distance from our place is in my opinion one of the most beautiful swimming beaches on Lombok. This beach is Mawun beach and is quite a popular destination for travelers to stop in and see. Walking to Mawun from Blue Monkey Villas only takes 20 minutes, and the advantage of course is looking down to view both Mawun and Are guling beaches. When you walk to Mawun you will have most of the eastern end of the beach to yourself, the road into Mawun beach is at the western end and rarely do people walk the whole beach from end to end.
Traditional village atmosphere with lovely local people living simple lives along with only a few other resorts.
Très beau et confortable, staff accueillant et chaleureux ! Un très beau séjour ! Seul hic le wifi ne fonctionnait pas , mais c'est un super endroit
Haggar
2016-10-21T00:00:00Z
Arrivée compliquée car le logement avait été loué à d'autres personnes ! De l aéroport, ils nous ont emmenés dans un hôtel de Kuta , très moyenne gamme ! La location est en revanche très bien avec une vue superbe. Beaucoup de plages supers aux alentours mais il faut scooter ou voiture. Les petits déjeuner et la nourriture pas bon du tout. En revanche, tres bon restaurant tenu par des francais pas tres loin. Amrin est un garçon gentil mais sûrement un peu jeune encore pour tenir une affaire. Un peu fatiguant de négocier pour tout.
bertrand
2016-08-25T00:00:00Z
Vue exceptionnelle mais très difficile d'accès, l'option scooter est la mieux. Tralala est un manager jeune qui fait beaucoup pour essayer d'améliorer les prestations et exigences de chacun, et bien que nous n'ayons pas eu de chance (piscine hors service, coupure d'eau et climatisation défectueuse) il a tout fait pour nous aider à améliorer notre séjour ! Ce petit coin bien situé pour rayonner sur les plages de l'ouest de kuta lombok pourrait bien devenir un petit coin paradisiaque au fil des années
Fred
2016-07-14T00:00:00Z
It was great experience to stay in Blue monkey villas. Quite far from all of civilization including no wi-fi. No idea to describe the fantastic ocean view. I also appreciate the hospitality of the staffs, who were willing to answer all questions. Hope I can stay here again next year -:)
Donghee
2016-11-08T00:00:00Z
The view from Blue Monkey is sublime ! As is the view from the walk over to Marwun beach, to the north of the property. You'll find yourself walking with water buffalo once you've descended. We arrived in the low season, amidst cloudy skies and the odd thunderstorm, so we had the space pretty much to ourselves. It was quiet and peaceful.
Michael & Vinh
2016-12-02T00:00:00Z
A great place for a getaway. Stunning view in a secluded peaceful location. Will be back!
Daniel
2017-02-13T00:00:00Z
We had an amazing time at Blue Monkey Villas! I would recommend it every day of the week. Amrin and the rest of the staff treated us like royals. They showed us around to all the beautiful beaches and took us surfing. And the most beautiful view ever! I have absolutely nothing negative to say.
Zandra
2016-05-08T00:00:00Z
We had an amazing stay at blue monkey villas! Situated in a great location with short walks to two amazing beaches and a scooter ride to surf spots and Kuta (Lombok). The rooms we're relatively new, clean and comfortable with epic views. Tralala and his staff were very friendly and helpful, providing an all around great experience!
Tom
2016-07-03T00:00:00Z
Type de logement
Chambre privée
---
Type de propriété
Villa
---
Capacité d'accueil
4
---
Chambres
Pujut, West Nusa Tenggara, Indonésie
We have 2 beds in room for 4 all of them included breakfast with room price Located in Aregoling Kuta Lombok Blue Monkey Villa & Ocean View Restaurant & ROOM WIFI. 30 minute from airport, 5 minute drive only to surf sport and beach with stunning views and two swimming pools outdoor and kids pool also, natural place sunrise 06:20am
nous avons eu un énorme coup de coeur pour le Blue Monkey, pour la vue magnifique, le bungalow qui est top, la piscine et surtout le personnel qui est tellement gentil et très très professionnel! Nous adorons et nous allons y revenir!!!
aurélie
2017-04-12T00:00:00Z
Certainly a highlight of our trip! Amrin (the owner) is really friendly and helpful. He can organise surfing lessons with great teachers (Harry was our teacher and he was fantastic!) and help you with anything else you might need. There are some pet dogs on the premises who are very friendly and will walk down to the beach with you, showing you the way! Things were a little chaotic with the place when we first arrived but all worked out well and it was a really enjoyable stay with some lasting memories made! It is a little far from Kuta, but we got a taxi there every evening to eat and enjoy the nightlife. It's a nice location and very peaceful with amazing views.
Karli
2016-09-13T00:00:00Z
Positive: - the view - the room and bed Negative: - very remote and isolated (20 drive from Kuta) - you depend on overpriced taxi services of the manager - airconditioning not working (only fan function) - water in pool was dirty (green; you could not see your legs once you were standing in the pool...) - feeling that the place is not professionaly managed
Jesper
2016-08-25T00:00:00Z
blue Monkey it is a magic place where to stay, outside of the busy Kuta. Mr Trallalla and his staff were super kind with us and were super available in any request. We felt like in a familiy village. Beautiful view and enviroment. Thanks for everything and mr Trallala you are number 1 :)
Raffaele
2016-08-19T00:00:00Z
Type de logement
Chambre privée
---
Type de propriété
Villa
---
Capacité d'accueil
4
---
Chambres
Pujut, West Nusa Tenggara, Indonésie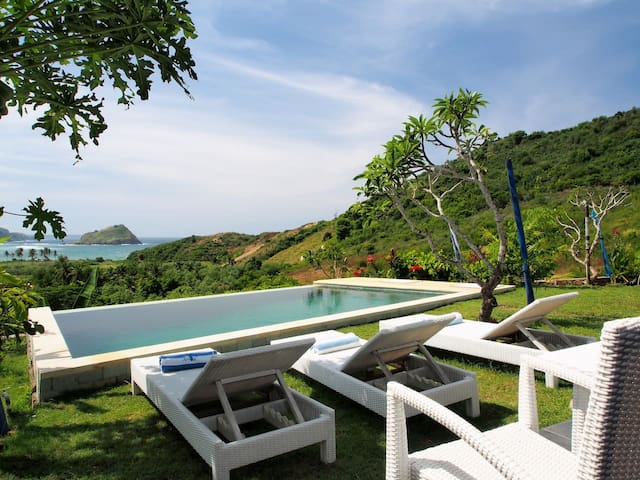 Spacious and modern villa with big open lounge areas. Perfect for groups of friends & families who want to relax after a day of surfing & exploring. The Villa is new and features private bedrooms with bathrooms, Free Wifi, Kitchen, Garden. Welcome!
The Villa is newly build and features a unique style of local and western design. Here anyone can feel at home!
Located in a small friendly neighborhood 3-5min drive or 15-20min walk from Kutas restaurants, bars and beaches. Neighbors is a mix of local and western owned homestays and houses. Great places to eat and drink in Kuta is "The Bus Bar" for some tasty Tacos & Cocktails or "Nugget Corner" for some delicious Indonesian flavors.
La maison est très bien mais les services proposés avec cette maison sont assez moyens principalement l'état des scooters. La personne nous acceuillant n'est pas très aimable même parfoit agressive c'est dommage.
Florian
2016-10-16T00:00:00Z
Jono is the man!! This villa is absolutely out of this world for the price. We never had a problem with the house or the island! He provided a personal phone to contact him whenever we needed. Whatever we needed he was always happy to lend a hand or 2! I would highly recommend this villa to anyone looking for a getaway to a new and upcoming coastal town. Kuta Lombok and surrounds is a secret paradise that needs you
mitchell
2016-07-14T00:00:00Z
We were a little reluctant to book since Jono had just joined AirBNB and didn't have any reviews yet, but we are SO happy we did! The house is exactly as the pictures show. Jono was a fantastic host, getting in touch with us beforehand and offering us a ride from the airport. When a few people we met in the airport needed a ride to the town, Jono graciously offered them a ride too. Not only that - he took us to town to top up our mobile phones, and even took us to one of his favorite restaurants to have dinner. He offered us motorbike rentals (which are necessary to get to the beach/town) for 50,000/day which was a bargain. Jono had a caretaker near the property who did light cleaning, changed our water bottle, and helped with any motorbike issues we'd have. I definitely recommend this house (but only if you're comfortable driving a motorbike!) Last thing to note- only 1 room has a/c, but there are great fans and big windows.
Samantha
2016-04-30T00:00:00Z
Villa is really big ,spacious and good for a big company. Location a little away from the center of Kuta, but it's not a problem if you have transport. State new, built recently. kitchen equipment in our opinion insufficient. Basic minus in our view it is the staff : cleaning was irregularly and not in all the rooms, all day on the the villa territory was some people ( staff or their family?!) and their children ... somebody is lying under the shed in the yard ... We can not feel private! In our opinion this is a good option for the money, but next time we look for something else.
Mihail
2017-01-06T00:00:00Z
The host canceled this reservation 86 days before arrival. This is an automated posting.
Chris
2017-03-18T00:00:00Z
Very nice house and very nice guy! Just to recommend :)
Tim
2017-03-26T00:00:00Z
Great place! A little out of the main drag, which made it much more pleasant. We really enjoyed all the space, cooking for ourselves a bit and the caretakers were super lovely and helpful.
David
2016-12-29T00:00:00Z
The host canceled this reservation 20 days before arrival. This is an automated posting.
Roshan
2017-03-18T00:00:00Z
Type de logement
Logement entier
---
Type de propriété
Maison
---
Capacité d'accueil
7
---
Chambres
Pujut, Nusa Tenggara Barat, Indonésie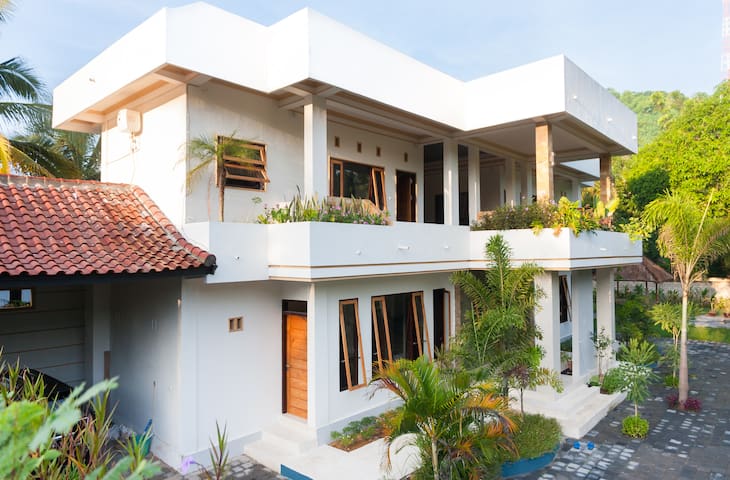 This room has spectacular valley views along with views out to the beach and Gilli Nusa. Sublime sunrises featuring Gilli Nusa are on offer all year round. Spectacular moon risings in the evenings. This has to one of the best views in Indonesia. Everything you need is here and if not a short (7km) ride into Kuta will keep you satisfied.
The view is of course our speciality. This room has AC and an ensuite bathroom with hot and cold water. Inside is a Queen bed and a sofa lounge so is possible to sleep 3 adults or ideally a couple with a small child.
We overlook the peaceful Sasak village of Areguling. The people here are very nice and always offer up their beaming smiles. There are 3 Resturaunts including ours. A couple of small shops for buying some things are also in the village however for more complete shopping you will need to visit Kuta. Kuta Lombok is a 7 km journey possible in 15 mins by motor scooter or car. Both Areguling and Mawun beaches are easily accesible by walking.
Parfait endroit pour se ressourcer. La vue est incroyable.
Bertrand
2016-11-07T00:00:00Z
Emily and all of the local staff are The best people I have met on Lombok.. Exremely nice,helpful and will go ot if there way for you. The view is absolutely amazing,it never gets old.. Rooms and bathroom are so good especially for how cheap this place is!I would recommend for both friends and couples. Just a tip, the road in is very bumpy and slippery mud if it had been raining and the driveway is very steep,so I would suggest a dirt bike if you can otherwise once you get to the driveway,if there is 2 of you one person hop off and walk up as it is rough terrain.
Jesse-James
2017-04-07T00:00:00Z
Tony and Emily had been really funny, friendly and helpful hosts. Also the staff was really nice and helped us with all our needs. The road to get there is quite bumpy, but the view is totally worth it :) A scooter is helpful to get to Kuta and other places but you can reach two beaches by a short walk. The bungalows had aircon that didn't work perfectly though. But there was a fan that helped. The restaurant provided breakfast and freshly cooked meals whenever we liked. There was no phone service but the wifi in the restaurant worked most of the time ;) Overall we had a really laid back and funny stay and would totally come back there. Thanks Tony and goodbye!
Laura
2016-10-19T00:00:00Z
The bungalows are very nice, it is very quiet, the view is spectacular and the staff is friendly, helpfull and relaxed. It was exactly what we have been searching for! Thanks a lot!
Constantin
2016-08-22T00:00:00Z
Nice stay, nice guys. Fantastic view over the bay, 2 beaches in walking distance. Very authentic village with nice people. Tony and his crew helped us a lot in where to go and how. You need a motorbike to be flexible, note the roads are a bit bumpy. Best is to book the bike in advance, due to misunderstanding we could not rent one for one day, but Tony helped us to get a bike from Kuta. Our daughter is still talking about Poppy and Gin Gin ;)
Anita
2017-02-19T00:00:00Z
I can really recommend staying at Tony's and Emily's place. The view is breathtaking, overlooking a quiet village and beach. The accomodation is calm and relaxing, but a 25min scooter drive away from Kuta (the road is quite bumpy). The staff was very helpful and friendly and offer a range of services from surfing lessons with Takim and trips to the little island Gili Nusa. We felt warmly welcomed.
Darleen
2016-08-01T00:00:00Z
This place might not be your usual 5 star hotel but everything was enough for us to enjoy our honeymoon. The view is a winner. Coming from Malaysia, the tropical weather similar. This place felt like home but better!
Qistina
2017-01-06T00:00:00Z
Nice & clean bungalows. Good staff. The location is good for a quiet stop, the place is quite isolated so be sure to have your transfer planned or have your own motorbike. No wifi.
Alexis
2016-08-28T00:00:00Z
Type de logement
Chambre privée
---
Type de propriété
Bungalow
---
Capacité d'accueil
3
---
Chambres
Pujut, Nusa Tenggara Barat, Indonésie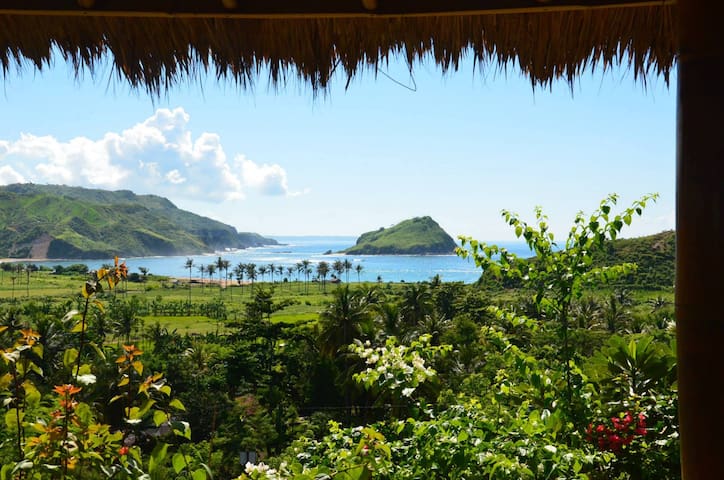 Villa Bali in Kuta is placed in the middle of coconut-, mahogany- and teak trees, surrounded by rice fields, where you can watch the village people working and guarding their cows and waterbuffalos. This quite and peacefull atmosphere is less than 600 meters from Kuta beach, with its restaurants and live music activities. You find all kind of restaurants in walking distance. In the fully equipped kitchen you can prepare your fish you bought on Kutas' daily fishmarket or make your own bread.
The "country Villas" are located in Pujut, which is part of Kuta-Lombok. In our large tropical garden you find fruits like mango, guave, banana, papaya, cashewnut (they have a fantastic aromatic fruit!!!), and chilis! Chilis are one of the most famous products of Lombok in Indonesia, so they are called "lombok" on all other islands and only in Lombok the have he name "jabe". Try fruits growing ripe at the trees, they have a fantastic aroma. That of course depends on the season. Relax in the surrounding rice fields, and in the night you will hear the cows and waterbufallos accompanied by the roar of the surf breaking at the reef, because the "country villas" are situated close to the bay of Kuta. The daily maid service will clean "villa Bali" in between 08.00 and 12.00 am. But don't forget it is not a hotel,... you rent a house! So you have to wash your dishes by yourself. Rasmin, the maid, will be happy to wash your laundry for small money. We offer a free wlan up to 2 GB/stay in a very fast quality up to 3 G, which is defenitly faster than most of the other accomodation can offer. If you need more than 2GB you can buy it for 42k IDR. Having your own kitchen gives you the opportunity to try all kind of fish from the daily morning marked, where also many exotic fruits are offered! Even frozen lobsters and prawns are for sale in "Cafe Join" near the circle( 5 minutes walk). You can also ask there for "Mahi Mahi" the best fish of the reef!!! Very big but relativly cheap and a wonderfull taste. In the night there will be a security, guarding your sleep.
4 of us spent a week at Annette's place and we didn't want to leave! House is spacious, with an amazing terrace and a garden, rooms were comfortable and cozy. We had a super helpful lady, taking care of the house and offering us fresh fruits every day. We also had a secured garage for our scooters and laundry service. Thanks for an amazing stay, we will be back!
Indrė & Max
2017-02-25T00:00:00Z
Host was very hospitable with tips of places to go and things to do. House is great with well equipped kitchen , good bed & bathroom facilities. 5 minute drive to Kuta main strips and 15 minutes to amazing beaches.
Tom
2016-12-28T00:00:00Z
Type de logement
Logement entier
---
Type de propriété
Maison
---
Capacité d'accueil
4
---
Chambres
Pujut, Nusa Tenggara Barat, Indonésie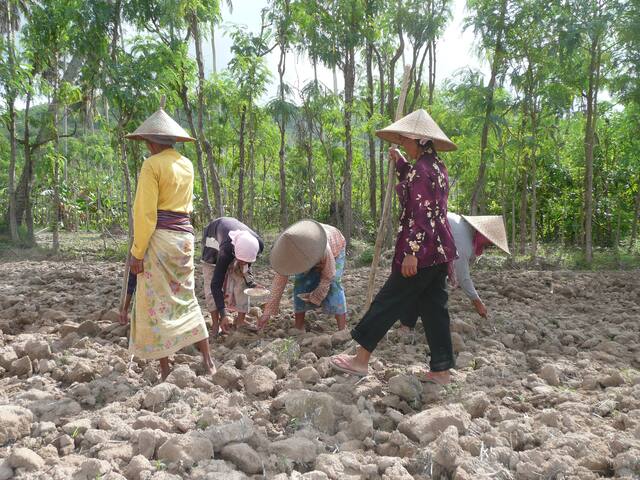 Unwind in the tranquil and revitalizing ambiance, created with a harmonious mix of modern architecture, lush gardens and first-class facilities. Make a difference and experience an eco-friendly lifestyle in comfort and peace. Located near breathtaking Tanjung Aan bay in south Lombok, Origin Lombok Resort is only 25 minutes from Praya International airport, and a mere 5 minutes to both the beach and main town of Kuta.
The hotel offers daily yoga classes, massages and community trail around the resort to discover the local villages.
Located near Tanjung Aan beach, main town Kuta.
Wir haben uns hier von Anfang an sehr wohl gefühlt. Auf Grund einer Verspätung des Fliegers, war zum Zeitpunkt unseres Check-Ins die Küche eigentlich bereits seit ein paar Minuten zu. Trotzdem wurde uns gerne noch was gekocht, und zwar mit einem Lächeln! Das Essen war dann zu unserer Überraschung (Hotel-Restaurants sind manchmal nicht soo toll) wirklich sehr lecker. Allgemein ist das Personal überaus freundlich und zuvorkommend. Die ganze Anlage ist schön, sauber, ruhig und gemütlich. Wir haben uns während des ganzen Aufenthalts extrem wohl gefühlt.
Florian
2017-03-31T00:00:00Z
Type de logement
Logement entier
---
Type de propriété
Boutique-hôtel
---
Capacité d'accueil
2
---
Chambres
Pujut, Nusa Tenggara Barat, Indonésie
Gecko Eat & Sleep is in the center of Kuta, 100 meters from the beach in walking distance to all shops & restaurants. These rooms are natural & fresh! Includes ocean view, single bed, desk, fan & breakfast. Shared shower & toilet area.
Gecko serves great food, speciality wood fired oven pizzas, relaxed and spacious area at the restaurant, live acoustic music every Tuesday/Saturday night from 7.30 - 11.00pm. We like to think at our place everyone is welcome to enjoy good food, friends and laughs.
Kuta is a small surf town, surrounded by incredible beaches, surfing and jungle! Just a walk outside Gecko Eat & Sleep you can find yourself in the center of town. The roads are quiet and you can find a variety of restaurants, cafes, shops and bars to check out. Kuta beach is only a few minute walk, and all other beaches are accessible by bike, car or boat. Kuta is a small town, but is rich in culture and activities; surf, SUP, diving, snorkeling, boating, fishing, hiking and more.
Nice hotel in the center of Kuta Lombok. The rooms are small, but comfortable and the bathroom is in good condition. The staff was very friendly and the food provided in the restaurant good.
Ade
2016-07-22T00:00:00Z
Good place, near to restaurants and beach, clean
Catalina
2016-10-28T00:00:00Z
We loved our stay in gecko, everything was clean,new and confortable. Except the communication with the reception ,this was not easy but they stayed friendly.
Charlotte
2016-08-27T00:00:00Z
Um in Kuta ein paar Tage zu verbringen kann ich Gecko nur empfehlen. Das Frühstück war super, das Zimmer in Ordnung, die Aussicht vom Balkon unbezahlbar und auch das Team super lieb und total hilfsbereit. Als ich ein Problem mit meinem Roller hatte, haben sie alles für mich übernommen, total lieb :)
Anne
2017-01-21T00:00:00Z
Great crew, very attentive and great service overall! Thanks so much!
Alex
2017-03-07T00:00:00Z
I spent 4 nights in Gecko rooftop room and it was great!! Perfect terrace with nice view, room was clean as well as bathroom. Staff was also very kind and nice.
Martina
2016-09-08T00:00:00Z
Clean room, friendly staff, cozy, and the view from the room is amazing!
佳蓉
2016-08-02T00:00:00Z
The place is really nice, good location, close to the beach. The room is on the second floor, so the view is great. It's not huge, but clean and tidy, you'll use it to just sleep anyway. The staff is nice, always tries to help. I liked it here, would come back.
Karol
2016-11-13T00:00:00Z
Type de logement
Chambre privée
---
Type de propriété
Bed & Breakfast
---
Capacité d'accueil
1
---
Chambres
Pujut, Nusa Tenggara Barat, Indonésie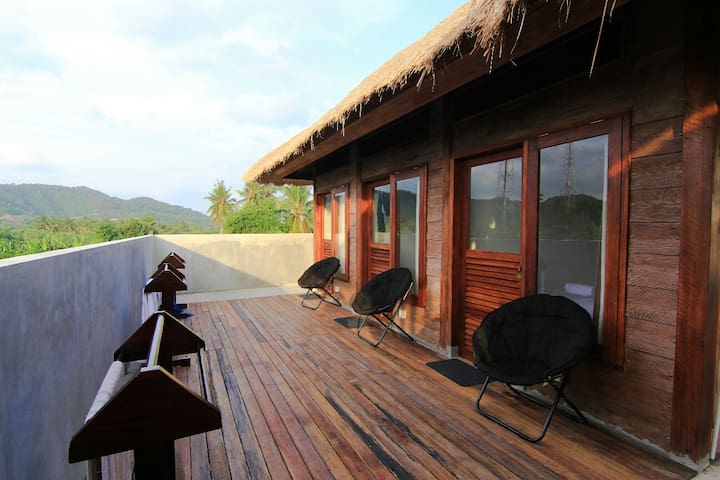 Enjoy the best Ocean view in Lombok from the terrace, surrounded by a tropical garden in a property of
The house is located in a traditional village called Are Guling, 20 minutes from Kuta by motorbike and 40 minutes from the international airport . Guests can easily walk to the beach in less than ten minutes trough paddy fields and coconut trees or take the motorbike and follow the road until the beach in less then two minutes. The fantastic, white sand beach is still intact and the colour of the ocean water is embarassing transparent so is perfect for swimming and snorkeling. Plus there are outside reef waves ideal for surfing. At low tide condition you can walk over the reef until the little island of the bay and relaxing on the amazing little beach or trek until the top and enjoy the stunning view. If you like trekking you will love the 20 minutes trail that come down from the top of the hill to another spectacular, completely virgin beach called Mawun.
Just Amazing Beautiful place to stay. For those seeking peace n gorgeous view. This is the place. LOVE IT!!
Azami
2017-04-10T00:00:00Z
We had a fantastic stay at Luca's place and will defenitly come back!! Thanks for everything!! Jan and Adel'
Jan
2016-03-25T00:00:00Z
Amazing place to discover Lombok! Luca and his wife, as well as his brother Marco were very helpful to organise our holidays. The area is almost untouched by humans in a positive way and is surrounded by beautiful nature - ocean view, beach, tropical forests. On the other hand its easily reached by car or motorbike. Luca's house is simply but fully equipped and has a great terrace and garden. Luca's wife, Giulia, is an amazing cook! So do not miss the chance to try her Pad Thai and enjoy your privacy and stunning view from their house! You can also eat at near warungs just a few steps from the house or drive to Kuta (15minutes). Many nice beaches are nearby as well. We warmly recommend this place!
Daniel
2017-01-02T00:00:00Z
My boyfriend and I had a wonderful four-night stay at Luca's house. It is in the most fantastic location with the most beautiful view! It is so well located to explore all the beaches in southern Lombok by scooter. Luca sorted the rental for us and gave us beach recommendations, which was great! Luca also arranged for us to have a fish barbecue on the beach for two of the nights we stayed in Are Guling, which was a real highlight of our trip. We'd definitely recommend staying here!
Olivia
2016-07-23T00:00:00Z
A nice view from a secluded spot. Remember to bring a light as the place can get dark
Elias
2016-08-08T00:00:00Z
Type de logement
Logement entier
---
Type de propriété
Maison
---
Capacité d'accueil
3
---
Chambres
Pujut, West Nusa Tenggara, Indonésie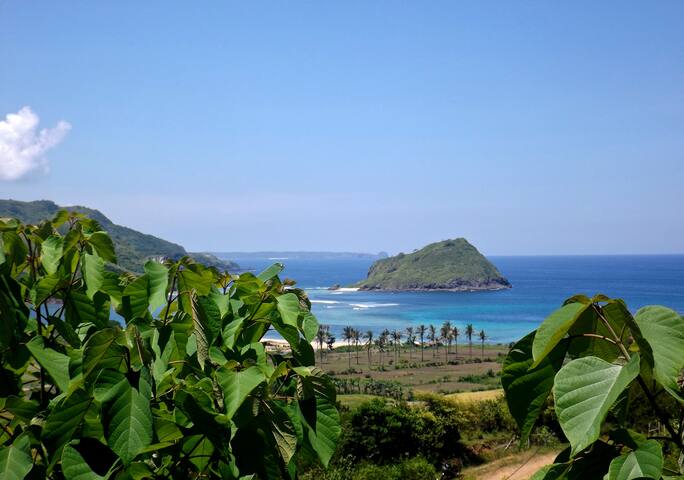 BEACHFRONT PROPERTIES ECO-RESORT Nice view to sunrise, cliff on the beach, ocean and 5 surf spots in front. Healthy food , Yoga, Freediving spots, Eco-life.
Inlight Lombok features air-conditioned rooms with free WiFi at the public areas. The hotel has three outdoor pools with views to the ocean, besides that, guests can enjoy a variety of healthy meals at the hotel's restaurant. Each villa-studio is equipped with a flat-screen TV. Accommodations feature a sitting leisure areas for your convenience. All villa-studios have views to the mountains, pools and the ocean. Every room has it's private bathroom fitted with a bathtub.
Ocean and 5 surf spots in front. Diving and Freediving spots around. Amazing Tanjung Aan beach and Batu Payung just 5 minute from here.
Type de logement
Chambre privée
---
Type de propriété
Boutique-hôtel
---
Capacité d'accueil
3
---
Chambres
Pujut, West Nusa Tenggara, Indonésie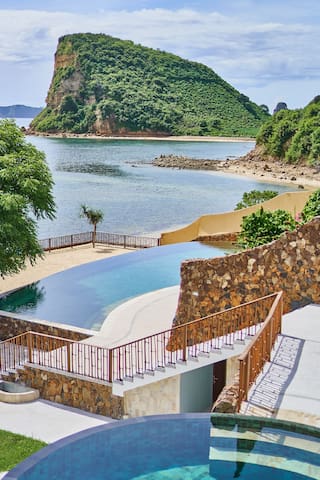 Tucked away in the tranquil back streets of Kuta Lombok this new tree lined villa offers 4 bedrooms and 4 bathrooms with a large outdoor living area, pool and kitchen. We have secure off street parking for 2 cars.
Private villa with 4 bedrooms, 4 bathrooms and a pool in the heart of Kuta.
It's quiet but only a 5 min walk to the centre of Kute with all its restaurants.
Jolie villa autour de la piscine. Très calme. Accueil chaleureux de Lee et de son épouse. Une bonne adresse confortable à Kuta
Michel
2016-07-23T00:00:00Z
The host canceled this reservation 17 days before arrival. This is an automated posting.
Frederic
2015-08-03T00:00:00Z
Nice house and location, perfect to spend few days in quiet Lombok! Rent scooters to easily go around, fantastic beaches are 15mn away, and great surfing spots a bit further. The house has really 4 large bedrooms, quiet and with air con. Nice patio area with kitchen by the pool too. Great welcoming and support from Lee, as well as bargaining! :)
Seb
2016-02-11T00:00:00Z
Cary's place and staff are perfect for a base to explore Lombok. The place is tidy and well designed and the staff are sweet and take great care of everything you need.
Vicki
2016-09-27T00:00:00Z
Nice place with nice host. Lei was really nice and helpful. 2 min drive from Kuta beach.
Diego
2015-08-26T00:00:00Z
Villa Santai was comfortable and relaxing. Great location. Lee and the staff looked after us well. Cary was a generous host. Lovely time.
William
2015-12-18T00:00:00Z
We have a wonderful stay in Santai Villa . The Villa is clean , tidy and comfort . The location is just nice and thank to mr Lee who always take care of our needs .
Chungfui
2016-05-12T00:00:00Z
The Villa is Gorgeous, Nice Place for family to gather and spend time together. Staffs are Friendly and efficient. Place is great. Quiet and Peaceful.
Shah
2016-03-17T00:00:00Z
Type de logement
Logement entier
---
Type de propriété
Bed & Breakfast
---
Capacité d'accueil
10
---
Chambres
Pujut, Nusa Tenggara Barat, Indonésie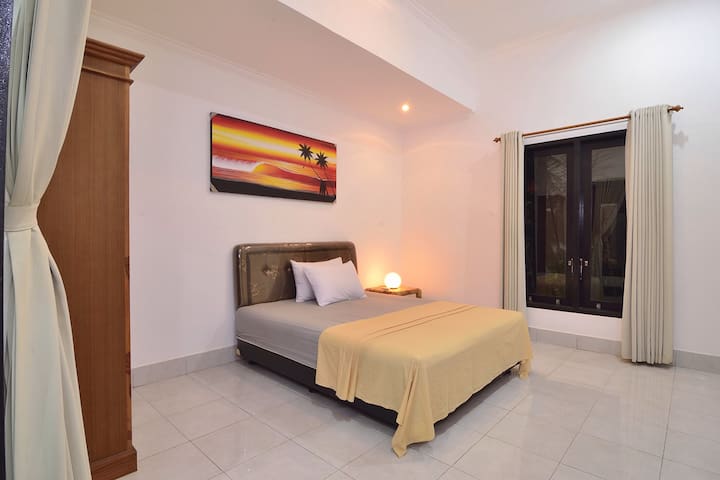 The house is the perfect choice for people that love Nature, Ocean and quietness. Located on a beautiful , oceanfront hill in a property of 4400 m2. Ideal place for practising Yoga, surf, snorkeling, trekking and for meet local people and their smile!
The ideal retreat for people that likes relaxing into the quietness of a natural contest and love practising outdoor activities (surf, snorkeling, yoga, trekking,...), just 15 min driving West from Kuta Lombok. Located in a tropical private garden, full of all different kinds of trees (banana, frangipane,.....) and flowers, the house is characterised by ample ocean -front terrace with hammock and bean-bag, open space kitchen and living room, the fantastic, romantic ocean-view bedroom and bathroom with shower box and hot water. The house is full of windows and the sliding door is a great feature for enjoying the ocean breeze. Completely decorated with bamboo, shells and Polynesian paintings, leaving the house feeling ambient and back to the roots of nature. From the king size bed you 'll see the sun rising beyond the hills and then relax, gazing into the serene ocean view in the super comfortable Costa Rica style hammocks and king size bean-bag hanging in the terrace. The living room has two comfortable bamboos bed making this house perfect for a little family too. In the garden there is a large bamboo daybed, ideal for reading, catching some sun rays during the day, or looking at the Moon and stars at nightime with our telescope. From the garden you can also wander up to our amazing 20 m2 Yoga terrace, situated 15 metres higher than the house in a completely natural setting, with a stunning view of the bay and the valley. The house has independent access throw banana trees and a garage for 2 motorbikes. There are also steps to access the Villa below (also available to rent in this site too), if required. We already fix the last 150 meter of road so now access by car and motorbike is easier and more safe!
The house is located in a traditional village called Are Guling, 20 minutes from Kuta by motorbike and 40 minutes from the international airport. In Are Guling village you will meet really friendly locals. Most of them are farmers, fishermen and shepherds and if you try to speak some Indonesian words with them, they are often really happy and appreciate the effort. The community is composed by quiet muslim people so respect them and their culture (not so extreme) and they will definetely respect you. In the village there are only little shops where you can find vegetables, fruit, eggs, biscuits. If you require more specialty items you will find all that you need in Kuta (15-20min bike ride). The panoramic main road to Kuta has recently been upgraded and is in excellent condition. However, the final 100 metres is a dirt road into the Are Guling valley and access to the property is still in poor condition. Access by motorbike requires caution, a small price to pay for the beauty awaiting you at the Villa.
Quel plaisir fut notre séjour chez Marco. L'endroit est calme et reposant. La vue de la terrasse et de la chambre est absolument magnifique. Concernant la location tout le nécessaire est a disposition. Marco propose de venir vous chercher à l'aéroport et de louer un scooter, nous avons fait les deux. Au début nous étions un peu sceptiques concernant le scooter mais en fait c'est vraiment super pour visiter le coin. Il y a juste les derniers 100 mètres en pente assez forte que nous ne montions pas a deux sur le même scooter, mais aucune crainte à avoir ! On pensait être un peu trop loin de Kuta, mais en fait pas du tout ! En scooter c'est rapide et de toute façon nous n'avons trouvé aucun intérêt à rester dans le centre de Kuta. En résumé : louer un scooter pour se balader dans l'arrière pays et découvrir les plages à couper le souffle + se reposer et profiter de la sérénité de la maison de Marco = Bonheur Nous n'avons pas rencontré Marco qui était en voyage, mais nous avons beaucoup échangé avec lui avant le voyage. Marco est vraiment sympa, sait donner les infos utiles et répond vite. Nous avons donc été accueillis par Giulia et Luca. Une pensée particulière pour Giulia qui est adorable et qui nous a fait faire une petite visite en scooter le premier jour. Bref, un coin de paradis à ne pas louper !
Laura
2015-08-09T00:00:00Z
La maison de Marco est située dans un endroit magnifique et très reposant. Elle est très bien équipée et propre. Marco propose de vous envoyer un taxi pour vous récupérer à l'aéroport de Praya qui est très ch(PHONE NUMBER HIDDEN) rp)! Il propose également diverses choses (resto sur la plage,...) qui restent chers pour les prix du pays. La location du scooter est en revanche conforme aux prix locaux. Donc très bel endroit mais faites attention aux prix qui vous seront proposés.
Tiphaine
2015-07-26T00:00:00Z
Marco's villa was beautiful. Exactly what we were looking for. All the things you need were there. The peace and quiet we enjoyed a lot and the view was incredible. Marco left us some snacks and things for breakfast at arrival. This was very nice. The closest Alfamart is in Kuta, which is 20 minutes with the scooter. Necessary things like eggs, water, snacks and some fruit local people sell. The villa is a 10 minutes drive from the main road in the small village Are guling. We rented scooters so it was easy for us to travel to nearby or further beaches. I would definitely recommend this if you would like to explore the area. The warung at Are guling beach makes nice meals. You can take away or sit at the beach and enjoy your meal.
Daniël
2016-06-05T00:00:00Z
Warmly welcome. You feel at home the first minute.
Thierry
2015-07-01T00:00:00Z
This was definitely the most relaxed time we had while traveling Indonesia. Marco is a very helpful and kind host. He was always there if we needed something and still gave us our privacy. The house and the view were just amazing! We actually planned to cruise around and visit some beaches, but ended up staying at the house and the beach close by our whole stay. I definitely recommend staying at this wonderful house that has everything you need. You won't regret it!
Lina
2015-04-08T00:00:00Z
Thank you so much Marco! Marco's place is so wonderful, once you are there you feel so peaceful. Lombok south coast is amazing and Marco's place is the best to stay! thank you again
julien
2016-06-20T00:00:00Z
A truly unique place to relax and unwind. Super quiet in an extraordinarily beautiful location; the views over the coconut palms to the beach are breathtaking. Windows and doors can be left open overnight with the sounds of nature surrounding you. In the morning the distant call to prayer gently wakes you allowing you to witness the stunning sunrise and without even getting out of bed! The property may be isolating for some so if you enjoy getting out and about a scooter or motorbike is a must. The hosts were excellent and a scooter was organised for us within 30 minutes of arrival. We loved it here and would love to return one day. Many happy memories! Thank you to Giulia and Marco!
Kim
2016-08-07T00:00:00Z
Well what to say...everything.. Marco and Adriana could not have been more loving and carrying ..Marco's love of surfing and nature is effusive..their cooking being vegetarian was to die for..when I got a bout of sickness Adriana's tended to me with the ricewater that my system needed..what else... Well the location could not be better..the beach that can be walked to is like big bathtub.. Then if you surf the beach in front is what you would want.. I will recommend to anyone and everyone I know
John
2015-12-28T00:00:00Z
Type de logement
Logement entier
---
Type de propriété
Maison
---
Capacité d'accueil
3
---
Chambres
Pujut, Nusa Tenggara Barat, Indonésie
Nalua Homestay is located in the centrum of Kuta Lombok with a walking distance to the beach. The room comes with fan, private bathroom, double bed and breakfast included. Our homestay has a beautiful rooftop terrace overlooking the treetops, which our guest can privately enjoy. We do also surf lessons and surf camp.
Your room is located on the second floor and comes with a fan, double bed and private bathroom (no hot water). At our rooftop terrace we serve daily standard breakfast and you will have access to free Wi-Fi. Kindly note that Kuta Lombok is a small village in a developing country and as any hotel here we can't promise you that the Wi-Fi always will be working.
Chambre propre et bien située sur Kuta (proche d'un quartier vivant et agréable de jours comme de nuit) , ensemble simple mais suffisant. Déjeuné correct et service rapide Une bonne adresse
Anaïs
2016-09-19T00:00:00Z
Great location , clean and minimalistic . Value for money . Recommended !!
Gabriel
2016-10-15T00:00:00Z
We stayed one night in Nalua Surf, and it was a nice experience. Jennie organized a pick-up at the airport for us. Her driver, was very kind and waited for us as we were dealing with the airport because of our lost luggage. The surf shop attached to the homestay is nice, and all the people from Nalua Surf are nice and happy to chat, as many people from Lombok. The terrace is definitely great and make you feel like you are in the jungle, and the breakfast (try banana pancakes!) served there is one of the best I had in Indonesia so far. The room is simple but fonctionnal, with A/C which is not that common, it helped us sleep at night. Water is cold, but fresh, and since it was so hot outside, it wasn't a problem. There is a hammock outside and a place to seat at night, when it is cooler. Very nice :) As from anywhere in Lombok, as this is a muslim country, you can hear the mosque at 4.00 am in the morning. We will have this problem everywhere in Lombok, so you should bring earplugs if you are visiting the country :) It is also very close to the center of Kuta, nice restaurants, such as the Nuggets' Corner which we LOVED.
Vanessa
2016-06-05T00:00:00Z
Fantastic stay at Nalua Homestay in Kuta. The room was perfect, really simple but with thought gone into the small design details. Just a fan but that was enough. The location is perfect, walking distance to everything. Breakfast was delicious, banana pancakes on the rooftop surrounded by palm trees. They also have a really great surf shop with nice clothes and accessories. Jennie was great at communication before the stay and organised a taxi to pick us up from the airport.
Tom
2016-07-10T00:00:00Z
It was perfect! Everything really clean and very good breakfast! And the staff was always helpfull and friendly!
Mri
2016-07-04T00:00:00Z
Very Nice place to stay in kuta lombok. Everyone was very helpfull and the bed is really good. Wonderfull breakfast every morning on the rooftop!!
New
2016-02-11T00:00:00Z
Schöne einfache Zimmer, in bester Lage im Surferparadies Kuta. Vorallem das Frühstück auf der Dachterasse muss ich erwähnen, besonders gut geschmeckt haben die Banana Pancakes :)
Bianca
2016-08-30T00:00:00Z
Pros: Clean, modern and very basic. Wifi was good, staff was very friendly and breakfast on the roof top is included. Eggs, pancakes or omelet. Lots of hooks in bathroom to hang towels and clothes. It's not the typical Airbnb experience; we never met the host and it felt like we were just staying at a motel. No soap for bathroom or bottled water provided. We had to use our shampoo to wash our hands. Garbage bin was outside, not in the bathroom. Room gets very warm, even with fan running and window open.
Rachelle
2016-05-31T00:00:00Z
Type de logement
Chambre privée
---
Type de propriété
Bed & Breakfast
---
Capacité d'accueil
2
---
Chambres
Pujut, Nusa Tenggara Barat, Indonésie
Comfortable and clean room. one bedroom. A / C, hot shower, with breakfast, Ferr- WiFi.We spend a leisurely amount of time in a very quiet environment. Also within walking distance to the beach and restaurant distri.
Our experience was allright. The room is a good size and the area to sit infront is very nice. Room isnt very clean but clean enough and in the 2 days that we stayed the rooms weren't cleaned. Wifi is there every now and then but that seems to be the case for Kuta entirely. On the bright side, Saman, one of the staff was very helpfull and kind and helped us with several things and made some suggestions for trips (like Sasak Village) which were a good call. Also we left early and staff was great with the cancelation policy and no trouble in the refund. Too bad we never met the owner.
Ping
2015-11-04T00:00:00Z
La habitación era limpia y el staff muy amable siempre dispuesto a ayudar, el desayuno delicioso. Rentamos una motobike con ellos y todo fue muy bueno
Javier Esteban
2016-08-16T00:00:00Z
the room was spacious and clean. the banana pancakes are the best!! the staff is really friendly and helpful. it was nice to have an ac but the ac is a bit hard to regulate. the smell from the drain in the bathroom is pretty bad at times (but nothing can be done about thati guess). we would stay there again :)
Eva
2016-11-05T00:00:00Z
The Bungalows are located right outside the centre of Kuta which will let you escape the busy nightlife but still have the village and the beach within a walking distance. It was nice having breakfast on the little terrace right in front of our bungalow. The included breakfast could be better though. In general value for money isn't exactly great. The rooms, especially the bathroom could and should be cleaner. There was a disgusting smell coming out of the drain. Staff is friendly but refused to call a taxi when we left. Instead they tried to talk us into a highly overprized private transport.
Miriam
2016-09-20T00:00:00Z
Nice room and friendly stuff. Breakfast was delicious but very tiny. Just 5-8 minutes walk from city away. We had the opportunity to rent a scooter but they are much more expensive.
Pascal
2016-09-08T00:00:00Z
relaxing homestay is a realy nice and quiet place! the staff is very helpful and friendly. we loved the banana pancakes for breakfast :) you can rent scooters there to go to the beautiful beaches in the area.
Philipp
2016-08-07T00:00:00Z
Yoshi's place was very clean and Yoshi and his staff were very nice and helpful. We used the pick up service, which was expensive compared to others, but still cheap compared to Europe and it was one less thing to worry about. The premises are neatly taken care of and the furnishing is minimalistic, yet clean. The only downside was the bathroom. It was also clean, however it had a not so nice smell. We suspect it came from the water. The breakfast pancakes were fantastic and the coffee and tea completed the breakfast. We rented a scooter through the place which came at the standard 50.000idr/day rate and we had no problems with it. The place is located a little bit outside of Kuta which makes it a little less noisy than the rest of Kuta. All in all, a very good place to stay for short or longer times.
Johannes
2015-10-31T00:00:00Z
We had a nice comfortable stay. The staff are very friendly and accomodating to our needs.
Maria
2015-09-27T00:00:00Z
Type de logement
Chambre privée
---
Type de propriété
Bed & Breakfast
---
Capacité d'accueil
2
---
Chambres
Pujut, West Nusa Tenggara, Indonésie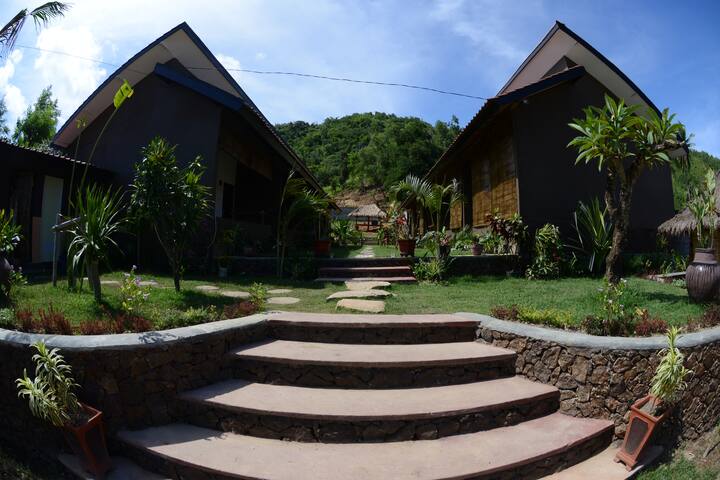 Very cozy place in front of the beach with ocean views
The unique lombok traditional style bungalows the completeness of the mountain scenery, white sandy beaches and a small forest, coconut groves with a beautiful garden, in addition you can ask for advice lives for a better tomorrow by simply informing the year, month and day of your birth. Everything makes a beautiful unforgettable memories ....
En face de la plage, un peu à l'extérieur du quartier animé mais très proche à 5 min à pied.
Marie-Laure
2016-08-29T00:00:00Z
My daughter and I enjoyed our time at the Mascott Inn's cute huts. Both Agus and Ani made us feel so welcomed and at home.... Annie's cooking was excellent! Her Banana pancakes were probably the best we had on our trip! We highly recommend taking a cooking class or 2 from her - she is the best teacher! The outdoor cinema was a nice touch and Agus was so helpful in getting us around Lombok- he was an excellent tour guide. He also made sure that we made it to the airport at 4 am to catch our 6 am flight! We will definitely come back to stay at Mascott Inn when we return.. Thank you Ani and Agus for making our time in Lombok so memorable! xoxo
Kristina
2016-06-11T00:00:00Z
Lalu's place is the best we've had in Lombok. The house are very cumfortable and in a perfect location in Kuta. In front of the sea, near all restaurants and bars but also very quiet. Lula's family welcome us very friendly, and always help us with all our need (finding car, scooters, etc...). The breakfast included made by Annie is delicious. We really had a marvelous experience here and have great contact with Lalu's family, we felt like a part of the family for those fews days. So, i definitely recommand that's place. Anji & Quentin
Quentin
2015-12-27T00:00:00Z
Very nice host and place but the price is exagerated. The Room was not very clean. Beer bottle on the terrace, hairs and plastic waste on the floor of the room and in the bathroom.
Charline
2016-09-30T00:00:00Z
We stayed 3 nights in the middle bungalow in the picture. The room was very hot with no air flow and an ineffective small fan which made sleeping quite difficult. The balcony also completely caught the sun in the morning, heating up the room further. There wasn't a mosquito net, which was definitely needed. Convenient location, but you can hear the music from the nearby bars. The host was friendly. He arranged scooter hire without problem. He also arranged transfer for onward travel, but we had an unpleasant situation in the car as the drivers thought we had paid less than we had and that we were going to a closer destination. We were overcharged for laundry - tried to charge us for 6kg worth when in reality there was max 2-3 kg of clothes. Wifi did not have connection for entire duration of stay, despite asking host several times about it. Generally thought for the price, there would probably be better alternatives.
rachel
2016-10-15T00:00:00Z
We really enjoyed the location, across the road from the beach. The host family were lovely and keen to help arrange anything we desired, but we already had a full itinerary so didn't get to have a cooking class with Annie. Her pancakes for breakfast were the best in Lombok or Bali though! We has no issues hanging our own mosquito net and we're very glad we took it, and other than a gecko hiding under the cabin had a very peaceful stay.
Sarah
2016-04-25T00:00:00Z
This place was perfect! Lovely cottage near the beach, we watched the sunset! Ani was amazing, such a friendly and fun host. She made the best pancakes every morning for us with Lombok style coffee in a Lombok style sitting area. Idyllic. I highly recommend this place!
Vivian
2016-07-08T00:00:00Z
Erwin and his family were very welcoming. The place is very nice, just next to the beach and 10mts walking to the center of kuta. The hut has an open bathroom, so we had a lot of flies. Erwin helped us with organizing a bike, brought us to the lokal marked and Any invited us for a birthdayparty and new years ev with their family. As i hot sick, Erwin brought me medicine and they asked everyday how i felt We had a good time, thanks to Erwins very kindly family
Sonja
2016-01-02T00:00:00Z
Type de logement
Logement entier
---
Type de propriété
Bungalow
---
Capacité d'accueil
2
---
Chambres
Pujut, Nusa Tenggara Barat, Indonésie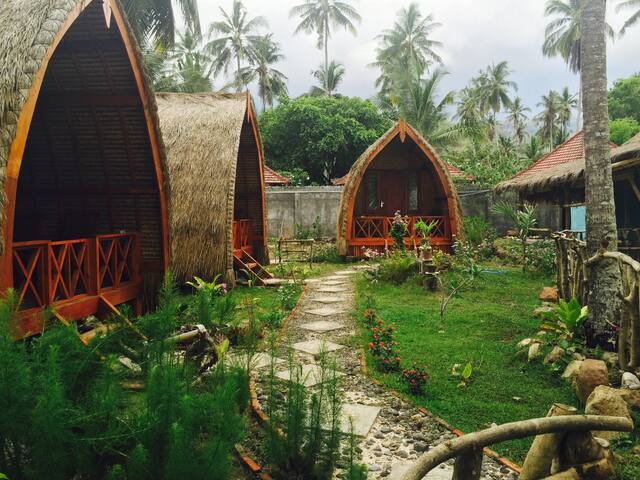 A brand new charming house in the heart of Kuta, 2 min drive to the beach and all the shops and restaurants. A quiet and safe area with your own security. One bedroom with AC and the other with fan and big windows. Spacious common areas and large kitchen with fridge, water cooler and stove, fully equipped. Only thing missing in the house is sofa and dining table. A nice local family will greet you and help you organize surf lesson, bike rental, trips around Lombok etc.
Type de logement
Logement entier
---
Type de propriété
Maison
---
Capacité d'accueil
4
---
Chambres
Pujut, Nusa Tenggara Barat, Indonésie
Brand new bed and breakfast in the heart of Kuta Lombok. We have a lovely refreshing swimming pool with a minibar and cafe onsite. All 6 rooms are ensuite with air-conditioning, hot water and super comfy mattresses. We are close to restaurants and dining, the beach, family-friendly activities, and nightlife.
We are a little B&B complete with lovely swimming pool, minibar and cafe, right in the heart of Kuta Lombok. All our rooms are brand new with super comfortable mattresses and pillows, hot water and air-conditioning.
Kuta Lombok is in the south of Lombok and has beautiful beaches for swimming, standup paddle boarding, surfing and much much more.
Nos hemos alojado en este hotel y hemos quedado muy satisfechos. Habitaciones amplias y muy nuevas. La atención del personal muy correcta y las instalaciones comunes de lujo. Esta alejado de la calle principal de Kuta pero en moto son 2 minutos. Muy satisfechos con todo.
Sergi
2016-08-23T00:00:00Z
Lazy Inn was a relaxed place to stay. The staff was very friendly and helpful, and even brought us to our next airbnb when we left. The pool is nice and you can rent scooters if you want. The room was clean, large and very new, but could use some more decoration in my opinion. A bit too minimalistic interior. Overall a good place to stay.
Youri
2016-10-03T00:00:00Z
A good place to stay. 10 min walking to Kuta centre/beach. The room is large and new, very clean. Cheryl is a really nice, friendly women!
Giulia
2016-07-30T00:00:00Z
We had a great stay at Lazy Inn. Great location, huge room and bathroom, and the comfiest bed ever! The guys there were super helpful, organising a bike for us for our stay. Communication with Cheryl beforehand was great, helping us arrange transport once we got to Lombok. A very peaceful few days!
Lizzie
2016-07-15T00:00:00Z
Sehr neue, moderne und Saubere Unterkunft! Das Frühstück war lecker. Unsere Gastgeber waren von der Abholung bis zur Abreise sehr hilfsbereit und sehr freundlich. Leider waren wir zu kurz hier um alle schönen Strände in der Umgebung Kutas zu genießen. Absolute Empfehlung!
Stephan
2016-08-08T00:00:00Z
Really nice rooms,the bathroom is big and comfortable. The people are so friendly and helpful! Thanks for the nice time
Kira
2016-07-20T00:00:00Z
Very nice helpful staff, breakfast included. The owner of the homestay can speak English very well. Recommended.
Ákos
2016-12-30T00:00:00Z
We had a great time at the Lazy Inn. The staff helped us with everything we needed. From breakfast to tickets for fast boats and tips and tricks for the surroundings. The accommodation is super nice, lovely pool, clean big rooms and fresh breakfast. Location is perfect to discover the south of Lombok. We would love to come back!
Jasper
2016-09-29T00:00:00Z
Type de logement
Chambre privée
---
Type de propriété
Bed & Breakfast
---
Capacité d'accueil
2
---
Chambres
Pujut, Nusa Tenggara Barat, Indonésie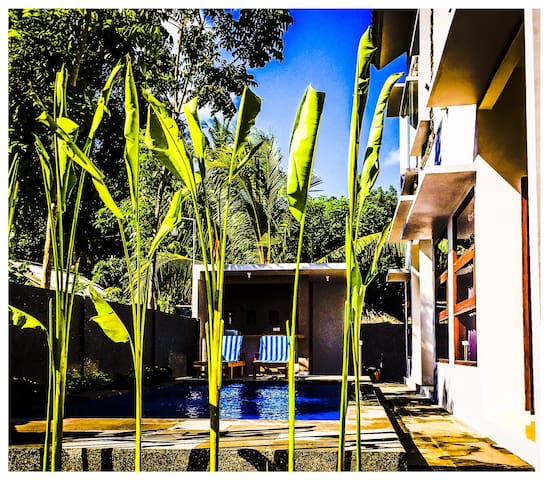 Riviera Villas in the heart of Kuta, walking distance to beach, convenience stores, shops & south Lombok's best cafes/restos. Luxury accommodation set amongst lush exotic tropical gardens featuring: Bars, kitchens, A/C, TV & FREE Wi-Fi. The rooms have private bathrooms with showers. Relax by one of the 2 pools sipping a freshly picked coconut. Segar beach is 2klm & Tanjung Aan 5klm to the east. Selong Belanak is 8klm to the west. The Lombok International Airport is 14klm from the property.
Our stay of 10days at Riviera Villa was fantastic and beyond or expectations. Location is perfect. It was walking distance to town but located a bit inside from the main road, that makes this place quiet and peaceful. we rent a scooter and most of days went to Tanjun Aan Beach which is one of the most beautiful beaches in Lombok most of the morning. And back to villa in afternoon and enjoyed private pool and relaxed time. The place was exactly as it was on pictures. Also internet connection was very good, and that was huge + for us. Richie was very helpful during our stay and prompt to answer any questions we send. Every morning he cooked breakfast for us. Banana pancake and fruits from the garden! That was delicious. Staff was so pleasant and smily whenever we saw him. Definitely worth to spend precious holiday here. We would like to come back here again in near future!
Ayako
2017-01-06T00:00:00Z
Organized pick for us and villa was well situated with own summing pool like advertised. Maybe needs more staff and someone to be able to help guests at all time. One bedroom was very smelly but host assured us he will get it fixed. Was raining a lot on last day, so host let us use the other villa while waiting for transport. All in all, was a great stay and just a few minor things that need work but host was nice and accommodating.
Duncan
2017-02-01T00:00:00Z
Awesome place, The private pool is a savior during the rainy season and its big one too. Love the pancakes, be sure to try them
Elias
2017-02-11T00:00:00Z
Richie has been upmost amazing. The villa was very beautiful and the private swimming pool really did it for us. After a 3 day hike on the rinjani vulcano this was the perfect retreat to relax and recover! Richie himself has been amazing, making breakfast in the morning and providing us with all our needs. Great communication and very polite! Would definately recommend this place to anyone visitting lombok. The price is also very affordable for what you get is return! You will not believe your eyes.
Matthijs
2016-10-22T00:00:00Z
Type de logement
Logement entier
---
Type de propriété
Villa
---
Capacité d'accueil
5
---
Chambres
Pujut, Nusa Tenggara Barat, Indonésie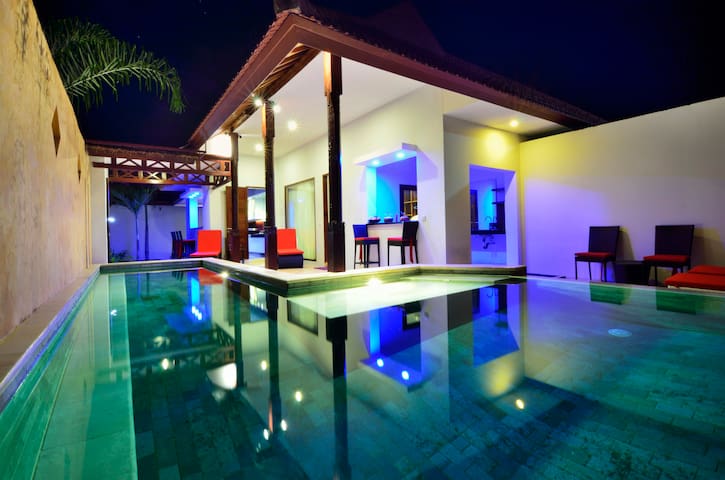 Saisissez les dates souhaitées pour connaître le prix total. Des frais supplémentaires s'appliquent et des taxes peuvent être ajoutées.